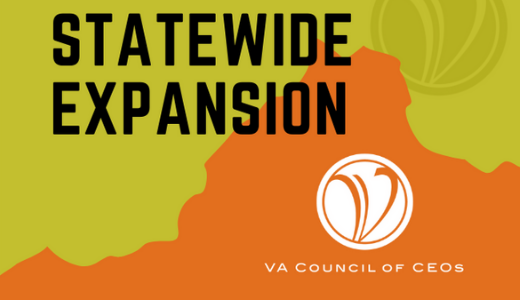 (Read Richmond Times-Dispatch coverage: "Virginia Council of CEOs opens up to membership to top executives across the state")
---
Richmond, Virginia: The Virginia Council of CEOs (VACEOs), a nonprofit association serving more than 200 small and mid-sized business owners, announced today that is expanding its geography outside of Central Virginia and throughout the state, welcome news for many CEOs who run a small and mid-sized business in Virginia who seek the benefits of a CEO advisory group (peer roundtable). 
VACEOs, a 20-year old nonprofit association, is driven by its mission is to "connect CEOs for learning and growth." The most powerful way CEOs connect within the organization is through a confidential peer roundtable group, made up of CEOs of non-competing companies ($1 million or more in revenue/5 or more full-time employees).
Before COVID, VACEOs expansion was limited due to the perceived need to form roundtables based on geography. However, during COVID the roundtables were able to expand past geographic boundaries through the use of Zoom, WebEx, and other video platforms. Two new virtual roundtables were created during COVID and their success has now led to this aggressive expansion.
"Our existing Roundtables pivoted quickly to online meetings back in March and April," says Scot McRoberts, Executive Director, Virginia Council of CEOs. "We think CEOs are open to this efficient, effective meeting method like never before. There is an opportunity here to serve hundreds of small business CEOs who we could not reach before. By offering roundtables to more CEOs, we are delivering on our mission."
---
"I'm not sure that I could have navigated as well as I did, without my roundtable." – Sam Stone, CEO, Stone's Office Supply
---
CEOs Find Their Peer Roundtables to be an Invaluable Source of Information and Comfort During Time of Crisis
Sam Stone, CEO of Stone's Office Supply, is a long-time member of VA Council. Says, "We went from meeting in person, to immediately switching to Zoom meetings to cover some of the most difficult topics that I've had to cover in my time as a CEO. I'm not sure that I could have navigated as well as I did, without my roundtable."
Connie Hom, CEO of Buckingham Greenery, says, "This has been a fast-paced, changing environment. There are decisions as a CEO in regard to labor, clients and revenue, and the shared experiences have been very helpful. The virtual roundtable has truly been a breath of fresh air, and the Council membership has proven to be, for me, a port in the storm."
VA Council Offers Complimentary, Two-hour Peer Roundtable Experience
To fuel this growth, VACEOs is offering a complimentary, two-hour confidential peer roundtable experience with a trained facilitator. After that one-time experience, CEOs can join the organization and be placed in a new roundtable while accessing other Member benefits, including online training and informational sessions, learning programs, social events, and the return to in-person meetings and retreats. Learn more: https://vaceos.org/ceo-roundtables
Posted by Staff at 9:02 am

BREAKING NEWS: Richmond Times-Dispatch reports the Virginia Council of CEOs is expanding the geographic reach of its membership.
Writes Times reporter John Blackwell, "The rising use of virtual meetings during the COVID-19 pandemic is one factor in that decision. While the organization is best known for a quarterly economic outlook survey conducted among its members, one of its main membership benefits is its CEO 'peer roundtable' groups that meet regularly so that top executives can privately discuss business issues and share ideas."
Read Richmond Times-Dispatch "Virginia Council of CEOs opens up to membership to top executives across the state."
Posted by Staff at 3:19 pm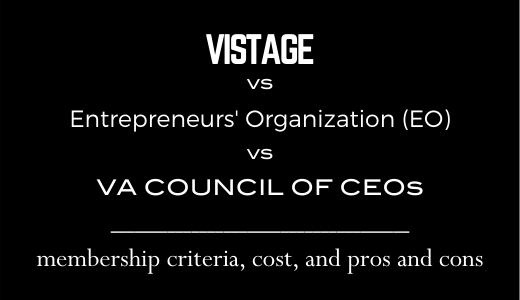 It's no secret. If you run a small or mid-sized organization, you know that it can be really lonely at the top. Turning to family members or your internal team when you face certain challenges is not an option. That's why so many successful business owners turn to peer advisory groups (peer roundtables).
Peer groups typically meet once a month and include CEOs from non-competing organizations. A strict protocol of communication and confidentiality is followed. This creates an environment of trust and confidentiality to share both professional and personal challenges. (Read Roundtable FAQs)
There are several organizations that offer a roundtable experience for CEOs. Some are international organizations with thousands of members, others are smaller in scale. Some feel more like a networking group, while others encourage a "no-selling" environment. The cost for membership can also vary. Lastly, most of these organizations have minimum membership requirement for annual revenue and/or number of employees. 
How do you choose which option is best for you? Here's a brief comparison of three well-known organizations that serve CEOs in Virginia. Take a look, and then ask a local business owner to share the experience they've had within their peer advisory group.  
About (From their website)
"Entrepreneurs' Organization is a high-quality support network of 14,000+ like-minded leaders across 61 countries. We help entrepreneurs achieve their full potential through the power of life-enhancing connections, shared experiences and collaborative learning."
Membership Criteria 
Business earning a minimum of $1 million in revenue during the most recent fiscal year. Venture-backed companies must have either privately-raised funds of at least $2 million or publicly-raised funds of $5 million, and a minimum of 10 employees.
Cost (2020)(US$)
Global dues are currently $2,470 (plus a one-time $2,500 initiation fee). Chapter dues and event registration fees can add several thousand to this amount. Source: https://www.eonetwork.org/why-join/apply-for-membership
Pros and Cons: Entrepreneurs join a local EO Chapter, which supports their forum and provides education and social programming in their local area. Members have access to a global member network and events on a regional and national level. EO Chapters are volunteer-led, with professional support from the national organization. For small and mid-sized business CEOs who crave a national or international network, EO is a good choice.
About (From their website)
"Vistage is the world's largest CEO coaching and peer advisory organization for small and midsize business leaders. We offer the most effective approach to achieve better results, grow your company faster and maximize your impact as a leader."
Membership Criteria 
For CEOs of businesses with $5+ million annual sales revenue. In some areas, Vistage offers groups for other executives.
Cost (2020) (US$)
$12,000 or more annually
Pros and Cons
Vistage groups are facilitated by an accomplished business leader (chair). The chair also meets with members between meetings to help the CEO move forward on their goals. Vistage offers access to subject matter experts and networking with members both locally and globally. For CEOs seeking a facilitated experience with coaching, Vistage is a good choice.
About (From their website)
"The Council was founded in 2000 by a small group of CEOs seeking to connect and learn from their peers in the area. The goal was to find a forum to comfortably test new ideas, learn from other CEOs, and think differently about their businesses. The Council has more than 200 members who participate in monthly roundtable discussions, learning and social events, and an annual retreat."
Membership Criteria (US$)
The Council is for CEOs of organizations with at least $1 million in annual revenue and 5 or more employees (FTE). The average member leads a company with $7 million revenue and 35 employees.
Cost (2020) (US$)
There is a $900 Joining Fee once acceptance is approved. Prorated dues are then invoiced once the new Member is seated in a Roundtable or Forum. Annual Dues: Roundtable-$3,060; Forum-$5,460. There are no additional registration fee for any of the dozens of learning or social events.
Pros and Cons
This organization is great for Virginia CEOs, providing the largest CEO network in the Commonwealth. The Council provides both member-led peer roundtables and professionally-facilitated forums as the main benefit of membership. Additionally, VACEOs brings its community together for learning and social events, including a three-day annual CEO Retreat. For small and mid-sized business CEOs who seek to learn and grow with others like them in a "no-sell" or "safe" environment, VACEOs is a good and affordable choice.
Posted by Staff at 2:38 pm

CEO advisory groups and/or peer roundtables are often a lifeline for small and mid-sized business owners who want to quickly grow their business or avoid a common pitfall. For many, hearing from seasoned advisors and trusted peers who have "been there, done that" gives them the strategic and emotional edge they need, and helps them to get over that "lonely at the top" feeling that most business owners have.
So, how do CEO peer roundtables work? How often do they meet and for how long? Here are answers to the most common questions.
1) HOW MANY ARE IN A PEER ROUNDTABLE GROUP?
Roundtable peer groups typically have 8 to 10 people. This allows enough time for each member to meaningfully participate in all elements of the meeting.
2) WHAT'S THE MAKEUP OF EACH ROUNDTABLE? WILL MY COMPETITOR BE THERE? 
The most effective CEO peer roundtable groups are a safe environment built on trust and confidentiality. Therefore they do not include competitors, business partners, relatives, clients, or investors. This helps to build camaraderie and trust among the members who are invested in each other's success.
3) HOW LONG DOES IT TAKE TO GET INTO A PERMANENT ROUNDTABLE?
VA Council of CEOs Members are immediately eligible for "ad hoc" or one-time CEO roundtable sessions as they are offered. Permanent roundtable/forum placements typically take anywhere from one to six months. Once a permanent roundtable option is available, a new member is given the opportunity to clear the group to rule out any business or personal conflicts.
4) HOW OFTEN DO CEO PEER GROUPS MEET AND HOW LONG ARE THE MEETINGS?
Roundtable meetings typically occur once a month. Meetings follow a strict protocol and structure and usually last between 3 1/2 to 4 hours. Some organizations, like VA Council of CEOs, train each new member on meeting protocol before he/she is formally placed in a group.
5) DO I HAVE TO ATTEND EVERY MEETING? (CAN MY SECOND IN COMMAND GO INSTEAD?)
VA Council of CEOs expect members to attend every meeting of their roundtable.  This commitment builds camaraderie and trust among the members who are invested in each other's success. The CEO is the member and it is an intensely personal engagement. Second in commands or "fill in" employees are not permitted for this reason.
6) WHAT EXACTLY HAPPENS IN A ROUNDTABLE MEETING? HOW DO THE MEETINGS WORK?
In general, the roundtable experience is about addressing the CEO as a whole person. The information that is shared in the meeting is confidential. VACEOs roundtable meetings strictly follow the Gestalt Language protocol where no advice is given. Meetings are highly-structured, timed, and only experiences are shared.
There are two parts to each VACEOs roundtable meeting. Each member gives a general update at the beginning of the meeting. The updates can range from: "I'm thinking about hiring a new CFO," OR "I'm facing an issue with my health." Then, the group takes a deep dive into one or two of the members' challenges.
7) IS THE ROUNDTABLE EXPERIENCE REALLY VALUABLE?
It's widely believed that YES, business owners highly value their peer group, in fact, they often express that it gives them the ability to rise above the day to day grind and work on their business instead of in it.
Roundtables are valuable because members can lean on each other to overcome challenges like: 
Developing a long term incentive compensation plan to retain top talent,
Crafting an exit plan, 
Working through issues with a family member or spouse,
Helping achieve double-digit growth year after year, and other issues.
Related article:
Why CEOs Value Peer Roundtables
Posted by Staff at 2:07 pm
Six months ago we could not have imagined the changes we are all facing now. If you own a small or mid-sized business in Virginia, VA Council of CEOs (VACEOs) is here for you.
Listen in as Scot McRoberts, Executive Director, Virginia Council of CEOs, talks about a no-cost peer roundtable membership offer that expires on September 30, 2020.
Says McRoberts, "Don't face this challenging time alone. Join VA Council of CEOs. You have nothing to lose and so much to gain.
We're a network of CEOs and other expert who come together to help one another. And membership for you is free right now. I encourage you to join us.
As a member of our community, you'll have access to the Emerge Stronger Conference by Pat Lencioni and his team. He's involved a number of  other CEOs in that content that I think you'll find really valuable. And you'll have access to replays of other presentations we've held. The topics range from underlying legal risks that you're dealing with, to managing your own mental health, to effectively selling online.
But most importantly, you'll be given access to a network of peers in a virtual, confidential, roundtable setting. Peers who are ready to share information
and knowledge with you that can help you succeed.
Apply today. I want you to experience a peer roundtable as soon as possible.
Let's move forward together."

ABOUT THE COMMUNITY MEMBERSHIP OFFER
This no-risk, no-cost offer is extended to those CEO's who would benefit most
from the Council's programming and community. More specifically, those who manage a business in Richmond or Charlottesville Virginia with more than $1 million in revenue and employ five or more full-time equivalent employees (FTEs).
As a Community Roundtable Member you will have access to:
VACEOs Flash Roundtable event(s),
Exclusive VACEOs information-sharing sessions with local and national experts, including the Emerge Conference with Pat Lencioni and other thought leaders,
A network of 200+ peers and sponsors who are committed to each others' success.
Don't delay, you've got nothing to lose. This offer expires September 30, 2020. Apply online for VA Council of CEOs membership.
---
Related post: Hear from Members (video testimonials)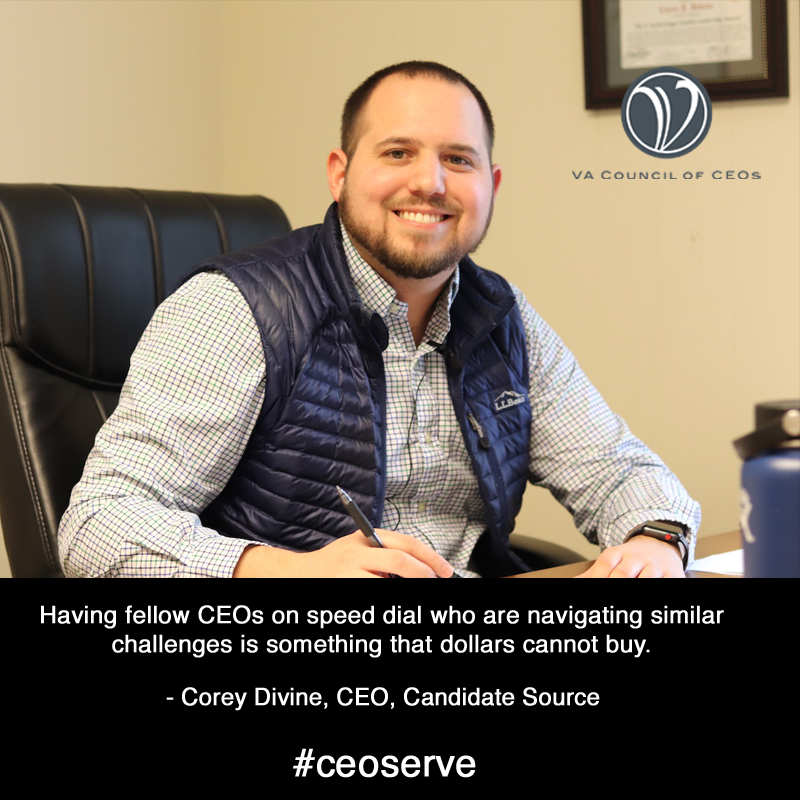 Posted by Staff at 2:31 pm
---