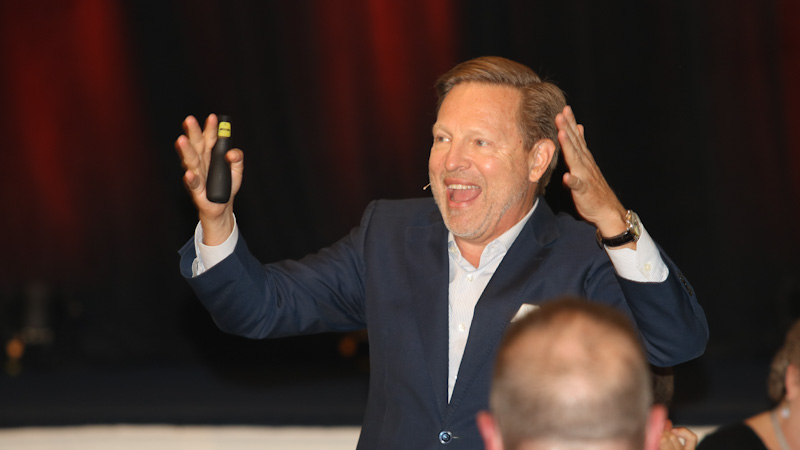 Most of the Virginia Council of CEOs' events are for CEOs and sponsors only.
For this year's Fall Leaders Conference we invited non-member CEOs and executive teams to engage with presenter Verne Harnish on the topic of "Scaling Up" your business. And we sold out the room at The Jefferson Hotel. There's an appetite for growth!
Bringing my leadership team to this event was a game-changer. They were inspired by the concepts and are now thinking beyond their individual departments. This event established a common vocabulary and approach to scaling our business in the years ahead.

Chris Leone, WebStrategies Inc.
Verne spoke at a VACEOs luncheon in 2008 and we've been trying to get him back every since. A master story-teller, Verne connects the dots on trends, practices, models and techniques. He focused on the four key decisions every business must make in order to Scale Up: People, Strategy, Execution, and Cash.
We've already made plans for next year's Fall Leaders Conference. It will be held on September 21, 2023 and will feature world famous sales coach Jack Daly. Save the date, tell your team, and get ready to "Get Jack'd"!
As a non-profit association, our sponsors provide expertise and resources that make events like this happen. Thanks to all of our them, and especially to those that backed this conference: Blue Ridge Bank, Fahrenheit Advisors, and Transact Capital Partners.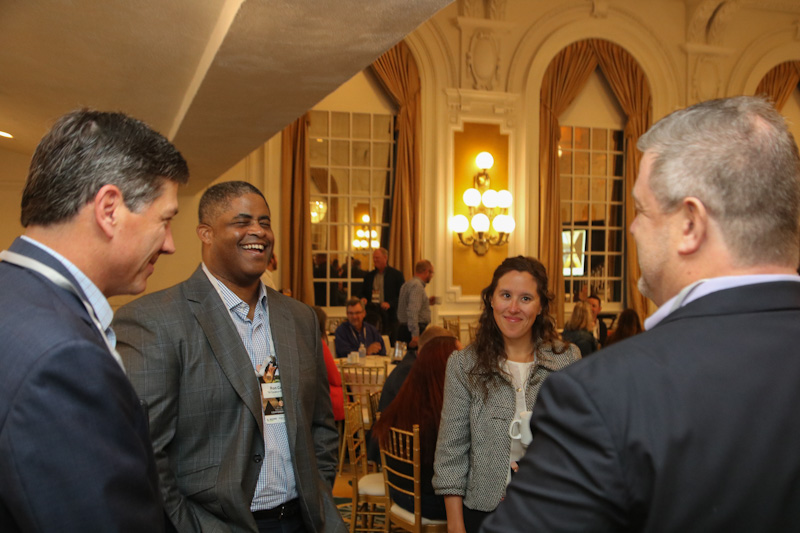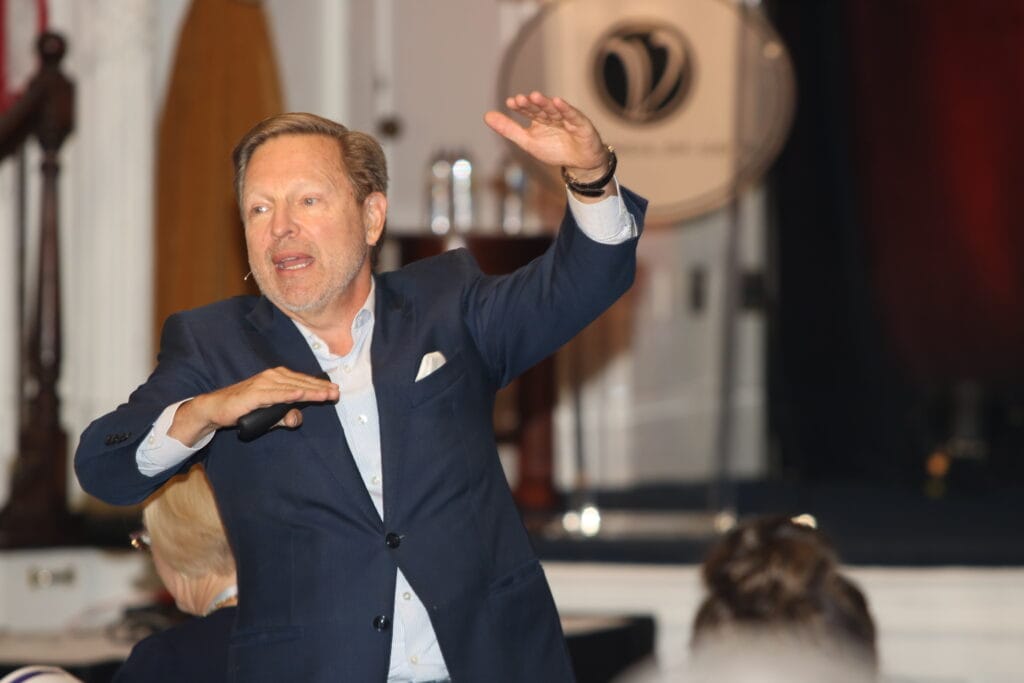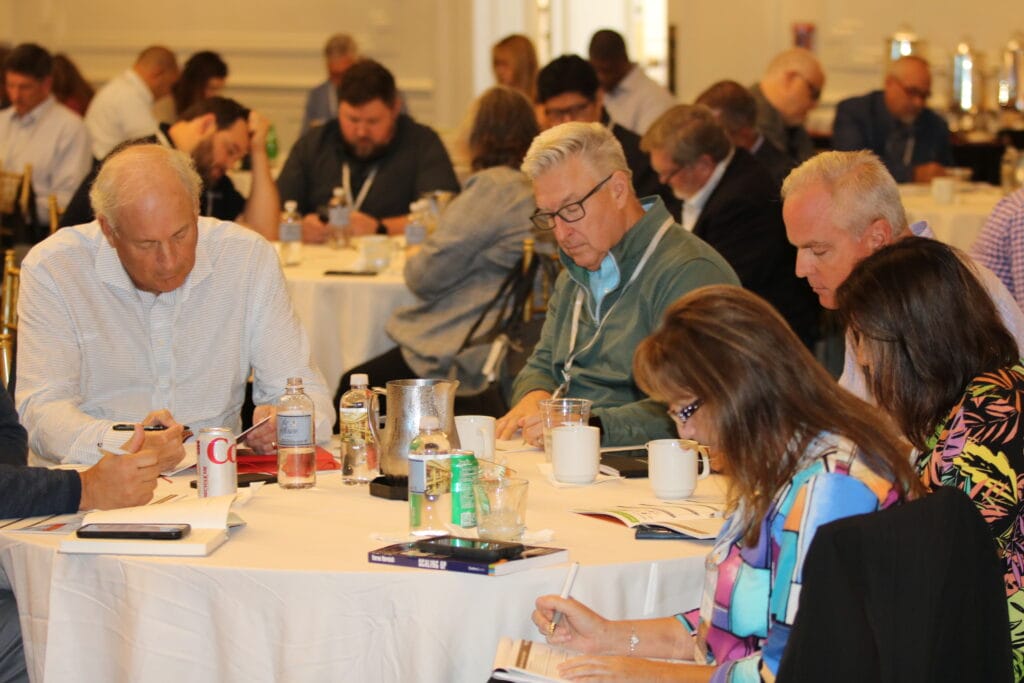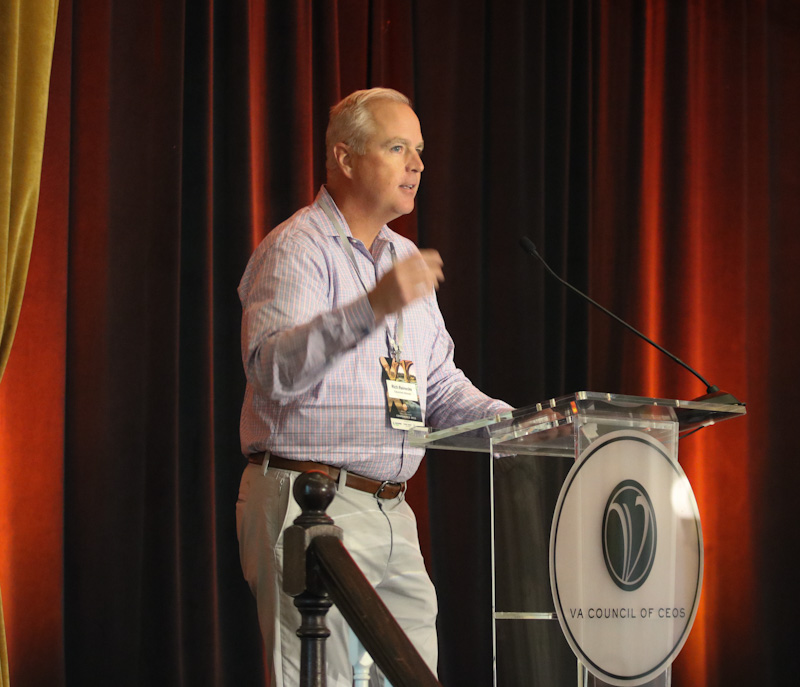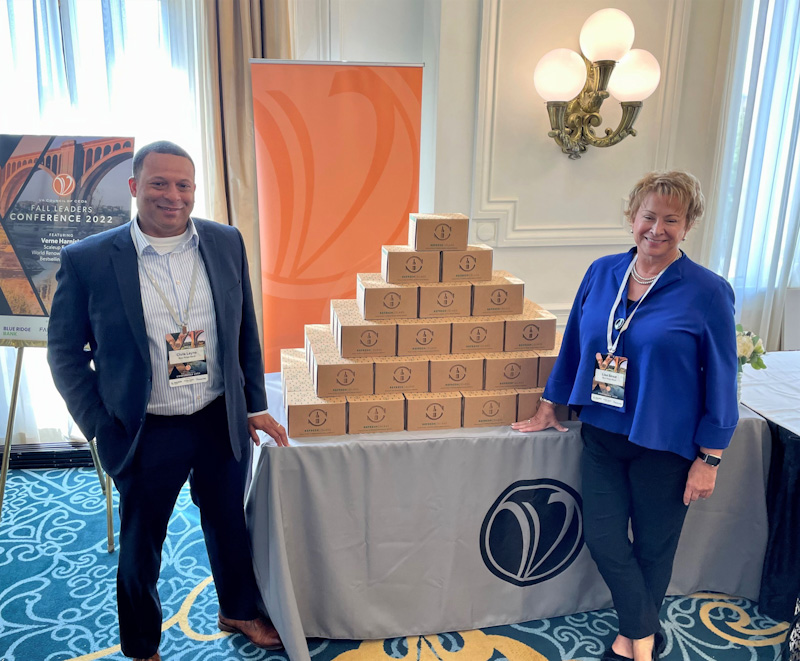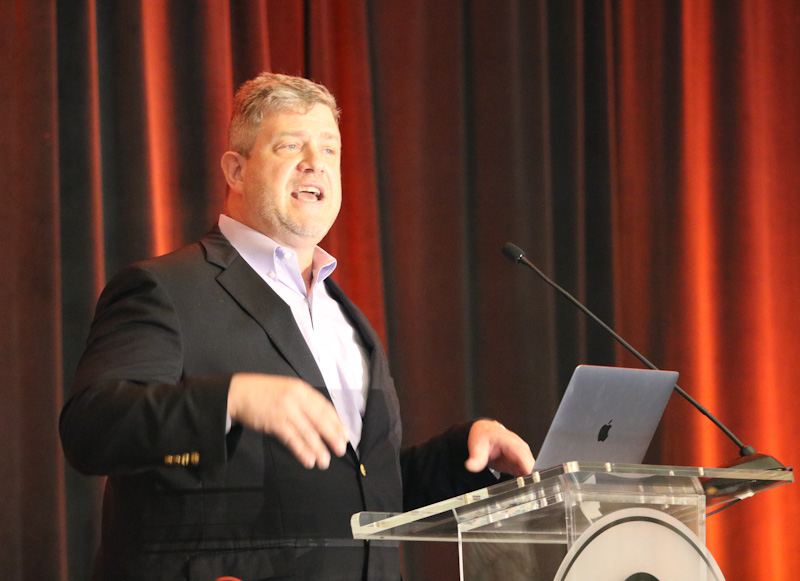 Posted by Scot McRoberts at 12:18 pm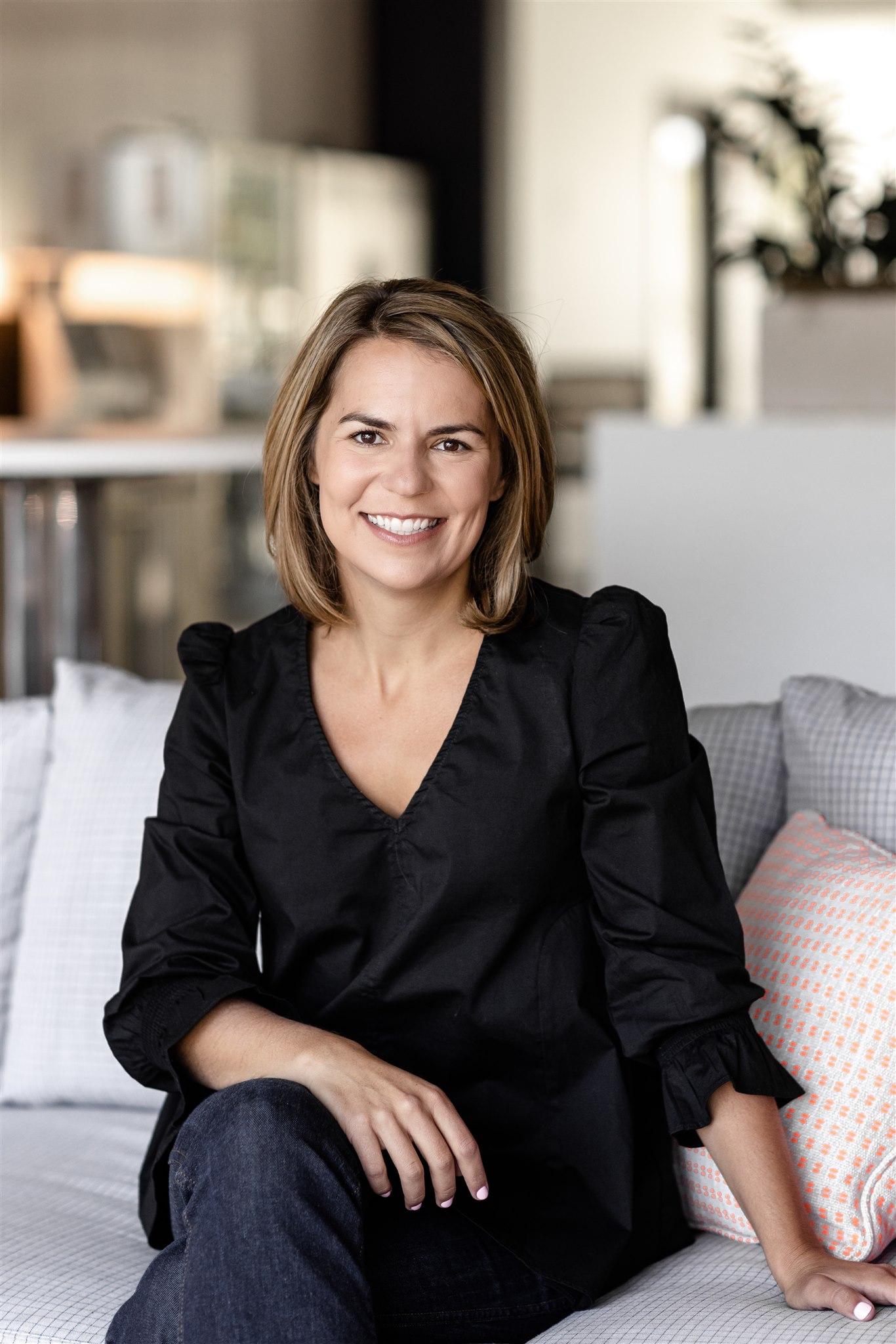 Q: You are a native of Richmond and attended Randolph-Macon College. What is your favorite spot or activity in Richmond?
A: I love the river and some of the trails around Richmond, as I have recently gotten more into hiking. The close proximity to the mountains or beach also makes it easy to find things to do on the weekends. I believe Richmond is a great city to live in based on the market size – it's easier to find a community and get around town than a larger city, and Richmond is large enough to offer a multitude of things to do.
Q: Who inspired you to become an entrepreneur?
A: I come from a family of small business owners. My grandfather owned a small oil and gas business in rural Virginia, and we were very close. Growing up, I saw and heard firsthand the power and impact of this engine of the economy. I also have an entrepreneurial spirit and love figuring out how to build new things.
Q: Please tell us about your journey to become a CEO.
A: My path was influenced by a combination of large corporate experience and early exposure to small business ownership. My first job out of college was at a Richmond-based Fortune 200 company, where I learned broader business knowledge and how important investments in learning and development are to building leaders. The first business I started was an e-commerce company that sold paper planners. As I evaluated my next move, I had a series of conversations with small business owners that revealed marketing challenges specific to their businesses. This was the genesis for Dotted Line. I started the agency in 2014, and we had our strongest year ever in 2021.
Q: What excites you most about your role as CEO?
A: I've learned that Dotted Line's potential rests on the strength of its people. Growing our team members and leaders is one of my most important jobs as the CEO. At Dotted Line, we focus on developing leaders that our agency will need not only today, but five years from now. We also are at a transformational moment, as the agency just debuted on the Inc. 5000 list of the nation's fastest-growing private companies. Our momentum and growth are continuing in 2022.
Q: How are you promoting leadership development at Dotted Line?
A: We make a significant investment in our people. For 2022, we launched a year-long Leadership Development program that's designed to build confident, team-based leaders. This investment – which is rare for both a marketing firm and for an organization of our size – ensures that team members have the shared skills and background to grow into future roles with Dotted Line and beyond. The program is open to everyone at the agency, not just those in existing management roles, because I believe everyone needs fundamental leadership skills – like influencing and having difficult conversations – to be effective in their jobs. We also dedicate a percentage of our budget to coaching, skills-based learning and mentoring opportunities.
Q: Are there any national/business authors that you follow? What is it about them or their message that resonates with you?
A: I'm a big fan of Dave Ramsey. His book and coaching program EntreLeadership has been an exceptional resource for me as a small business owner. Dave focuses on how to be a great leader and grow a successful small business. I have participated in many of his conferences and coaching events over the years.
I am also a big fan of Jesse Itzler, a serial entrepreneur. Jesse leads with high levels of passion and excellence and believes that the more you experience in life, the more you have to give. Jesse encourages people to have one big, impossible goal each year. This is something that stretches you and has a lasting effect on you all year. This year, I'm participating in an ultra-endurance event called 29029 Everesting. We have 36 hours to reach 29029 feet – the equivalent height of Mt. Everest. It's quite the challenge, and I am looking forward to experiencing something this transformational.
Q: You are very involved in the community, including the National Association of Women Business Owners and being on the board of directors for the Virginia Chamber of Commerce. How has your work with these organizations impacted you as a CEO?
A: Meeting, learning from, and networking other leaders has been formative to me as a business owner and CEO. As a young entrepreneur, I'm learning and leading at the same time. Outside guidance and expertise has been essential.
Q: You joined VACEOs in the height of the pandemic in 2020, what part of your membership has helped you grow the most as a leader?
A: I have loved getting to know and having the support of my roundtable members. Many of our businesses are similar in size, and we have similar aspirational goals. I am learning from them, and the support as a small business owner has been incredibly helpful.
Posted by Scot McRoberts at 1:42 pm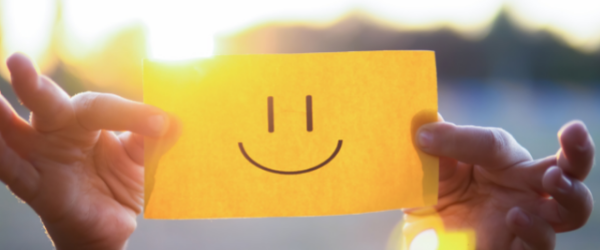 Three Simple Ways To Keep Your Workforce, Happy, Healthy and Engaged
The pandemic workplace dynamics have led to unprecedented quit rates and a labor shortage. As a result, employees have more employment options and power, and keeping good people in place now requires more than just "work" and "pay." To navigate this challenging landscape, business owners need to focus on what they can control. Here are three steps to invest in your employees' well-being to build engagement and keep your workforce!
1. Conduct Stay Interviews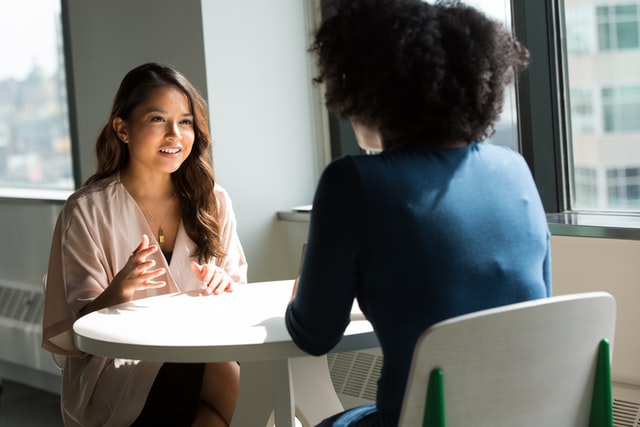 Stay Interviews are a great way to develop your employees and drive strategic change. These structured conversations between supervisors and employees are designed to learn about employees' strengths and areas of interest. Employees at every level should participate in a stay interview to be effective and successful. Having these conversations at the start of the new year is a great way to engage the workforce and gather feedback. Based on the outcome of these interviews, implement measurable changes and evaluate them throughout the year. Quantifying the changes helps drive success. This can be accomplished by defining key metrics along with strong communications. Be consistent and plan to keep this process alive every new year.
To help get this process started, below are questions for managers to consider asking their direct reports. Structure these conversations as an opportunity for you and the interviewee to learn and grow.
Question 1: How can I improve my management style?
Remember, people tend to leave managers, not jobs. Embrace this question with an open mind and be prepared to receive constructive criticism.
Questions 2: What do you like about your job; what do you not like?
These questions will provide insight into the individual's strengths since people typically enjoy doing what they are best at. Revising their job responsibilities to include more of what they like will help improve performance, thus fostering retention.
Question 3: What are your short and long-term goals? And how can our organization help support them?
Good talent leaves if they don't see a clear path to career advancement. Leave this conversation with a clearly defined developmental plan and how the business can support the individual to achieve their goals.
2. Invest in a Wellness Program
A wellness program is an initiative provided to employees to encourage a healthier lifestyle. The bonus is that improving an employee's well-being positively impacts productivity, engagement, company loyalty and helps reduce health care costs. In addition, it can be used as a recruiting tool. Here is a list of cost-effective wellness programs that can easily be integrated into your organization.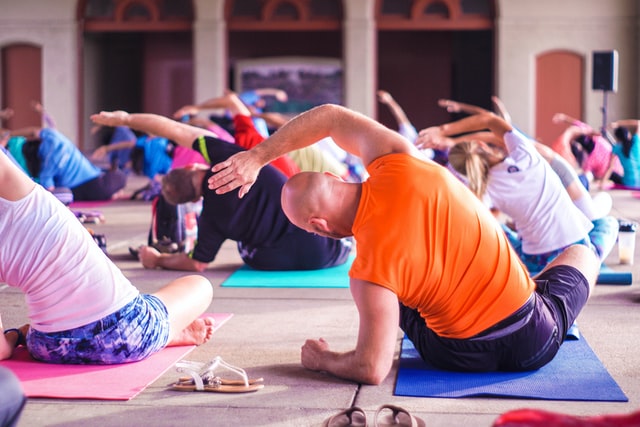 Encourage team members to engage in workouts and to drink more water. Have them keep track of their accomplishments to win health-related prizes at the end of the month.Yoga/Meditation Classes
Offer lunchtime breaks that include 15-30 minute yoga or mediation classes. Classes can be found on Youtube!
Healthy snacks and lunch options
To advocate healthy eating, offer healthy snacks such as nuts, dried fruit, or fresh fruit in the breakroom.
Offer flexible work hours
The 9:00 to 5:00 day is a thing of the past. Allow your team members to set their hours.
Advocate for employees to take their vacation
Taking time off to recharge promotes productivity! Encourage your employees to take all their vacation days and do not encourage rolling over days or paying them out.
Say "thank you" and provide feedback
Showing appreciation makes one feel valued and helps people stay motivated.
Smoking cessation programs
Supporting smokers to quit their habit will help success rates! Fewer smokers will not only reduce healthcare costs but also improve productivity.
3. Review your rewards and compensation programs
In this competitive job market, it is critical to go beyond just salary to retain and attract talent. By building enticing compensation packages (packages that creatively combine the total value of base pay, benefits, rewards, and other perks into your business strategy), you can distinguish yourself as an "employer of choice." While there is no one-size-fits-all approach, it is essential to evaluate the below offerings to ensure you are competitive and aligned with your market and industry.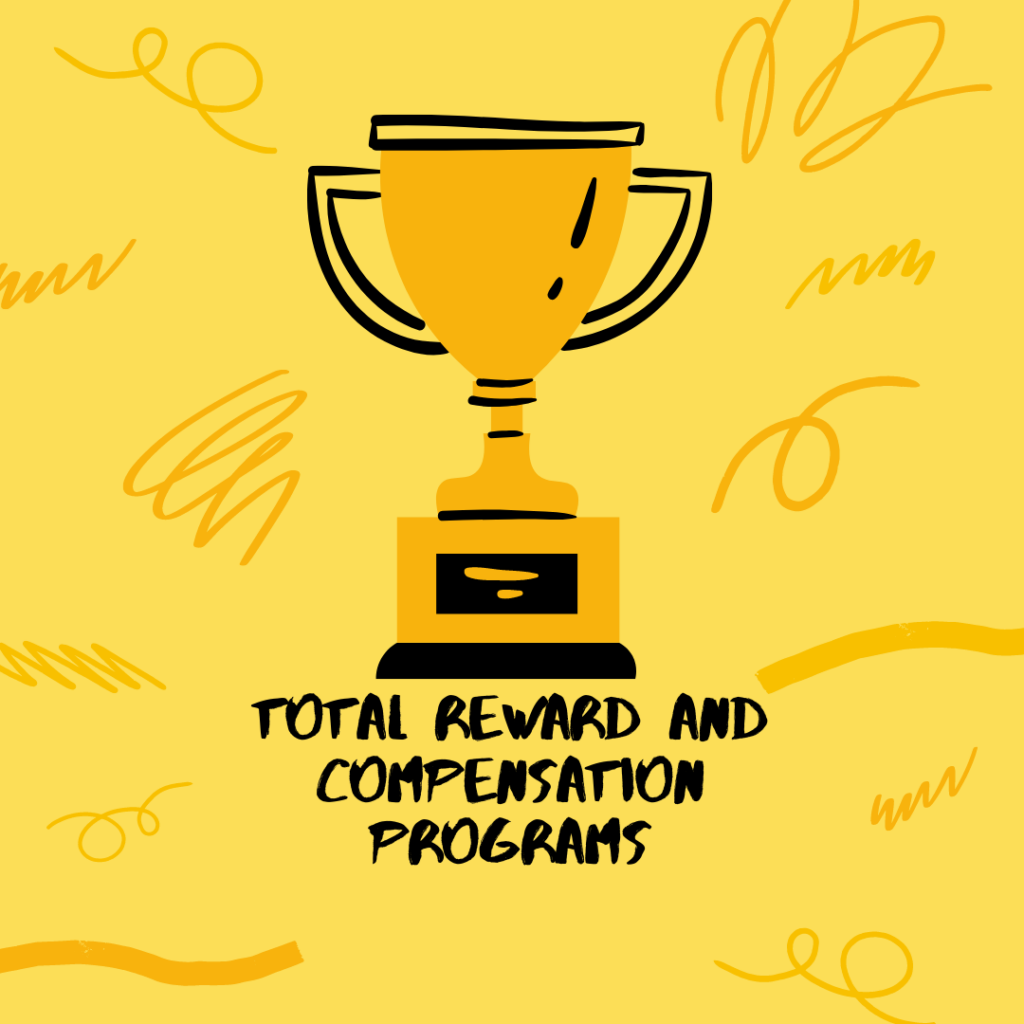 You want your employees' salaries to be equal to or more than the industry standard for a specific job title in that location.
Giving incentives allows you to reward your top performers. Here are the five most popular rewards programs: annual incentives, spot bonuses, referral bonuses, signing bonuses, and profit-sharing plans.
Employees put a lot of value into their quality of life. Here are examples of non-monetary rewards: flexible schedule, an extra day off, time for volunteer work, training and/or mentoring programs.
Research shows that a competitive benefits plan can play a vital role in attracting and retaining skilled workers. This plan should include: healthcare, retirement savings and planning, paid time off, paid parental leave, flexible work schedule, and professional and career development.
Recognition and Promotions
Create a culture of recognition. A critical piece to the success of this initiative is regularly promoting your programs to make them appealing to your employees.
Remember, a more engaged workforce isn't just a loyal workforce; it's a more productive one. Building and retaining a great team is key to your company's long-term growth and success. In an economy where workers have the upper hand, it is more important now than ever to incorporate employee retention strategies into your business plan.
The Author, Beth Williams of Warren Whitney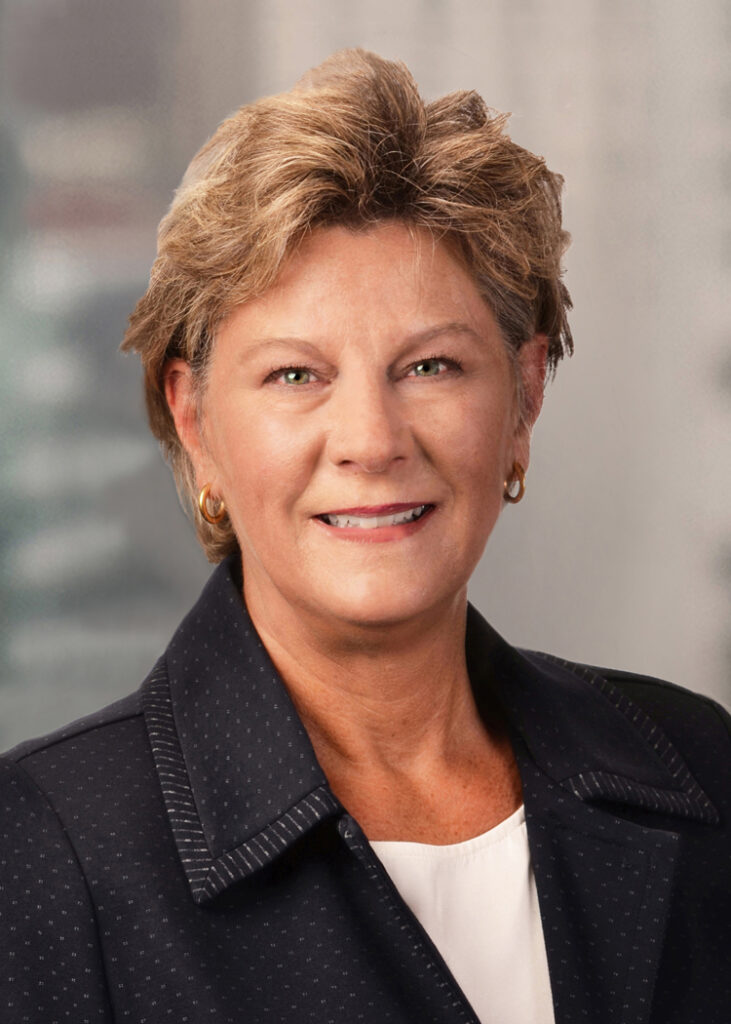 Beth Williams, Director of Human Resources at Warren Whitney, has worked in human resource management for more than 25 years with experience that spans many diverse industries, including energy, financial services, banking, legal services, pharmaceuticals, IT, and non-profit. She provides a full range of HR consulting services and strategic solutions, which are customized for each client and provide a clear direction to company goals and objectives. Beth has worked with many of her clients on a long-term basis, serving in interim HR director roles for several small and large businesses around Virginia.
About Warren Whitney
Warren Whitney's HR team works with business leaders to strategically evaluate the best path forward. Their work includes in-depth compensation and benefits analysis, organizational structure and planning, as well as talent management.
About Virginia Council of CEOs (VACEOs)
Virginia Council of CEOs (VACEOs) is a nonprofit organization connecting CEOs for learning and growth. Formed more than 20 years ago, member benefits include placement in a peer roundtable group and access to a thought leader network, and a robust program of events for learning and growth. This is not a networking group, but rather a group of CEO peers who are invested in the success of each member. To qualify for membership CEOs must run a business with $1M+ revenue and 5+FTEs. Learn more at www.vaceos.org.
Posted by Scot McRoberts at 10:09 am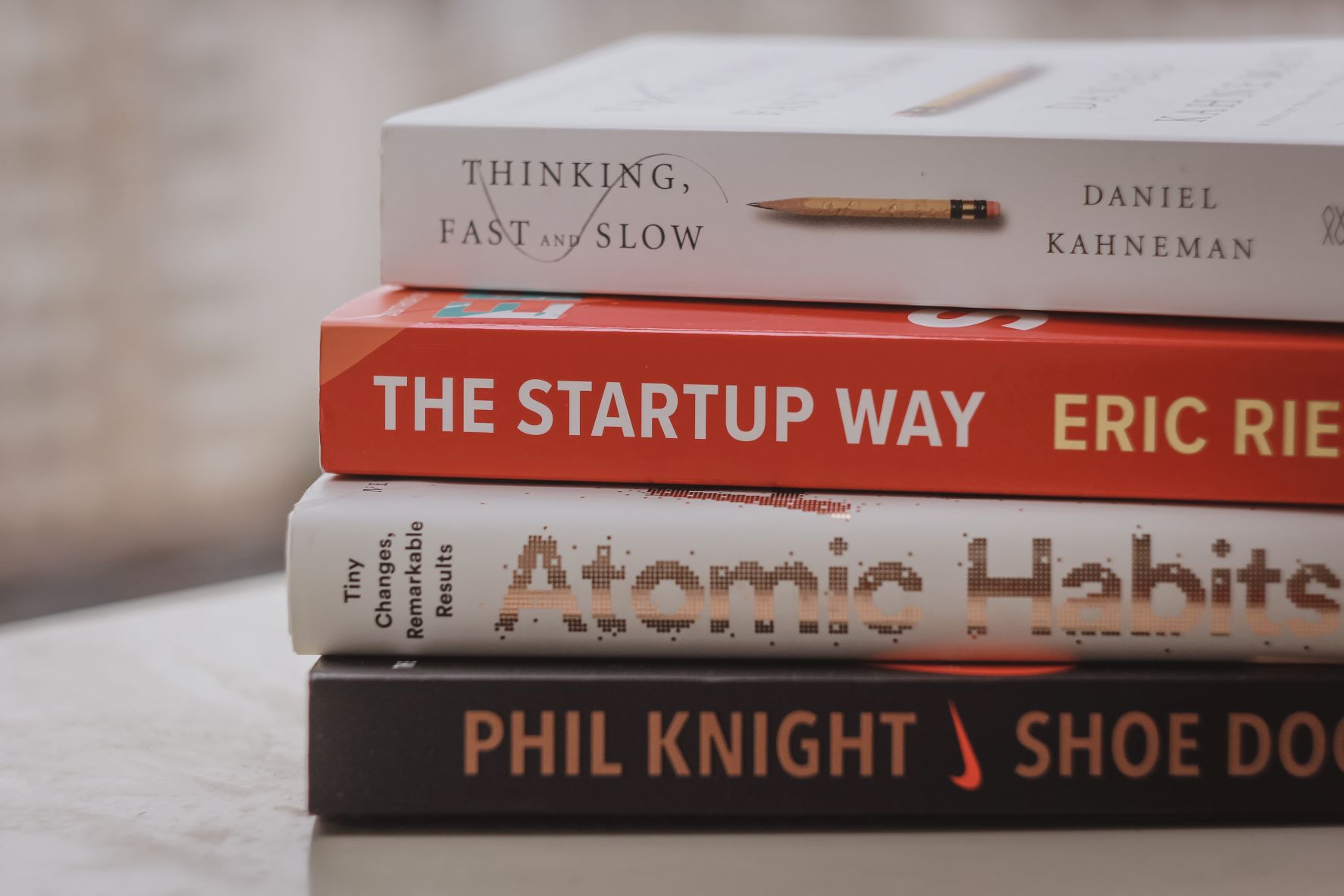 "All readers are not leaders, but all leaders are readers."

Harry S. Truman
On March 31, acclaimed author and podcaster, Jeff Brown, will be speaking at the VACEOs Quarterly Lunch on the topic of reading and leadership.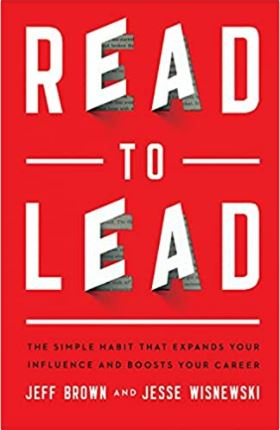 Brown, co-author of 'Read to Lead' makes a convincing argument that reading is the single best thing leaders can do to improve themselves. Reading more and better books creates opportunities for CEOs to learn new skills and rise above one's competition – unmatched by any other single action.
According to Brown, having a well-lined bookshelf is something that distinguishes great leaders. The average number of books CEOs read is 60 per year (or five per month). In contrast, the average American adult reads fewer than 12 books a year. That's a huge difference and not a coincidence.
So, that got us wondering about our own membership and how the VACEOs community feels about reading in general, as well as what books they truly love and value. That prompted us to send out a brief poll. Highlights from the responses are below.
What VACEOs Members Are Reading
The first question we asked was "What are you reading right now?" To our pleasant surprise, Jon Morris, president, and CEO of HopeTree Family Services shouted right back that he isn't just reading one book right now – but that his normal practice is to read three to five books at the same time. Some of what he is currently reading includes;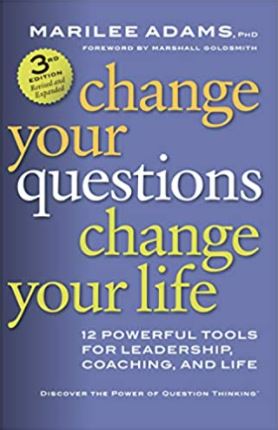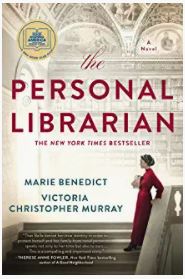 Connie Hom, CEO of Buckingham Greenery, is doing some fun reading in addition to books on leadership. Her list includes:
The Personal Librarian,
by Marie Benedict and Victoria Christopher Murray
The Lenten Cookbook,
by David Geisser with essays by Scott Hahn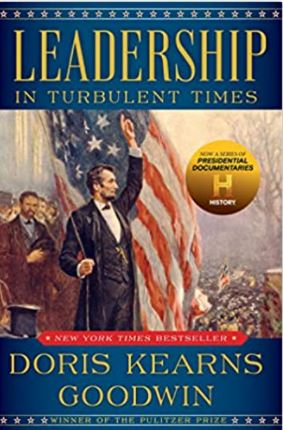 Robin Green, president at Ascend Performance powered by Sandler Training, enjoys reading more than one book at a time too. And what better way to learn about power, persuasion, and perseverance than from history's celebrated leaders? Robin is currently reading;
Leadership in Turbulent Times – the Leadership of Abraham Lincoln,
by Doris Kearns Goodwin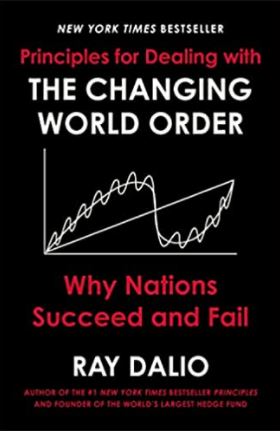 Grant,
by Ron Chernow
And Gyrus Systems President and CEO Viren Kapadia, is reading a brand new best-seller;
Principles for Dealing with the Changing World Order: Why Nations Succeed and Fail,
by Ray Dalio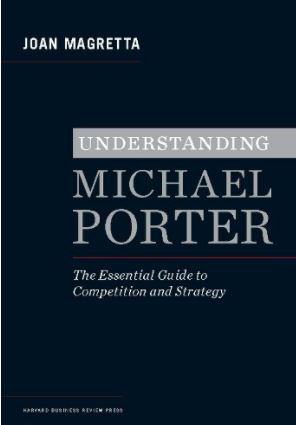 Michael W. Matthews, president and COO of Froehling & Robertson, who is also in school earning a Ph.D., carves out extra time at lunch and on weekends to read. When asked what his favorite books of all time were, Michael picked two contemporary classics;

Understanding Michael Porter: The Essential Guide to Competitive Strategy,
by Joan Magretta
Winning,
by Jack Welch
In contrast, Robin's favorite books scanned the ages including;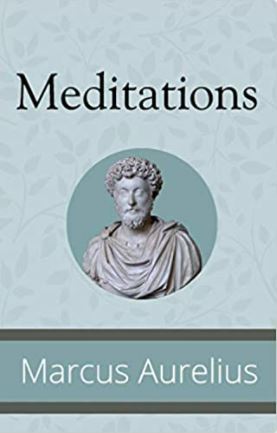 Meditations,
by Marcus Aurelius, written between 161-180 AD
7 Habits of Highly Effective People,
by Stephen Covey
The Art of War: Break Through the Blocks and Win Your Inner Creative Battles,
Steven Pressfield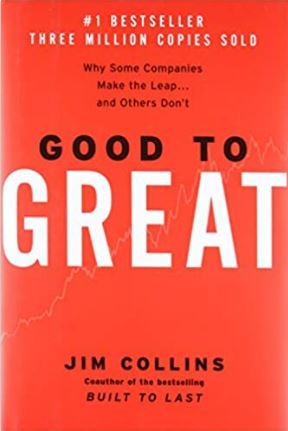 The Must Read Book for CEOs
And last but not least, there was only one book that made it to the "Must Read" list of multiple VACEOs. It was…
Good to Great: Why Some Companies Make the Leap…And Others Don't,
by Jim Collins
We hope you will join us at the Quarterly Lunch on March 31 to listen to Jeff Brown. In the meantime – check out one of these great books your peer's recommend. Above all – just keep reading. It can literally change your business and your life.
About Virginia Council of CEOs (VACEOs)
Virginia Council of CEOs (VACEOs) is a nonprofit organization connecting CEOs for learning and growth. Formed more than 20 years ago, member benefits include placement in a peer roundtable group and access to a thought leader network, and a robust program of events for learning and growth. This is not a networking group, but rather a group of CEO peers who are invested in the success of each member. To qualify for membership CEOs must run a business with $1M+ revenue and 5+FTEs. Learn more at www.vaceos.org.
Posted by Scot McRoberts at 12:25 pm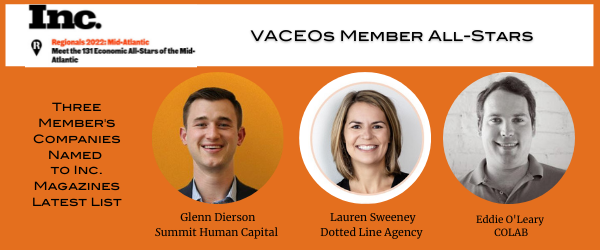 VACEOs Member Takes Top Spot on Inc's Fastest Growing Companies List
Inc. magazine just revealed its third annual Inc. 5000 Regionals: Mid-Atlantic list, the most prestigious ranking of the fastest-growing Mid-Atlantic-based private companies, based in D.C., DE, MD, NC, VA, and WV.
The companies on the list show a remarkable rate of growth across all industries in the Mid-Atlantic region – adding thousands of jobs and billions of dollars to the Mid-Atlantic region's economy.
Please join us in congratulating VACEOs member Glenn Dierson of Summit Human Capital whose company ranked number ONE on Inc's list.
Founded in 2018, Summit Human Capital Summit Human Capital specializes in providing IT human capital solutions to a diverse portfolio of industries including: Information Technology, Healthcare, Government Services (Federal and SLED), Legal, Logistics and more.
Ranked at 89 was Lauren Sweeney of the Dotted Line Agency. The Dotted Line is a creative agency that helps ambitious brands become great. With a strategy-before-everything approach, they draw the line that connects marketing from beliefs to behaviors for brands that want to do more business to grow effectively and efficiently, with lasting impact.

Eddie O'Leary of COLAB made the list 131. COLAB is a team of strategists, designers, developers, engineers and project managers that create digital platforms to empower marketing leaders.
Are you curious to learn more? Would you like your company to be listed as an Inc. Magazine All-Star? While we can't guarantee you will make the list, we can guarantee that by joining VACEOs you will have the opportunity to work with and learn from some of the greatest business leaders in Virginia. Don't wait. Come check us out.
About Virginia Council of CEOs (VACEOs)
Virginia Council of CEOs (VACEOs) is a nonprofit organization connecting CEOs for learning and growth. Formed more than 20 years ago, member benefits include placement in a peer roundtable group and access to a thought leader network, and a robust program of events for learning and growth. This is not a networking group, but rather a group of CEO peers who are invested in the success of each member. To qualify for membership CEOs must run a business with $1M+ revenue and 5+FTEs. Learn more at www.vaceos.org.
Posted by Scot McRoberts at 11:49 am
---