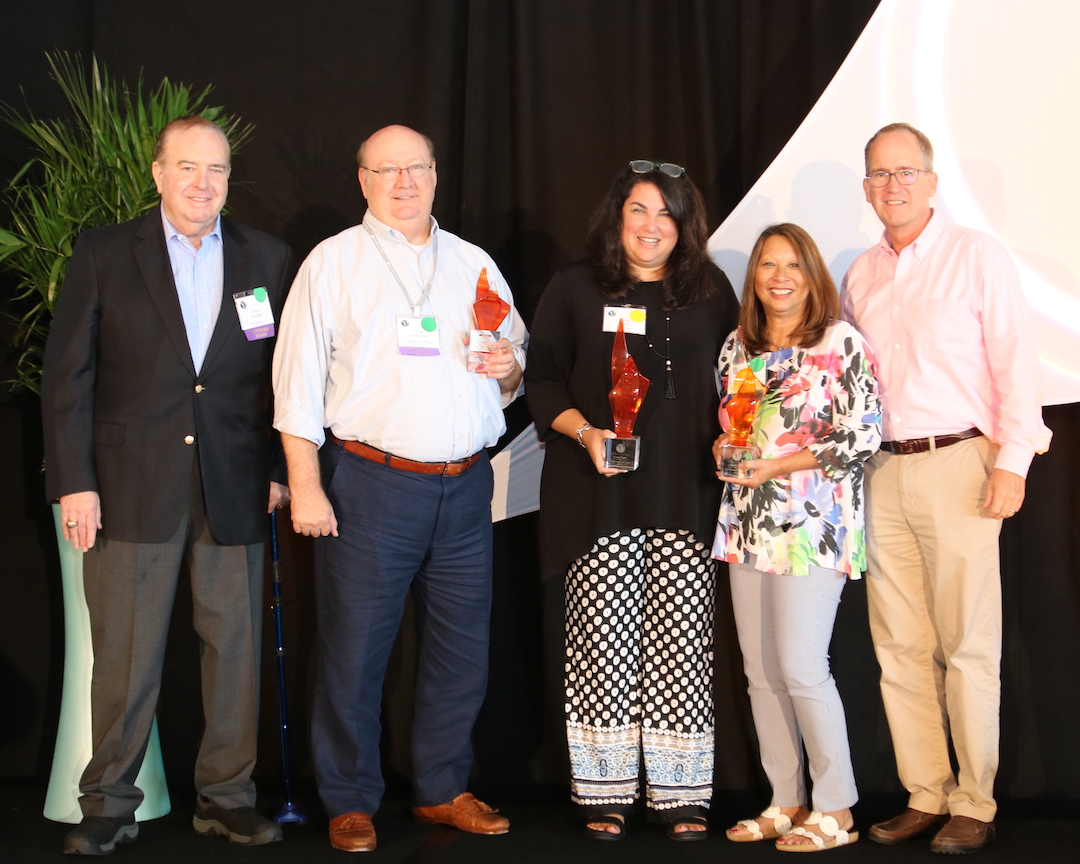 Recipients honored for their tireless work as VACEOs volunteers and for unwavering dedication towards sustaining the mission and the growth of the Council.
---
Richmond, Virginia: The Virginia Council of CEOs (VACEOs), a non-profit association serving more than 200 small and mid-sized business owners, announced today that three members were awarded the Charles E. McCabe Leadership Award on September 20, 2021 at the 1st Annual VACEOs Fall Leaders Conference held at the Marriott Virginia Beach Oceanfront in Virginia Beach.
The Charles E. McCabe Leadership Award, presented by the Virginia Council of CEOs Board of Directors, recognizes VACEOs members who make significant leadership contributions to the Council. Chuck McCabe, CEO of Peoples Tax and The Income Tax School, was appropriately named as the first recipient of the award during the 2017 VACEOs Retreat.
"Volunteers are a core strength of our organization. I am humbled by their dedication," said Scot McRoberts, Executive Director, VA Council of CEOs. Adding, "These honorees represent many others who apply their talents and energy to connect CEOs across Virginia for learning and growth."
As last recipient of the award in 2019, Arlene Lee, CEO, Lee Construction Group, was given the honor of introducing each new recipient.
Mike Matthews, President of Froehling & Robertson, was celebrated for his efforts in shaping the VACEOs Forum program and more.
Said Lee during the ceremony, "He was a member of our first CEO Forum for larger company CEOs, and helped shape that program. He served as leader of his Forum, on committees, the board of directors, as Treasurer, Vice Chairman, and finally as Chairman in 2016.
When Mike Matthews had a very successful business exit, and during his brief early retirement, Mike was a fantastic facilitator for a couple of our CEO Forums. He has since gone back to a full-time president role, but continues to serve VACEOs as chairman of the Finance Committee. Thank you and congratulations Mike Matthews."
Elissa Mast, President, E&R Sales, has been a member of the Council since 2005 and was honored for her active role within the Council and especially her impact on the Annual Retreat.
About Mast, Lee said, "Elissa Mast joined VACEOs 16 years ago to solve her 'lonely at the top' issue, and boy are we glad she did. In addition to speaking up at every meeting she ever attended, Elissa has led her roundtable, launched our Knowledge Network luncheons – where the experts are in the room – and served on the board of directors for nearly a decade. Perhaps her greatest impact has been in chairing several Retreats, where she raised the bar on content and speakers for us all."
And finally, Connie Hom, CEO of Buckingham Greenery, was celebrated for her dedication towards promoting and advancing the Council.
"This leader joined VACEOs in 2002. She has led her roundtable, served on nearly every committee, and on the board of directors since 2018. As a leader and active member in a host of business and community organizations, she has leveraged her network to advance the Council. Connie Hom always provides live plants to decorate our stages, and we are healthier for it!
For years, Connie has spread word of the Council to other CEOs, enthusiastically participated and promoted our programs, and served our association in so many ways large and small. Congratulations, and thank you Connie Hom for nearly 20 years of leadership," said Lee.
Charles E. McCabe Leadership Award Recipients (Past and Present)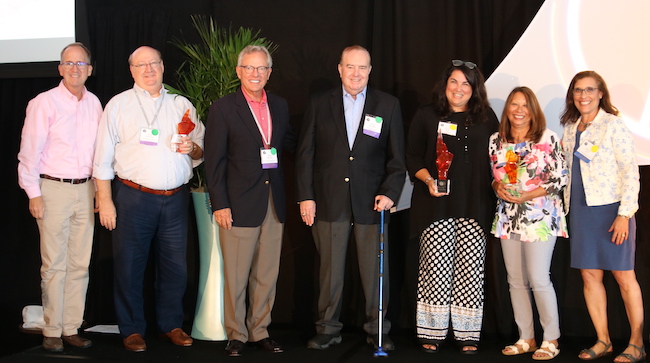 2021: Mike Mathews, President, Froehling & Robertson; Elissa Mast, President, E&R Sales; Connie Hom, CEO of Buckingham Greenery
2020: (Postponed due to Coronavirus)
2019: Arlene Lee, President, R.E. Lee Companies
2018: David R. Barrett, President and CEO of Barrett Capital Management
2017: Chuck McCabe, CEO of Peoples Tax and The Income Tax School
---
About Virginia Council of CEOs (VACEOs)
Virginia Council of CEOs (VACEOs) is a nonprofit organization connecting CEOs for learning and growth. Formed more than 20 years ago, member benefits include placement in a peer roundtable group and access to a thought leader network, and a robust program of events for learning and growth. This is not a networking group, but rather a group of CEO peers who are invested in the success of each member. To qualify for membership CEOs must run a business with $1M+ revenue and 5+FTEs. Learn more at www.vaceos.org.
Posted by Staff at 8:53 am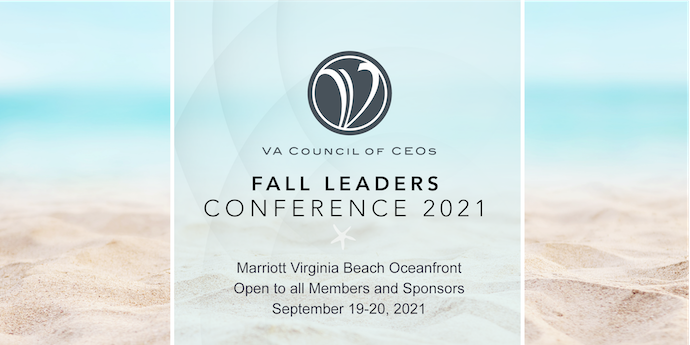 The 2021 VACEO's Fall Leaders Conference will be held at the Marriott Virginia Beach Oceanfront in VA Beach from September 19-20. Here are answers to some of the most frequently asked questions about the Conference.
Q. What is the schedule for the conference?
Sunday evening*
4:00 PM – 5:30 PM Registration and Welcome Reception
6:00 PM – 7:30 PM Reception at the Beach Bar and Grill hosted by Fahrenheit Advisors 
*Dinner on your own
Monday
8:00 AM – 9:30 AM Registration Breakfast
9:30 AM – 11:00 AM Welcome & Margie Warrell, Leading with Courage
11:15 AM – 12:00 PM Craig Lemasters, Unstuck!
12:00 PM – 1:30 PM Lunch
1:30 PM – 2:00 PM Welcome Back & Chuck McCabe Award
2:00 PM – 2:45 PM Workshop with Craig Lemasters
3:00 PM – 3:30 PM Margie Warrell closing address
3:30 PM Adjourn
Q. What are the COVID protocols?
A. We are asking everyone attending to either be fully vaccinated or have tested negative for COVID in the last 24 hours. Regardless of vaccination status everyone is encouraged to wear a mask whenever not eating or drinking indoors. We will have extra seating in the meeting room for those who prefer more space. Also, we will have color coded dots at registration to denote comfort level. See below.
Q. What do the red, yellow, and green dots on the name badges mean?
We've developed a sticker system to make sure everyone is comfortable while we gather. We ask everyone to please be mindful and respectful of each other during this event. Thank you!



Q. Is there a dress code?
A. Not really. Let's call it business casual or resort casual. Relax and be comfortable. Our Sunday evening party is outside so please dress for the weather.
Q: I've arrived at the Marriott VA Beach Oceanfront hotel. Now what?
Sunday arrival: Check in to the hotel, then between 4:00 PM – 5:30 PM come to conference registration on the 2nd floor to pick up your name tag and a special gift.
There will also be a Welcome Reception sponsored by Fahrenheit Advisors next to registration.
From 6:00 PM – 7:30 PM come to the Beach Bar and Grill for our Opening Reception.
Monday arrival: we will officially welcome you at the Retreat Registration desk located on the 2nd floor at 8:00 AM.
Q. What is the menu at the reception Sunday night? Should I make dinner reservations?
A. We will have heavy hors d'oeuvres at the reception. There will be ample food but for those preferring a sit-down meal, we suggest making reservations as soon as possible. See dining options and the reception menu below.
Sunday Night Reception Menu**
Pasta Station
Raw Bar (Local oysters, crab claw cocktail, poached North Carolina shrimp)
Artisan Cheese Table and Becca Garden Crudite
Passed Hors d'oeuvres (Vegetable Spring Roll, Mini Beef "Wellington", Baby Mozzarella and Tomato Skewers)
Dessert (Assorted mini sweets, petit fours & truffles)
**There will be gluten free options available at certain stations
Still have a question? Please email us or call: 804-360-2644
About the VACEOs Fall Leaders Conference
Launched in 2021, the Fall Leaders Conference is a scaled down version of the VACEOs Annual Retreat. This new event is designed for leaders who want to immerse themselves in one night of connecting and one full day of learning.
This event is for VACEOs Members and Sponsors only.
Posted by Staff at 12:03 pm