VA Council of CEOs Adapts to COVID-19 Crisis, Expands Statewide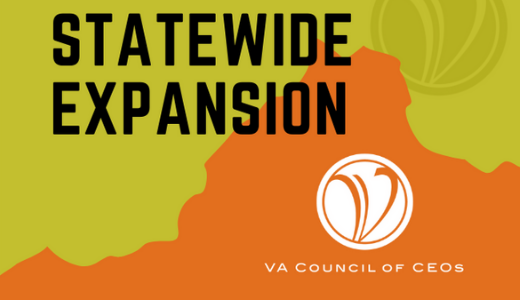 (Read Richmond Times-Dispatch coverage: "Virginia Council of CEOs opens up to membership to top executives across the state")
---
Richmond, Virginia: The Virginia Council of CEOs (VACEOs), a nonprofit association serving more than 200 small and mid-sized business owners, announced today that is expanding its geography outside of Central Virginia and throughout the state, welcome news for many CEOs who run a small and mid-sized business in Virginia who seek the benefits of a CEO advisory group (peer roundtable). 
VACEOs, a 20-year old nonprofit association, is driven by its mission is to "connect CEOs for learning and growth." The most powerful way CEOs connect within the organization is through a confidential peer roundtable group, made up of CEOs of non-competing companies ($1 million or more in revenue/5 or more full-time employees).
Before COVID, VACEOs expansion was limited due to the perceived need to form roundtables based on geography. However, during COVID the roundtables were able to expand past geographic boundaries through the use of Zoom, WebEx, and other video platforms. Two new virtual roundtables were created during COVID and their success has now led to this aggressive expansion.
"Our existing Roundtables pivoted quickly to online meetings back in March and April," says Scot McRoberts, Executive Director, Virginia Council of CEOs. "We think CEOs are open to this efficient, effective meeting method like never before. There is an opportunity here to serve hundreds of small business CEOs who we could not reach before. By offering roundtables to more CEOs, we are delivering on our mission."
---
"I'm not sure that I could have navigated as well as I did, without my roundtable." – Sam Stone, CEO, Stone's Office Supply
---
CEOs Find Their Peer Roundtables to be an Invaluable Source of Information and Comfort During Time of Crisis
Sam Stone, CEO of Stone's Office Supply, is a long-time member of VA Council. Says, "We went from meeting in person, to immediately switching to Zoom meetings to cover some of the most difficult topics that I've had to cover in my time as a CEO. I'm not sure that I could have navigated as well as I did, without my roundtable."
Connie Hom, CEO of Buckingham Greenery, says, "This has been a fast-paced, changing environment. There are decisions as a CEO in regard to labor, clients and revenue, and the shared experiences have been very helpful. The virtual roundtable has truly been a breath of fresh air, and the Council membership has proven to be, for me, a port in the storm."
VA Council Offers Complimentary, Two-hour Peer Roundtable Experience
To fuel its growth and for a limited time only, VACEOs is offering a complimentary, two-hour confidential peer roundtable experience with a trained facilitator. After that one-time experience, CEOs can join the organization and be placed in a new roundtable while accessing other Member benefits, including online training and informational sessions, learning programs, social events, and the return to in-person meetings and retreats. Learn more: https://vaceos.org/ceo-roundtables
Posted by Staff at 9:02 am