I've been helping CEOs learn and grow in peer roundtables for three decades. I've seen CEO groups that were immensely valuable and important to the participants, and unfortunately, I have seen some that were not meaningful.
There are a lot of "secrets" to a successful peer group. If you want them all, just read Mo Fathelbab's book Forum. But I believe that the one that comes before all the others is commitment.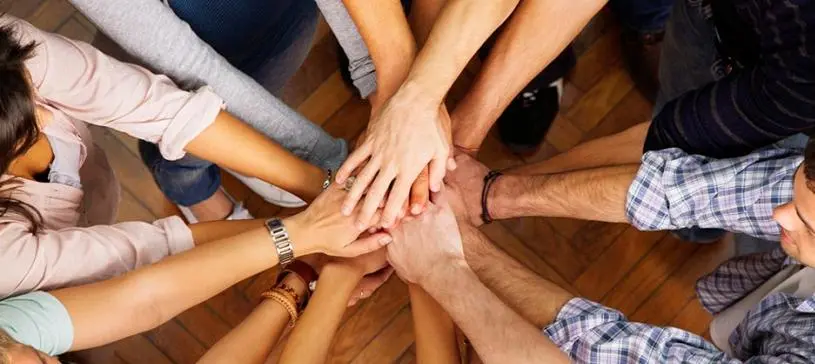 Every CEO that considers joining us at VACEOs hears a very clear unsell from me. "Please don't join us unless you are going to attend every single meeting of your roundtable." I go on to tell them that this is the culture they are joining. If you are not there you are depriving others of the value of your experience and insights. Anyway, who would want to join a group where the members don't show up?
Does it really matter? Well, we track attendance across 230 CEOs at 95%, month in and month out. Some peer group organizations must fill groups with up to 15 members so that they will have 8 or 10 at a meeting. We cap them at 10 because everyone will be there most of the time. There is a consistency to the engagement, and the conversation continues to deepen when there are no gaps in attendance.
Every December in my CEO roundtable we make plans for the next year. Each of us affirms our commitment to attend every meeting. The promise that we will be there for one another drives trust, openness, and in the long run, learning and growth for all of us. That's the secret.
Posted by Scot McRoberts at 11:37 am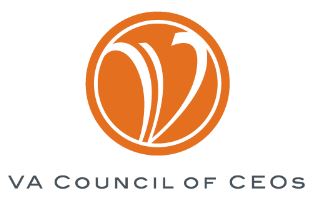 For years, our members have been asking for a peer learning experience for their second in command. The VACEOs Board of Directors asked staff to create a peer learning experience for COOs, GMs, number twos, etc., as a pilot program for 2023.
Learning with peers accelerates the abilities of professionals. We know that from decades of serving CEOs in this way.
VACEOs is offering a cohort-style program for key executives from member companies that will:
Create meaningful connections with other professionals. A trusted network.
Accelerate the learning and growth of these professionals by expanding their perspectives and exposing them to others' experiences.
Connect them with experts from the community in a wide range of disciplines.
Beginning on January 20, 2023, a group of 8 to 10 executives will meet monthly through September. These three-hour meetings will be led by a professional facilitator and consist of two elements.
A confidential peer roundtable experience that gives everyone the chance to share issues and opportunities, and to learn from one another's experiences. Essentially, a "lite" version of our CEO Roundtables format.
Learning from subject matter experts, drawn from VACEOs sponsors, on topics like strategy, execution, culture, technology, compliance, finance, HR, marketing, sales, etc.
This is not a VACEOs membership, but a program that we are offering to key executives in our members' companies. Participants are expected to commit to 100% attendance.
As of October 31 we are no longer taking applications. If you have any questions, please email info@vaceos.org.
---
Posted by Scot McRoberts at 3:09 pm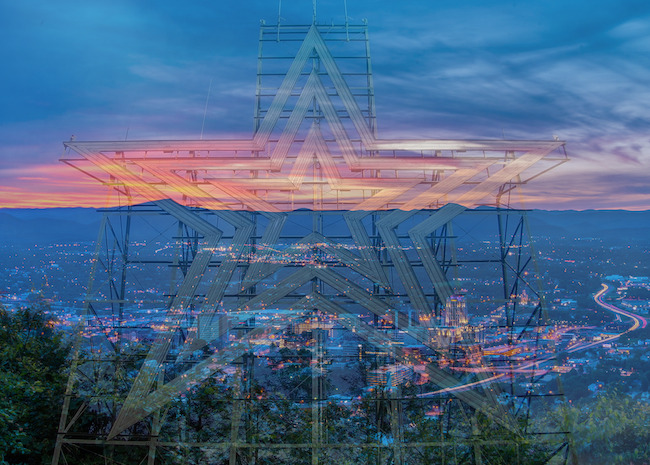 Nonprofit establishes first CEO peer roundtable in the Roanoke Valley; anticipates a second to be formed in the region in the very near future.
FOR IMMEDIATE RELEASE
November 10, 2021
Richmond, Virginia: The Virginia Council of CEOs (VACEOs), a nonprofit association serving more than 240 small and mid-sized business owners, announced today that the organization has launched its first CEO peer roundtable in the Roanoke, Virginia market. The organization expects to form a second peer group in the Roanoke area shortly.
Formed in Richmond in 2000, the organization was once primarily Richmond and Charlottesville focused. This news comes just short of one year since the VA Council of CEOs announced its plan to expand statewide. It is welcome news for many CEOs who run a small and mid-sized business in the area and who seek the benefits and value of membership in a peer group.
"We are beginning to make great strides towards our mission to connect CEOs for learning and growth across Virginia", said Scot McRoberts, Executive Director, VA Council of CEOs. Adding, "This is an important milestone and I hope a watershed moment for future expansion in Southwest Virginia."
VACEOs Roundtables Help Business Owners Improve Leadership Skills and More
The most powerful way CEOs connect within the Council is through a confidential peer roundtable group, made up of CEOs or business owners of non-competing companies. The minimum threshold for membership is $1M in annual revenue and five or more full-time equivalent employees. There is no cap in either category.
A VACEOs roundtable follows a structured protocol where advice is not given, rather, experiences are shared in a no-judgement setting. The peer roundtables ultimately help business owners to be more confident decision makers and to better manage their business and personal issues, challenges, and opportunities. In short, the Roundtable experience results in improved CEO performance and leadership.
"The peer-to-peer roundtable experience gives you a place to share personal and professional challenges with other business owners who understand your pressures. It's a safe haven. And, it's a pretty powerful thing."

Arlene Lee, CEO, Lee Construction Group and member of the Council (Charlottesville).
"We are excited to be able to bring the VA Council of CEOs peer Roundtable experience to the Roanoke and New River Valleys", says Keith Hartman, Regional Executive for the Virginia Council of CEOs. "Participation in a peer Roundtable can positively impact the entire spectrum of a CEO's realm of influence. The insight gained from the variety of different perspectives represented in a peer Roundtable can be game-changing".
Hartman joined the Council in January of 2021. His main responsibility is to assist with the nonprofit's membership growth within the southwest region of the Commonwealth. Small and mid-sized business owners interested in learning more about the benefits of a peer group or in additional information about the Council can reach him directly at keith@vaceos.org.
Posted by Staff at 10:22 am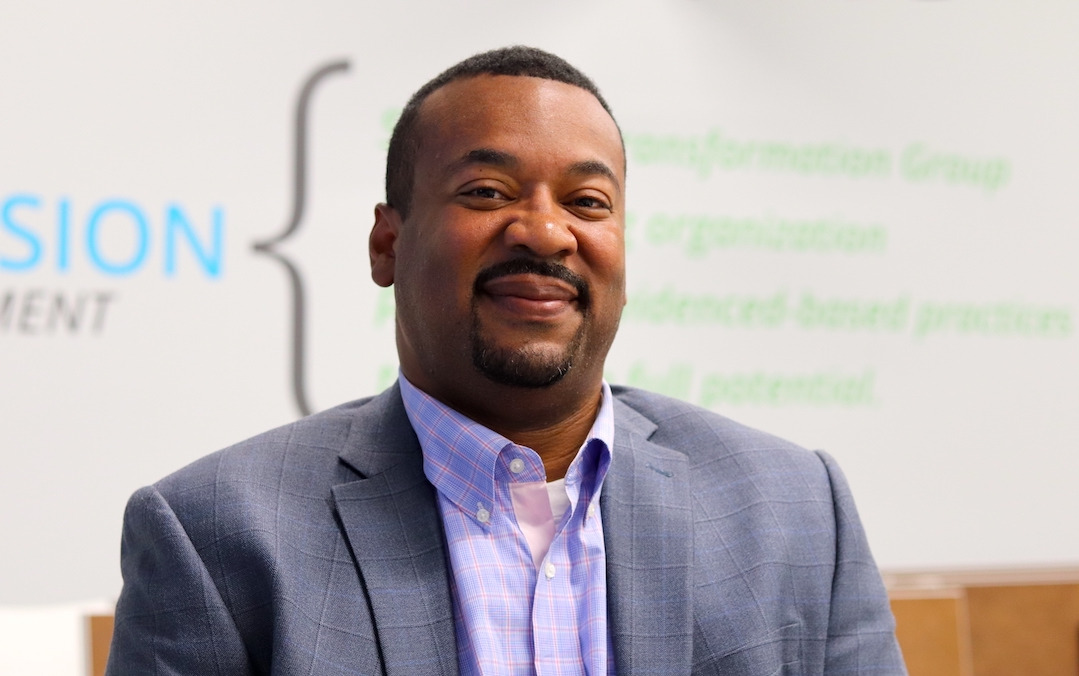 "I'm a kid that grew up in the north side of Richmond, one of the toughest parts of Richmond when I was growing up," says Dr. Cedric Moore. "And it was my community, which helped shape me, to help me become who I am today and who I continue to try to aspire to be."
Moore has risen far indeed. He is now the CEO of Spectrum Transformation Group, the first organization licensed in Virginia as an intensive outpatient Applied Behavior Analysis (ABA) service. Also a member of the Virginia Council of CEOs, Moore is supported by a local roundtable group as he implements his strategic plan for Spectrum and navigates various business challenges, including the pandemic.
Listen in as Moore talks about his business, social work, challenges facing minority business leaders, and his new-found home a VA Council of CEOs (Captions available)
Moore's journey out of the city led to a bachelor's degree in Social Work from Eastern Mennonite University, an MBA, and later a doctorate in strategic leadership from Regent University. He then returned to Richmond and launched Spectrum in 2010. Still, he admits that before joining VACEOs, he sometimes felt unheard or unacknowledged when in a room of non-minority business leaders.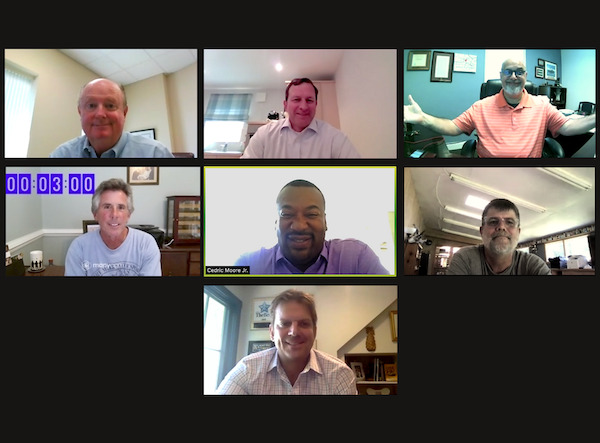 "There were times where, you know, I had to speak a little louder or there were individuals who wouldn't call on me in a meeting," he explains. "Those are some things that we face as minorities, even with a terminal degree."
"I'm very aware sometimes that I'm invited to the table, but I'm not actually welcomed at the table," he says. "But I understand now that I'm happy to embrace this role and be able to help other minorities, as well to get them a seat at the table. I'm fortunate enough to find the Virginia CEOs and be able to work with Scot [McRoberts, VACEOs executive director]."

He elaborates on his VACEOs roundtable peers, "these groups, I mean, they really care about you as a person and they care about your business. It's an ability to not only survive things like the pandemic but also to come out of the situation a lot better. So everyone is there to help each other. I'm so happy, so proud to be a part Roundtable 17."
Carrying the Banner for In-home Autism Services
How did Spectrum come to be? "I want to help people. That's what we do, social work," Moore explains. "My wife had a passion with autism and that was huge for us."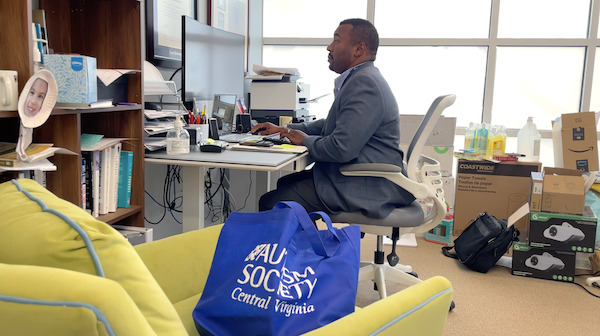 "We met with her mentor, psychology professor Donald Oswald, who is a guru on the East Coast within autism spectrum disorder services," he says. "That drove us to provide services for a population at the time that there wasn't much there other than educational services."
At Spectrum, a team of 52 full-time employees—including psychologists, psychiatrists, behavior analysts and technicians, and speech and language pathologists—provides general mental health diagnoses and a variety of services, such as outpatient therapy.
"We are happy to carry a banner with being the first licensed program in the state to provide those services in the home," says Moore.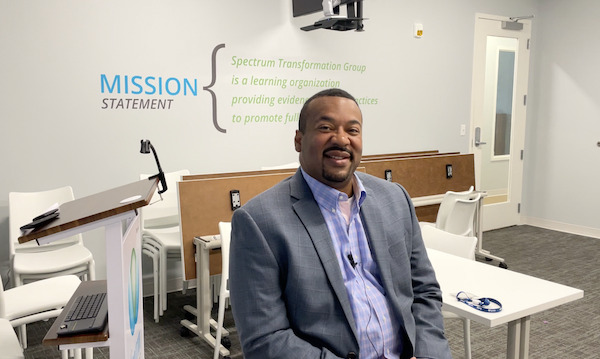 A Future of Service, Family, and Faith
Adapting to a pandemic was especially challenging for an organization whose clients rely on face-to-face interaction. "So going to a telehealth platform made it really difficult. Some of their attention spans are a lot shorter than their peers. Some of them can't sit for a very long period of time," explains Moore.
In response, the company redesigned and reconfigured offices, common areas, and therapy spaces to comply with CDC safety guidelines and enable in-person services. "Our ability to be able to pivot was definitely important as we continue to try to meet the needs of those that we serve," says Moore.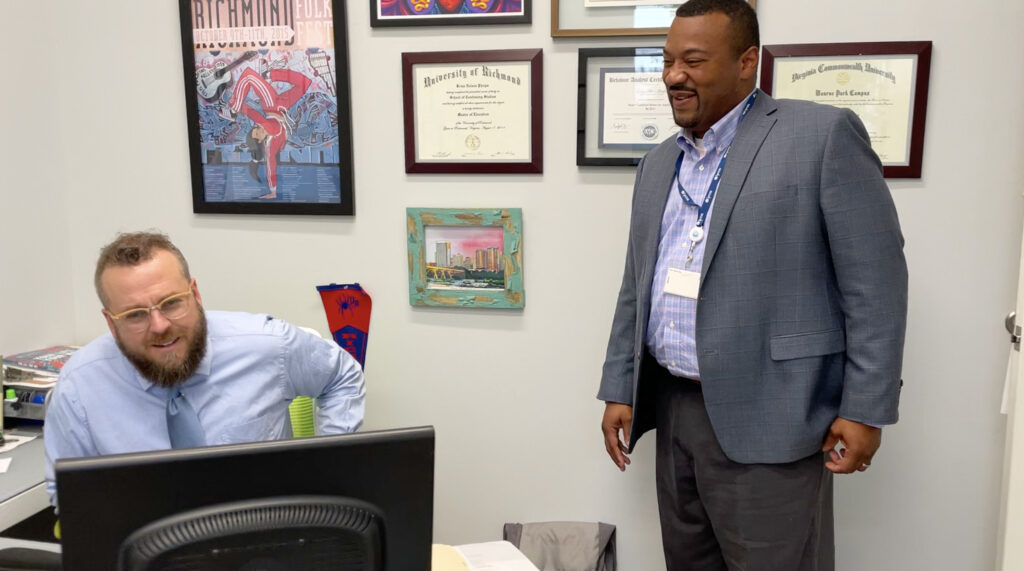 What's next for Spectrum? The company is implementing phase three of its strategic plan and is bringing on psychiatrists and nurse practitioners. "It's super exciting. It's a new learning experience for me," says Moore.
As important as Moore's business goals, however, are his family and his faith. "I grew up with a single mom and my ability to be there for my children, it's very important to me. My ability to be there for my wife is very important to me. And my ability to be able to serve God as best as I can is important to me. So every day I'm just trying to be better than what I was the day before."
Posted by Staff at 1:05 pm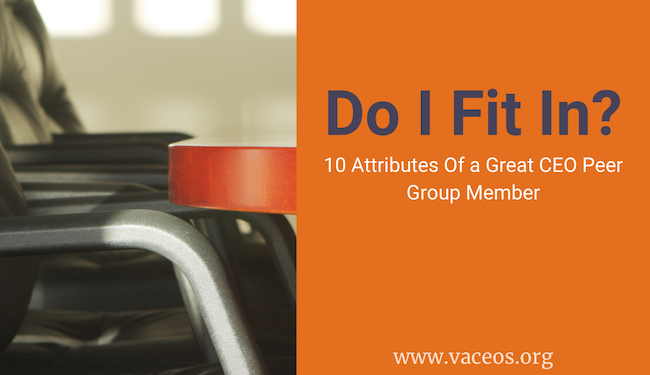 It's no secret that CEOs of small and mid-sized businesses get a lot out of their peer advisory roundtable groups. Roundtables supply diverse perspectives in a confidential environment and are proven to deliver advantages in decision-making and leadership, especially during challenging times.
To ensure the roundtable performs at its greatest potential, I've found that those participants who receive the most from the process tend to share certain qualities.
They are, in no particular order:
Intellectual curiosity.  A desire to know what makes things work, the "back story", answers to "why", getting to the "root cause".
Life-long learner.    
Open to seeking the input of others, and willing to implement suggested solutions not your own.
Committed to the process of continuous improvement. Not satisfied with the current state. Growth-oriented. 
Embrace change. An innovative spirit.
Strategic thinker.
Self-aware. A willingness to be vulnerable, to be transparent.
Secure. No inherent need to be the smartest person in the room.
Humble. More concerned about being able to give as much as you're getting, as opposed to getting as much as you're giving.
Appreciate the power of diverse backgrounds, world views, perspectives, and experiences.  
These attributes, in fact, define our members to a tee!
Is it necessary to have all of these attributes to maximize the benefit of peer group membership? No. Would it be helpful to have some of them? Definitely. More important is attitude, your approach to the process. We all get the same 24 hours per day. The only thing that we can control is how we utilize, leverage, and prioritize those 24 hours.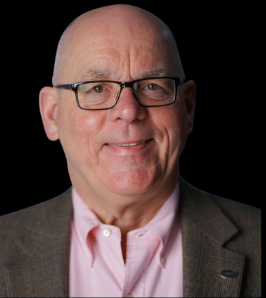 About the Author
Keith Hartman, Regional Executive for Virginia Council of CEOs (VACEOs), has over five years of experience developing and supporting peer-to-peer roundtables and forums for Vistage Worldwide, the international leader in peer advisory groups and personal leadership development for CEOs and senior leaders. He has experienced first-hand the transformational impact that the sharing of challenges, opportunities, and experiences with trusted peers in a confidential environment can have, and is looking forward to helping the Council expand this concept to all corners of the Commonwealth. Learn more about Keith.
Related article:
Posted by Staff at 2:06 pm