Three VACEOs Member Companies Make Inc's "All-Star" List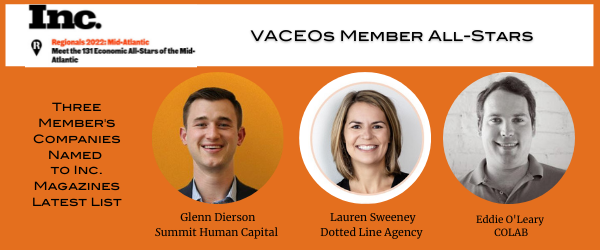 VACEOs Member Takes Top Spot on Inc's Fastest Growing Companies List
Inc. magazine just revealed its third annual Inc. 5000 Regionals: Mid-Atlantic list, the most prestigious ranking of the fastest-growing Mid-Atlantic-based private companies, based in D.C., DE, MD, NC, VA, and WV.
The companies on the list show a remarkable rate of growth across all industries in the Mid-Atlantic region – adding thousands of jobs and billions of dollars to the Mid-Atlantic region's economy.
Please join us in congratulating VACEOs member Glenn Dierson of Summit Human Capital whose company ranked number ONE on Inc's list.
Founded in 2018, Summit Human Capital Summit Human Capital specializes in providing IT human capital solutions to a diverse portfolio of industries including: Information Technology, Healthcare, Government Services (Federal and SLED), Legal, Logistics and more.
Ranked at 89 was Lauren Sweeney of the Dotted Line Agency. The Dotted Line is a creative agency that helps ambitious brands become great. With a strategy-before-everything approach, they draw the line that connects marketing from beliefs to behaviors for brands that want to do more business to grow effectively and efficiently, with lasting impact.

Eddie O'Leary of COLAB made the list 131. COLAB is a team of strategists, designers, developers, engineers and project managers that create digital platforms to empower marketing leaders.
Are you curious to learn more? Would you like your company to be listed as an Inc. Magazine All-Star? While we can't guarantee you will make the list, we can guarantee that by joining VACEOs you will have the opportunity to work with and learn from some of the greatest business leaders in Virginia. Don't wait. Come check us out.
About Virginia Council of CEOs (VACEOs)
Virginia Council of CEOs (VACEOs) is a nonprofit organization connecting CEOs for learning and growth. Formed more than 20 years ago, member benefits include placement in a peer roundtable group and access to a thought leader network, and a robust program of events for learning and growth. This is not a networking group, but rather a group of CEO peers who are invested in the success of each member. To qualify for membership CEOs must run a business with $1M+ revenue and 5+FTEs. Learn more at www.vaceos.org.
Posted by Scot McRoberts at 11:49 am