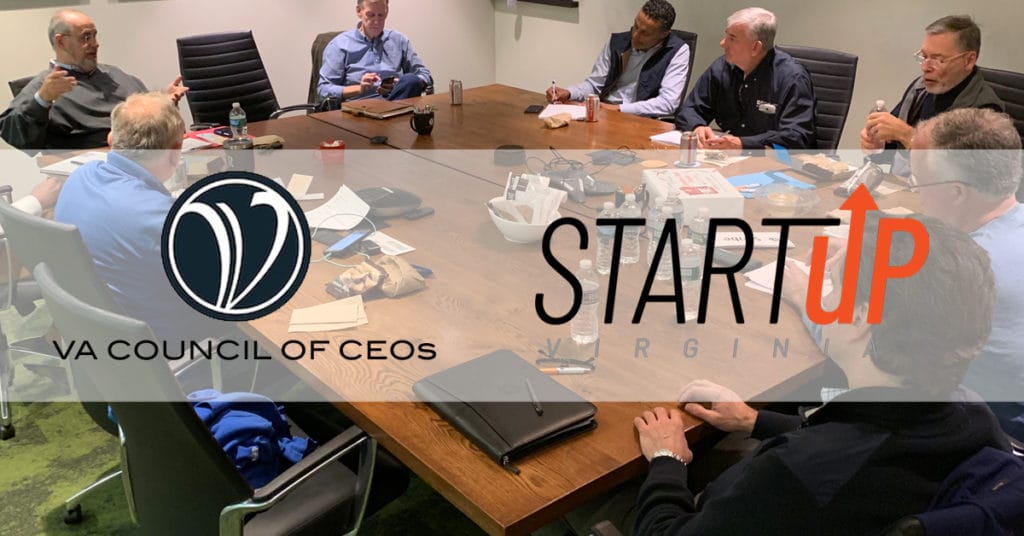 The VA Council of CEOs and Startup Virginia are pleased to announce a new community partnership, as Startup Virginia officially launches its peer-to-peer Founders Roundtable program. The program provides founders an intentional opportunity to connect with other founders in order to share, support, and learn from each other as they grow their businesses.
"We were happy to help SVA with the tools and training they needed to build their roundtable program," said Scot McRoberts, Executive Director, VA Council of CEOs. "We believe peer roundtables make better CEOs and more successful companies, which makes our community stronger. It's natural for us to want to equip these startup CEOs with such a powerful tool to help them grow and succeed."
The VA Council of CEOs worked with Startup Virginia staff to create the Founders Roundtable program and provided training for the leaders of the five groups. The program will facilitate structured monthly meetings for small groups of 7-10 diverse entrepreneurs to participate in confidential discussions about the professional and personal challenges of operating a high-growth startup.
"We are incredibly grateful for the support and expertise of the VA Council of CEOs in the development of our Founder Roundtable program," said Richard Wintsch, Executive Director, Startup Virginia. "As a business incubator, the biggest value we offer our founders is the opportunity to support and learn from each other, and this new initiative does it in an intentional way. We're really excited to provide this opportunity to our member startups."
About the Virginia Council of CEOs
The Virginia Council of CEOs is a nonprofit association that serves the CEOs of small and mid-sized businesses in Virginia. The Council was founded in 2000 to connect CEOs so that they can learn and grow together. Made up of more than 240 members from the Richmond and Charlottesville regions, the Council is poised for continued growth. Learn more at https://www.vaceos.org/.
About Startup Virginia
Startup Virginia (SVA) is a nonprofit, high-growth business incubator dedicated to advancing businesses that build a long-term, sustainable economy for Virginia. We currently serve 70 startup companies, more than 180 mentors and subject matter experts, and a regional investors network. SVA also provides entrepreneurial guidance and education that is open to all. With support from our partners, mentors, investors, and donors, we help entrepreneurs reach their full potential. For more information, visit www.startupvirginia.org.
Related posts:
VACEOs CEO Roundtable Experience: 5 Frequently Asked Questions
Posted by Staff at 10:13 am
You could feel the electricity in the air as nearly 100 women executives and MBA students gathered for the second annual "Future-Proofing Your Career" event co-hosted by The Richmond MBA at the University of Richmond's Robins School of Business and the Virginia Council of CEOs.
"The Importance of Mentoring" was the theme of this year's event, and setting the tone for the afternoon was keynote Linda Schreiner, Senior Vice President of Strategic Management for Markel Corporation and former Senior Vice President at MeadWestvaco. Her presentation was followed by peer roundtable sessions facilitated by several VACEOs Members and Sponsors.
"The Virginia Council of CEOs appreciates partnering with the Robins School on this event," said Connie Bruce, Director of Operations & Member Services, Virginia Council of CEOs. "It's great for our own Members, but it's also great for the business community as a whole to focus on women business owners and business executives. The energy is incredible – they come and they learn from each other by sharing."
Jennifer Boyden, Heart Havens CEO and VACEOs Member, was happy to share her knowledge with the women attending the event. "I'm here because I'm a member of the Council," she explained. "I believe in experience sharing, and I believe in creating pathways and networks for women so that we can all grow stronger together."
"I came last year and loved it," said one participant after the event. "I invited three people to come this year, and all of them loved it. I felt like I paid forward something!"
"SUCCESS IS WHAT HAPPENS ONE PERSON AT A TIME"
Keynote speaker Linda Schreiner welcomed the opportunity to address the crowd about mentoring, saying it's "a subject I'm pretty passionate about and was thrilled to be able to have an opportunity to share it with people – and then especially have members of the audience be able to talk further about it in their breakout groups."
During her presentation, Schreiner discussed her experience in career counseling and as part of MeadWestvaco's formal mentoring program, and answered questions participants submitted before the program began. She also talked about what happens when a mentorship isn't a good fit, finding the right mentor, mentoring versus sponsoring, power and gender dynamics, and getting the most out of the relationship for mentors and mentees.
"Success is what happens one person at a time, one relationship at a time," said Schreiner. "I think we should just start with that one relationship that we choose to invest in and give that our all. Don't try to do everything and don't try to over-program things…"
"It's also really important to know when you're finished," she added. "In the end, I hope you get the same joy out of mentoring that I do, because it's just wonderful to see people try to achieve goals, work hard and actually succeed."
VACEOs MEMBERS AND SPONSORS LEAD ROUNDTABLE DISCUSSIONS
All attendees participated in pre-arranged peer roundtables facilitated by VACEOs Members and Sponsors and other business leaders. As VACEOs members quickly learn, these kinds of sessions can be a powerful tool for testing new ideas, solving problems and learning from others who've had similar experiences. Learn more about roundtables.
"At our tables today, we were able to facilitate very powerful discussions through a structured model," said Stephanie Ford, Director at Warren Whitney and VACEOs Sponsor. "Everyone had the opportunity to share their challenges and also be able to share in a very respectful way about their experiences and lessons learned so that others could benefit from them."
Many participants formed new relationships that will likely last beyond the day. Said one attendee of her roundtable experience, "It was amazing! Great. It was great. Very refreshing. I just felt like I didn't know anyone in my group, and I felt like they were my best friends at the end of it. I learned a lot about myself."
Another said, "It was super-helpful to hear from women who have been in similar situations as I, but also in different, and to see the themes that run through our lives." Yet another added, "It was incredible. Super-inspiring and loving all the advice and all the incredibly smart people that share all their wisdom with the group. It was incredible. Loved it."
Debbie Fisher, Associate Director for The Richmond MBA at Robins School of Business, is already looking forward to next year, saying: "[Linda Schreiner] did an amazing job – really talked about how women can help lift each other up – and we are so excited about next year!"
Special thanks to the VACEOs Members and Sponsors who facilitated roundtable discussions during this event, including:
Melissa Ball, CEO, Ball Office Products
Jennifer Boyden, CEO, Heart Havens
Roxanne M. Brown, CEO, The Change Decision (Sponsor)
Debbie Fisher, Richmond MBA (Sponsor)
Stephanie Ford, Director, Warren Whitney (Sponsor)
Connie Hom, President, Buckingham Greenery
Melissa Laughon, Partner, Catch Your Limit (Sponsor)
Arlene Lee, President, R.E. Lee Companies
Danessa Knaupp, CEO, Avenue 8 Advisors (Sponsor)
Ryann Lofchie, CEO, The Frontier Project
Michele Rhudy, President, Rhudy & Co.
Jennifer Perrow (Alumni Member)
Katrina VanHuss, CEO, Turnkey (Alumni Member and Past Chair)
Posted by Staff at 2:43 pm
Virginia Council of CEOs is a nonprofit organization serving small and mid-sized CEOs and entrepreneurs in Richmond, Charlottesville and soon, across Virginia. The primary way we serve our CEOs is through our highly structured, peer-to-peer Roundtable experience. Here are the five most asked questions about that experience! Want to learn more? Contact us or view our Facebook Live video: "VACEOs CEO Roundtable Experience FAQs" today!
1) How many are in a Roundtable group, and how do you decide who is in?
 A: There are 8 to 10 people in a group. Scot McRoberts, the Executive Director of Virginia Council of CEOs, matches new members with a Roundtable. "Your Roundtable will not include competitors, business partners, relatives, clients, or investors. The group is impartial and is created to work for your best interest," says McRoberts.
2) What exactly happens in a Roundtable? How do the meetings work?
A: Roundtables consist of 8 to 10 members who meet once a month to share what is going on in their lives and in their businesses. The Roundtable experience sharing is about addressing the CEO as a whole. The information that is shared in the meeting is confidential. There are two parts to each meeting. Each member gives a general update at the beginning of the meeting. The updates can range from: "I have a new acquisition I'm looking at," OR "I have a teenager I don't know how to deal with," OR "I'm facing an issue with my health."
Then, the group takes a deep dive into one or two of the members' challenges. Following the Gestalt Language protocol, meetings are highly structured and only experiences are shared. No advice is given.
3) What are some of the types of questions or challenges that my Roundtable can help me with?
A: In general, discussions tend to be about how to become a more successful CEO. Our members are looking for processes or information on how to be a better leader and look for what's next, instead of being in the trenches with everyone else.
4) How often do the Roundtables get together?
A: Roundtables meet once a month. Meetings follow a strict protocol and structure and usually last between 3 1/2 to 4 hours. Regular attendance is expected, and because members gain so much from the experience, attendance statistics typically reach over 90% for all groups.
5) Is the Roundtable experience really valuable?
A: Yes! One member says: "What I have gotten out of my Roundtable experience is I have been able to identify a successor, craft a very specific Exit Plan. I have been able to develop a Long Term Incentive Compensation Plan to retain top talent, and I've dealt with issues working with my spouse. Through experience, hearing from others and understanding the experiences that have worked and have not worked, I have been able to develop a very effective Growth Plan and sales organization. It has allowed me to rise above the day to day grind and allowed me to work on my business instead of in my business. That has led me to double digit growth over year after year…. I was a corporate guy for so long, and had never been in my own business before, and I realized after my Council and Roundtable experience it's all about who you hang around with. There's a lot I didn't know. Now I know a lot more." – N. Lappe, CEO, WebStrategies.
Posted by Staff at 4:18 pm
An article in the June issue of Inc. Magazine recently caught my eye. It was titled "This Secret 1930s Tradition Is Suddenly All the Rage with CEOs," and it was written by Kate Rockwood, contributing editor at Inc. 
The article is about "mastermind groups," or what we call Roundtables at the Virginia Council of CEOs. What I found interesting was the fact that the author used "Suddenly All the Rage with CEOs" in her headline. Funny – we've been forming mastermind groups since our organization's inception in 2000! Still, I'm thrilled to see the power of this peer-to-peer format promoted in the media.

ROUNDTABLES: WHAT ARE THEY? 
Rockwood and other sources credit Napoleon Hill, author of Think and Grow Rich, as the founder of peer-to-peer sharing groups. So what are they? 
CEO Roundtables typically include eight to 10 individuals from non-competing industries who are committed to meeting on a regular basis – typically once a month. The confidential forum allows members to speak openly about the challenges they face as business owners. Members in VACEOs Roundtable groups follow a highly structured meeting protocol in which no advice is given – only experiences shared. VACEOs members are trained on the protocol before they're assigned to a group.
"Peer roundtables are important because they provide a unique opportunity to share and learn with a group of peers in a completely safe environment," says Mo Fathelbab, Forum Resources Network president and author of Forum: The Secret Advantage of Successful Leaders.
"As a CEO, it's often lonely at the top," explains Fathelbab. "You can't share everything with your employees, partners, board members or investors. Members of a Roundtable have no personal interest in your decisions."
WHAT KINDS OF THINGS ARE DISCUSSED?
Our members quickly find Roundtables to be a confidential safe haven where anything they'd like to talk about is fair game. Discussions topics can range from "I have a new acquisition possibility I'm looking at" to "I have a teenager I don't know how to deal with, and it's affecting my work life."
"The Roundtable format is like an instant Board of Directors and a constant monthly reminder to be driving for continuous improvement" – Henry Clifford, President, Livewire.
Jeffery Beir, a CEO operating out of the Boston area, found the guidance he needed to deal with a difficult situation with a key executive – and help with financial matters and working more effectively with board members. "I just feel more confident that I'm not alone in facing these issues," Beir told Harvard Business Review. Linda Hutchinson, another CEO featured in the same article, found the guidance she needed to complete her new business development plan. 
Our members find that there are many benefits to the peer sharing experience. "The Roundtable format is like an instant Board of Directors and a constant monthly reminder to be driving for continuous improvement," says Livewire President Henry Clifford.
"My roundtable has been my sounding board and provided me with a lot of mentorship," says Travis Hamilton, owner of U-Fab Interiors. "I haven't had a boss since my early 20s, so this has been crucial for my personal development. It's pushed me to further grow my company and be a better leader."
For others, the experience helps them feel less lonely. "For me, the opportunity to connect and share similar experiences with other CEOs has been invaluable," explains Robyn Zacharias, president, Barber Martin Agency. "It removes the 'It's lonely at the top' feeling and gives you an abundance of friendships, support and objectivity."   
7 BENEFITS OF CEO PEER GROUPS
Here are a few benefits to being part of a CEO peer group:
They move your business forward and in new directions. 
They push you to think differently and broaden your business.
They can help you solve long-standing problems.
They allow you to unburden yourself from day-to-day issues.
They give you clarity and new perspectives.
They give you access to resources.
They offer personal support.
In the closing of  her article, Kate Rockwood advises readers who want to join a group to follow a few important guidelines, including avoiding groups with members in competing industries, finding CEOs with similar "metabolisms," and making sure to keep conversations flowing by connecting outside of your group, to name a few. The great news is, we do all that hard work for you at VACEOs! Interested in learning more? Contact us.
Related posts we recommend: 
Posted by Scot McRoberts at 3:37 pm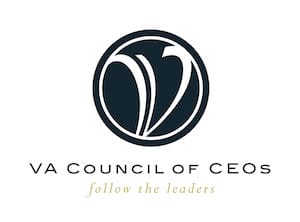 The Virginia Council of CEOs (VACEOs), a non-profit association serving 225 small and mid-sized business CEOs, announced today that it is forming a third CEO roundtable in Charlottesville, Virginia – just 17 months after the organization announced plans to serve that market.
"We are truly thankful to be so well received in the Charlottesville market," said Scot McRoberts, executive director, Virginia Council of CEOs. "Now it's full steam ahead. We anticipate filling a third roundtable before the end of the year."
The Council reports that, to date, of its 225 total membership, 21 Charlottesville-area CEOs have joined.  
Entrepreneurs and CEOs join the Virginia Council of CEOs for a variety of reasons, but the primary reason is to participate in a Roundtable. Roundtables comprise eight to 10 individuals from non-competing industries who meet on a regular basis. Members follow a strict "no advice" protocol, and all information shared in the meetings is confidential.
"In general, Roundtable discussions tend to focus on how to be a better leader and anticipate what's next, instead of being in the trenches with everyone else," McRoberts explained. "The confidential, safe haven environment in our Roundtables is also a place where CEOs can share family or personal concerns, which greatly impact their performance as leaders."
The opportunity to engage in peer-to-peer experience-sharing was the main reason new Charlottesville member John Woodell joined the Council in 2017.
"I joined to tap into and contribute to the wealth of knowledge shared by the numerous chief executives running similarly sized companies and facing similar issues," the president of OpenSource Connections explained. "All the extras that the Council provides – such as the Annual Retreat, quarterly speakers and social events – have been part of a surprising and enriching experience."
Woodell recently completed the required Roundtable Protocol Training and has had the first meeting with his new group. "I look forward to having a group of peers that face many of the same challenges I face and who, through sharing our experiences related to specific and pertinent issues, help support each other in finding real solutions to those challenges."
About the Virginia Council of CEOs
The Virginia Council of CEOs is a non-profit association that serves CEOs of small and mid-sized businesses in Virginia. The Council was founded in 2000 to connect CEOs so that they can learn and grow together. With 225 members in Central Virginia at this time, the Council is forming new CEO Roundtables in other parts of the state. Learn more at https://www.vaceos.org.
Posted by Staff at 1:28 pm
---