VA Council of CEOs Community Membership Gives CEOs a Peer Roundtable Experience at No Cost
Six months ago we could not have imagined the changes we are all facing now. If you own a small or mid-sized business in Virginia, VA Council of CEOs (VACEOs) is here for you.
Listen in as Scot McRoberts, Executive Director, Virginia Council of CEOs, talks about a no-cost peer roundtable membership offer that expires on September 30, 2020.
Says McRoberts, "Don't face this challenging time alone. Join VA Council of CEOs. You have nothing to lose and so much to gain.
We're a network of CEOs and other expert who come together to help one another. And membership for you is free right now. I encourage you to join us.
As a member of our community, you'll have access to the Emerge Stronger Conference by Pat Lencioni and his team. He's involved a number of  other CEOs in that content that I think you'll find really valuable. And you'll have access to replays of other presentations we've held. The topics range from underlying legal risks that you're dealing with, to managing your own mental health, to effectively selling online.
But most importantly, you'll be given access to a network of peers in a virtual, confidential, roundtable setting. Peers who are ready to share information
and knowledge with you that can help you succeed.
Apply today. I want you to experience a peer roundtable as soon as possible.
Let's move forward together."

ABOUT THE COMMUNITY MEMBERSHIP OFFER
This no-risk, no-cost offer is extended to those CEO's who would benefit most
from the Council's programming and community. More specifically, those who manage a business in Richmond or Charlottesville Virginia with more than $1 million in revenue and employ five or more full-time equivalent employees (FTEs).
As a Community Roundtable Member you will have access to:
VACEOs Flash Roundtable event(s),
Exclusive VACEOs information-sharing sessions with local and national experts, including the Emerge Conference with Pat Lencioni and other thought leaders,
A network of 200+ peers and sponsors who are committed to each others' success.
Don't delay, you've got nothing to lose. This offer expires September 30, 2020. Apply online for VA Council of CEOs membership.
---
Related post: Hear from Members (video testimonials)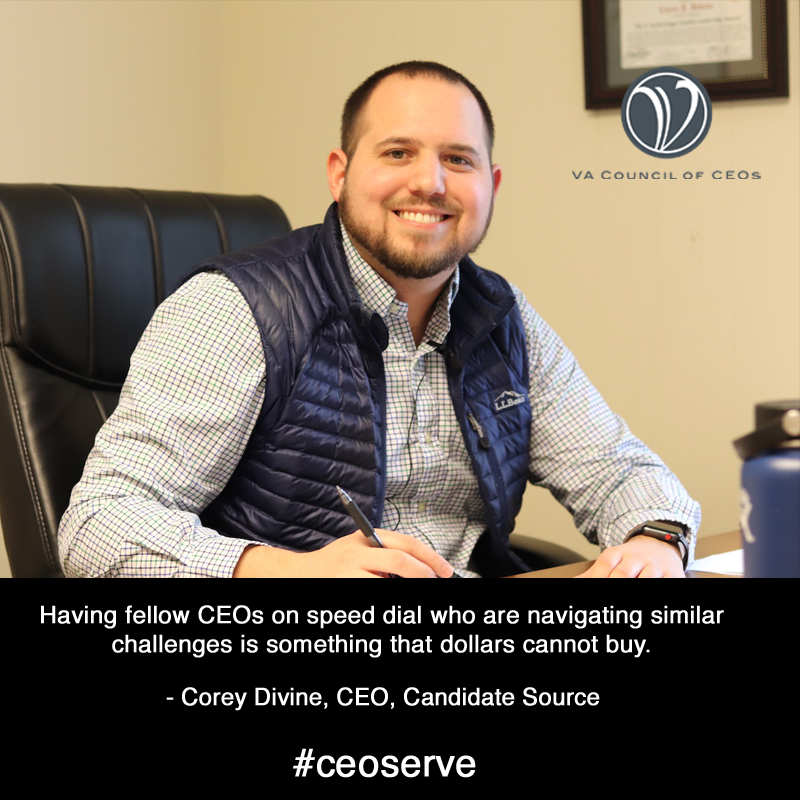 Posted by Staff at 2:31 pm