Virginia Council of CEOs Celebrates 20th Anniversary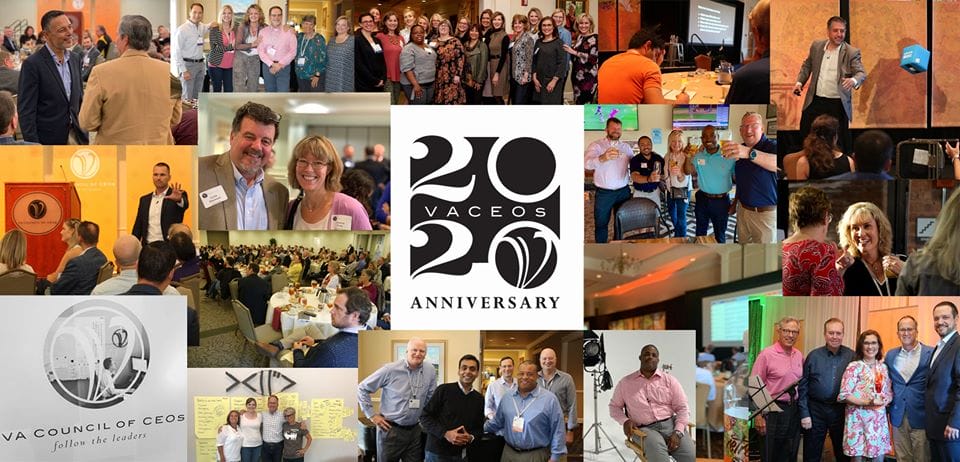 In 2000, a small group of dedicated individuals from Richmond, Virginia rallied around a collective vision to start an organization whose purpose was to serve CEOs. They formed a state chapter, which soon became the Virginia Council of CEOs – a thriving, independent nonprofit that is now serving CEOs in the Richmond and Charlottesville regions.
With a core peer-to-peer roundtable concept with a focus on experience sharing, VACEOs has steadily evolved from a volunteer-driven organization, with only a few opportunities to learn and network during the year, into a growing and vibrant organization with an active governing body and a busy events calendar.
"When we first started out, we were very volunteer-driven," says Scot McRoberts, executive director, Virginia Council of CEOs. "My role as executive director was part-time. We had a large board and relied heavily on volunteer leadership for recruiting, program development – really everything. Over the years, that's changed dramatically. It's become more staff driven, with volunteers more involved in the strategic leadership of the Council." (Read complete history.)
Today the Council is 200+ members strong. As they move into the 21st century, their unwavering mission remains the same: connecting CEOs to facilitate learning and growth, with the peer-to-peer roundtable experience remaining at the heart of the organization.
In the last two years, McRoberts and dedicated members have expanded the Council's mission to Charlottesville and has introduced new meeting concepts, designed to appeal to today's busy entrepreneurs.
"What will always remain true is our search for ways to deliver more value to our members," says McRoberts. "Whether that's through new technology, like coordinating virtual CEO roundtables or through new speaker and learning experiences," he adds. 
The VA Council of CEOs will officially celebrate its 20th anniversary at a special event for its members, sponsors, and select guests at the Virginia Museum of Fine Arts on October 3, 2020.
Related links:
Posted by Staff at 4:22 pm