Retreat 2020 FAQS
(Update March 25, 2020: This event has become a virtual event due to COVID-19. Visit vaceos.org/retreat for up-to-date information.)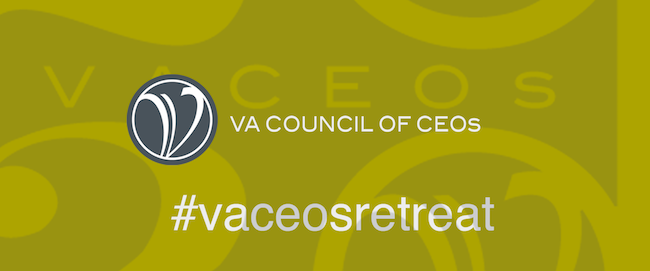 The VACEOs Retreat 2020 will be held at the Omni Homestead in Hot Springs, VA on April 29-May 1 this year. New to the Council? Here are some frequently asked questions about the Retreat experience.
(This event is for VA Council of CEOs Members and Sponsors only.)

vaceos retreat 2020 faqs
Q: DOES MY MEMBERSHIP INCLUDE ENTRY INTO THE RETREAT?
A: Yes. Your VACEOs Membership includes a ticket to this special yearly event where Members are able to learn and connect with national thought leaders and each other. (And have some fun too!)

Q. WHAT DOES REGISTRATION INCLUDE?
A: Members who attend the Retreat have a one-of-a-kind opportunity to learn from national keynote speakers and take advantage of various leadership workshops. Program meals and planned activities from Wednesday night to Friday mid-day are also included for Members.
Membership does not include hotel rooms/expenses or activities outside of those offered within the program. Visit the 2020 Retreat Registration page for a detailed listing of the activities available at this year's event.

Q: THE FIRST SPEAKER STARTS ON THURSDAY MORNING. SHOULD I COME WEDNESDAY NIGHT?
A: Yes! Do consider coming in on Wednesday. This year we will have a speed networking and a light reception before a Hospitality Suite Hop Wednesday night. You don't want to miss that. And during the day there are special activities. Why not maximize your time by making connections during one of the group activities planned that day? Events include a golf tournament, the Gorge hike, a  Polyface farms tour, or a bourbon & chocolate tasting. For a sit-down dinner on Wednesday, make your own plans at one of the many dining options at the Omni found here.
Visit the 2020 Retreat Registration page day for a full listing of events for each day.

Q: DO I NEED TO BOOK A ROOM?
A: Yes. As soon as possible! We have a block of rooms reserved through April 8. Use the special group link found in your confirmation to make your reservation.

Q: SHOULD I BRING MY SPOUSE OR SIGNIFICANT OTHER?
A: The Retreat program is designed just for members and sponsors. We recommend that you immerse yourself. After all, this is a business retreat. We will have guest tickets for our two evening social events. Some folks have their spouse join them on Friday afternoon for an extra night or two of R&R. We have a reception Friday night just for the "lingerers."

Q: IS THERE A DRESS CODE?
A: Not really. Let's call it business casual or resort casual. Relax and be comfortable. Please dress accordingly for the party on Thursday night on the Casino Lawn.

Q: I'VE ARRIVED AT THE RESORT. NOW WHAT?
A: If you arrive Wednesday, please check in the hotel, (time permitting), before you make your way to the group activity you've registered for or take advantage of other resort amenities, such as the spa.
If you arrive Thursday morning, we will officially welcome you at the Retreat Registration desk located outside the Grand Ballroom starting at 8:30 am.
Still have a question? Please contact us.
Posted by Staff at 10:03 am