VACEOs Fall Leaders Conference 2022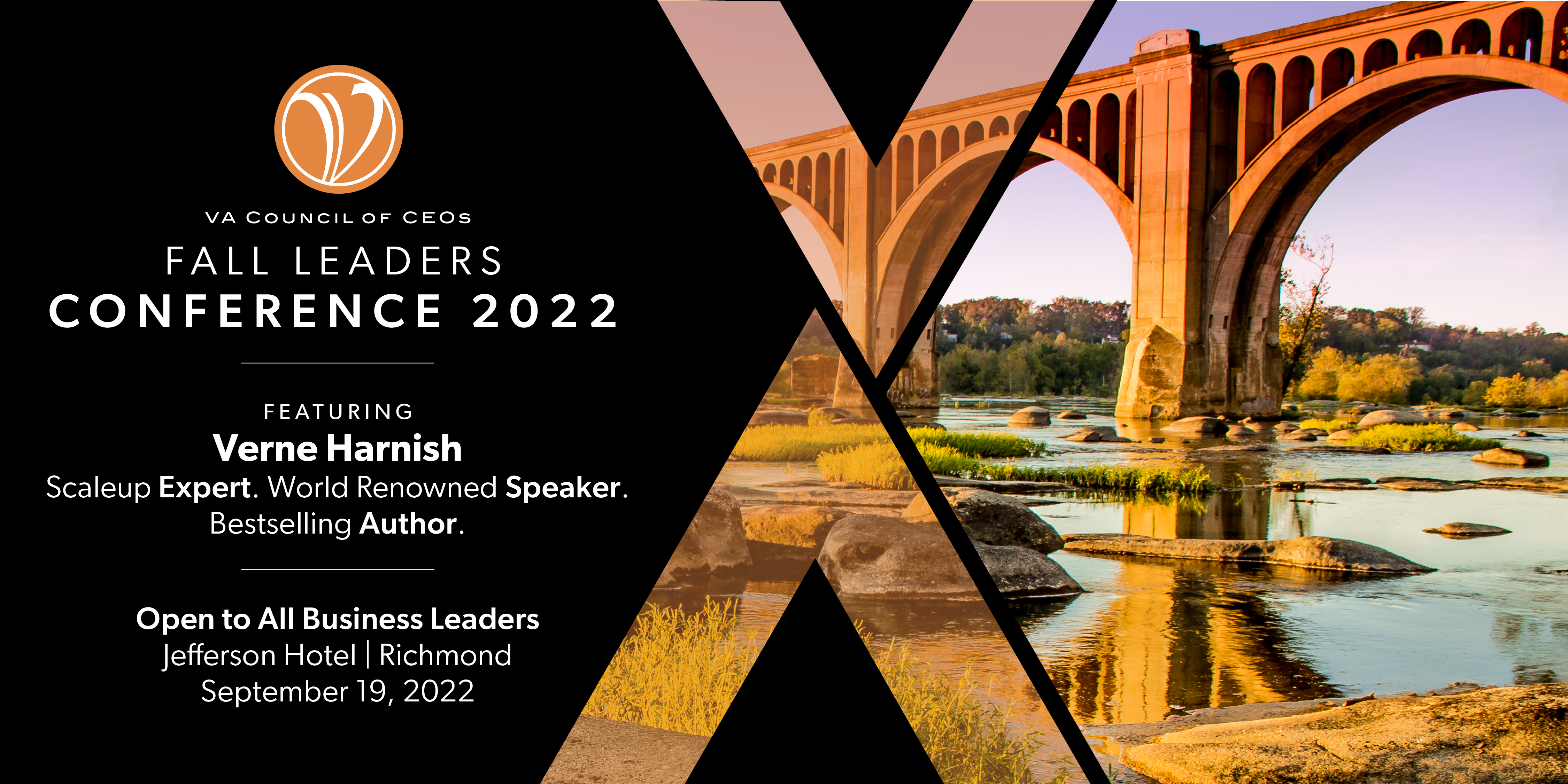 This is a new event you won't want to miss! We encourage business owners/CEOs to bring their executive teams. VACEOs Members and Sponsors will get a discounted rate but register now to receive the best rates.

Join VACEOs on September 19, 2022, at the Jefferson Hotel in Richmond, Virginia, to spend the day with Verne Harnish – scaleup expert, world renown speaker and bestselling author.
Verne's Scaling Up presentation focuses on the Four Decisions methodology that every company must get right: People, Strategy, Execution and Cash. Verne will be sharing fours specific ideas-one each for People, Strategy, Execution and Cash-that you can use immediately to drive a positive impact in the business. Look at the #1 most important question to ask in each of the four decisions-and practical examples of how various small to mid-market firms answered these questions, driving much better results.
In the end it's about getting more money, saving more time, and having more fun in scaling up your business. Verne Harnish will help you get there. To register, click HERE.
Sponsorship Opportunities
Sponsorship opportunities are available. Please contact Scot McRoberts to learn more.
Topics Verne will cover in Scaling Up include:

PEOPLE: Recruitment, on boarding, coaching & culture:
Designing the employee journey.
STRATEGY: Purpose, core customer, brand promise & identifying the company culture.
EXECUTION: Systems, processes & accountability through current technologies.

CASH: Cash flow, margins, key performance indicators & efficiencies.

To register now, click HERE.
Schedule for the day:
Monday, September 19
8:30 AM – 9:00 AM: Registration
9:00 AM – 12:30 PM: Verne Harnish (People & Strategy)
12:30 PM – 1:30 PM: Lunch
1:30 PM – 5:00 PM: Verne Harnish (Execution & Cash)
5:00 PM – 6:00 PM: Cocktail Reception
Who is this for:
This program is open to all CEOs and their senior executive teams. Click HERE to register.
About the Speaker
Verne Harnish is founder of Entrepreneurs' Organization and Scaling Up, a global coaching and executive education firm. He has spent the past four decades helping companies scale. He's author of Mastering the Rockefeller Habits; The Greatest Business Decisions of All Time; Scaling Up (Rockefeller Habits 2.0) and Scaling Up Compensation.
Posted by Scot McRoberts at 11:13 am