The Passive Recruitment Starter Kit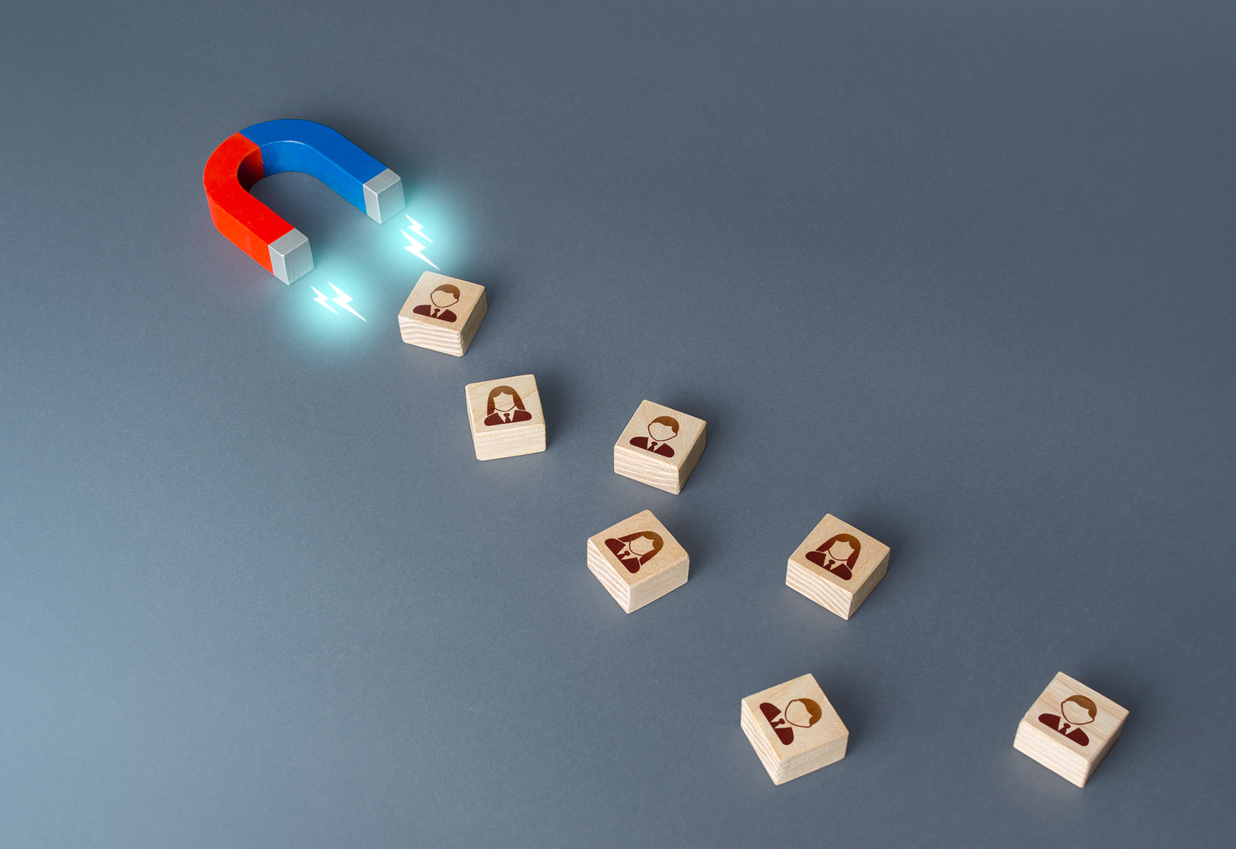 Build your bench with potential qualified candidates
Coined "The Great Resignation," the high number of open positions and voluntary quits during 2021-2022 has left employers and HR professionals struggling to fill much-needed positions.[i]
"Finding people continues to be a challenge. There is a balance between finding the right people who fit your company culture and affordability."

Sam Stone, Stone's Office Equipment, VA Council of CEOs member
If your recruitment strategies are proving ineffective this year, passive recruitment may be just the tool to add to your talent acquisition scheme.
Passive recruiting is different from traditional recruiting because it seeks to engage prospective candidates currently employed who are not actively looking for new work but may be open to a rewarding career opportunity if one becomes available.[ii] This article explains how to:
Start a passive job search.
Initiate and build relationships with potential qualified candidates.
Develop your organization's online presence to support your initiative.
Include networking as part of your approach.
Broaden your reach and make your job offering more attractive.
Buckingham Greenery is always looking for talent! When I come across someone working in our industry that would be a good fit, I politely tell them about our company and how to contact me to learn more about opportunities with us! This is how we incorporate passive recruiting which has been successful!

Connie Hom, CEO of Buckingham Greenery, VA Council of CEOs member
HOW DO YOU START A PASSIVE JOB SEARCH?
The popular notion is that passive recruitment is a specialized skill performed by professional recruiters to fill critical roles quickly. Fortunately, advances in online training, social media, and job board platforms have made getting started more accessible than ever. The most widely recognized social media platform for seeking potential candidates is LinkedIn. LinkedIn offers comprehensive subscription services, search tools, and training for the passive recruiter. Popular job boards also have searchable resume databases (i.e., Indeed, Monster, CareerBuilder, and Ladders*).[iii]
If you are new to passive recruitment, the recommendation is to invest in the platform you are most familiar with and regularly advertise your jobs. If budget is a factor, resume databases within job boards such as Indeed, Monster, and CareerBuilder are generally more affordable.
HOW DO YOU INITIATE & BUILD RELATIONSHIPS WITH POTENTIAL, QUALIFIED CANDIDATES?
A polished job advertisement will capture an active candidate's attention. Yet, take caution. If the first outreach email to a potential candidate mimics a job posting, your efforts to engage their interest could be quickly undermined (i.e., listing a summary of duties, salary, and benefits). Instead, put on your relationship builder hat and make it personal to the candidate. Consider these questions as you craft your first communication to your passive candidates:
What captivated you about the candidate's experience or interests?
What impact could the candidate have in this role?
What aspects of the company culture or values might appeal to the candidate?
Did you ask about the candidate's goals, dreams, and work/life balance needs? [iv]
HOW DO YOU DEVELOP YOUR ORGANIZATION'S ONLINE PRESENCE TO SUPPORT YOUR INITIATIVE?
Many candidates research the company and the position before responding to a recruiter's communication. For the potential candidate, presenting a professional, trustworthy, and engaging online company identity is key for success.
Sharing your company's employee experiences and benefits through your company website is a great starter. Likewise, consider these online sources:
LinkedIn profiles are the most frequently searched. Ensure that your HR and leadership team's LinkedIn profiles are complete and represent your company's culture and online identity. At a minimum, compelling profiles contain a professional photo, headline, summary, and the last ten years of employment history.
Company profile pages, especially from platforms you are using to outreach to passive candidates (LinkedIn, Indeed, Monster, CareerBuilder). Make them rich with photos, employee experience stories, company achievements, community involvement, sponsorships, and posts on fun office events. Engage, appreciate and respond to comments on your posts and ratings.
Google, search your company, and see what a candidate might find. Read online articles, Yelp, and Glassdoor. Always post meaningful responses within these various platforms.
HOW DO YOU INCLUDE NETWORKING AS PART OF YOUR INITIATIVE?
Passive recruitment and networking work in tandem. In-person networking takes you beyond the virtual Boolean searches and emailing by allowing you to engage one-on-one with potential candidates. An excellent place to start is subscribing to industry blogs, joining associations, and sponsoring networking events.[v]
HOW DO YOU BROADEN YOUR REACH AND MAKE YOUR JOB OFFERING MORE ATTRACTIVE?
Those adept at passive recruitment have a competitive advantage in their hiring selections and candidate pools. Ultimately, capturing all prospective candidates is achieved through various strategies, and in these unique times, thinking outside the box can reap huge benefits. Consider:
Widening your candidate reach by converting an in-person role to 100% remote or a hybrid work schedule.
Ensuring your compensation, benefits, and incentives are within a competitive market range.
Simplifying your application process.
Advertising in association newsletters or dashboards and on mobile-enabled job platforms.
Starting an employee referral bonus program to incent current employees to participate.
In conclusion, this article aims to help guide your organization in the essential methods to embrace a passive recruiting strategy. The best place to start is by selecting a social media or job board platform for passive recruitment and evaluating your organization's online presence. After you get your bearings, focus on personalizing your outreach communications to potential candidates and actively bolstering your organization's online identity. Ultimately, passive recruitment is only one arm of a solid recruitment strategy. Employing additional tactics, such as competitive market comparisons of compensation and benefits, networking, or employee referral bonus programs, will bring you the highest likelihood of success.
This article was contributed by Ester Nand, HR Consultant at Warren Whitney, a results-oriented management consulting firm. For over 30 years, Warren Whitney has been dedicated to serving privately held and nonprofit organizations in four areas: Strategy, Finance/Accounting, HR, and IT.

www.warrenwhitney.com
*The Ladders platform is designed for Executive level searches.
Sources
[i] Fontinelle, A. (2022, March 10). Majority of workers who quit a job in 2021 cite low pay, no opportunities for advancement, feeling disrespected. Pew Research Center. Retrieved August 3, 2022, from https://www.pewresearch.org/fact-tank/2022/03/09/majority-of-workers-who-quit-a-job-in-2021-cite-low-pay-no-opportunities-for-advancement-feeling-disrespected/
[ii] Gariepy, L. (2022, January 25). Best sites to search for resumes in 2022. CareerCloud. Retrieved August 3, 2022, from https://www.careercloud.com/news/resume-search
[iii] How to search for candidates on indeed. Job Search. (n.d.). Retrieved August 12, 2022, from https://www.indeed.com/hire/resources/howtohub/how-to-consistently-attract-and-filter-quality-applicants
[iv] Talent acquisition resources: Linkedin talent solutions. Talent Acquisition Resources | LinkedIn Talent Solutions. (n.d.). Retrieved August 3, 2022, from https://business.linkedin.com/talent-solutions/resources/talent-acquisition
[v] Krumrie, M. (2020, September 10). Relationships are key to recruiting passive candidates. ZipRecruiter. Retrieved August 12, 2022, from https://www.ziprecruiter.com/blog/why-relationships-are-key-to-recruiting-passive-candidates/
---
Posted by Scot McRoberts at 2:28 pm