3 Ways to Tackle Inflation Challenges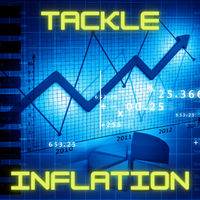 Inflation is the Darth Vader of every business today. For more than a year, rising prices have caused rising concern for CEOs distressed about protecting their profitability. With inflation giving us an unwelcome throwback to the 1980s, it's no wonder it keeps CEOs up at night.
Experts and pundits disagree on whether we've seen the peak and even about what's on the horizon. In July inflation rose 8.5 percent from just a year ago — lower than expected. Though perhaps easing a bit, inflation pressures remain historically strong.
So what's a CEO to do?
It's important to focus on what you can control and take action where it makes sense for your business. Here are 3 ways to tackle inflation challenges: strategic planning, forecasting and scenario planning, and automation. To give you additional proven insights from your peers, three VACEOs members share their perspective:
• Michael Matthews, President & COO, Froehling & Robertson
• Jacob Blondin, President & CEO, Intrics
• Scott Crawford, President & CEO, Virginia 811
CEOs and business owners don't have to take it on the chin with inflation. There are strategic ways to mitigate and minimize risk in this environment. In fact, there may even be new opportunities to take advantage of and strengthen your business — right now and into the future.
3 WAYS TO TACKLE INFLATION CHALLENGES
1. STRATEGIC PLANNING
Strategic planning empowers long-term thinking about where you want your business to be, the roadblocks in your way, and how to overcome those roadblocks. It's your roadmap for where you're headed and how to get there. Especially in times of uncertainty it's critical to reexamine your strategic plan to determine whether its assumptions are still valid, whether some initiatives should be put on hold, and whether there are new opportunities to explore.
The best way to hedge if you're not in an inflation-shielded market is to establish yourself as an invaluable partner to your clients. You don't want to be a fringe player right now. If your client is dropping partners, you want to be the last one standing.

Mike Matthews, Froehling & Robertson
"Strategic planning is all about establishing your unique value in the market, and the benefit is determining what value you're providing and who your best clients really are," he says. "In this environment, you should be focusing on those best clients and those areas in which you have the highest profit margins. You want to be the partner your best clients can't live without.
"Ideally strategic planning is an ongoing process, not just something you do when you're in trouble. If you're also focused on strategic planning when you're at the top of your game, you can determine how to stand on that going forward," he says. "Harvard economic and strategy expert Michael E. Porter says the essence of strategy is figuring out what not to do. It's critical to not lose focus on your value in times of crisis — don't act out of desperation. You can't be all things to all people, so be selective and stay true to your unique value."
2. FORECASTING AND SCENARIO PLANNING
Forecasting and scenario planning isn't a crystal ball, but it will help you plan for a range of what-ifs — and right now there's no shortage of what-ifs. Model future business scenarios and forecast possible outcomes so you'll have the insight for better decision-making if and when those scenarios become real.
"The best thing to do right now is to be decisive, be aggressive with decision-making to manage costs," says Blondin, adding that the lesson comes from his own past business experiences. "Don't hold on too long in a downturn with the expectation things will change.
Leverage forecasting and scenario planning to anticipate future costs and make sure you're structuring your revenue smartly. Don't overspend. Don't over hire. And be cautious with your investments.

Jacob Blondin, Intrics
"Learn from what we all just went through with COVID and apply the same strategies and the same mentality. But there's a difference. With COVID, businesses had the safety net of government support. In a downturn, we won't have that luxury — and the cards will fall where they may.
"Utilize forecasting and trending by experts — for example, with fuel prices — and pass on the costs of the core drivers of your business to your customers," he says. "We restructured our revenue to control for inflation by passing on the costs of our core drivers, labor and fuel. When our costs go up, our customers' costs go up. Our customers also understand when our costs go down, their costs go down. It was the largest shift we've ever made in our business design, and it's a vastly more complex revenue model, which also includes localized pricing in micro markets. For business owners, now is an opportune time to do this because your customers are seeing and doing the same thing — awareness is high, and so is the feeling that we're all in this together."
3. AUTOMATION
In challenging economic times, businesses can't afford mistakes. Automating accounting, sales, HR, and other processes minimizes errors and creates new efficiencies. It frees your team to tackle higher-value work. And it's both affordable and attainable — with off-the-shelf as well as custom solutions.
"In my business, we can't allow one ticket to have an error — it could result in loss of life, loss of property, or interruption of services people depend on," says Crawford, whose company is responsible for alerting underground utility operators of excavation possibly affecting facilities so they can be marked. "Having the human resources to audit more than a million tickets a year would be insurmountable. We got a grant to work with Virginia Tech's Statistical Applications and Innovations Group to develop an AI model to allow us to audit Web Ticket Entry tickets at 100 percent. If a ticket meets the threshold for a probability for error, then it's directed to a human. Upon full implementation, we will have confidence that every ticket is being reviewed. And we created a new QA and QC department to focus on matters relating to possible errors.
"The benefits of automated processes are phenomenal. In a sense, AI is another team member. Humans work with AI to enhance what they're doing. It's not a replacement of the workforce," he says. "Generally speaking, increasing the use of technology in business will bring cost savings, but people are afraid of the idea of lost jobs. There is some job loss due to attrition, but technology is actually creating new jobs to fill, just as ours did. We moved people to our new QA and QC department, which offers higher-level, higher-paying jobs. We're also now working to apply machine learning to our AI model to become even more accurate in what it predicts."
Companies not leveraging technology the best they can ultimately risk not being relevant to the needs of the market. They'll be behind the curve — and they won't be able to catch up. Companies afraid of change need to be more afraid of going out of business.

Scott Crawford, Virginia 811
WRAPPING UP
Rising inflation can put unprepared businesses on the backfoot. Strategic planning, forecasting and scenario planning, and automation are three ways to tackle inflation challenges efficiently, effectively — and confidently. As a bonus, they'll also put businesses in position to grow faster when more normal economic dynamics return.
About the Author
Mark Vita is managing director at Fahrenheit Advisors. He leads the firm's Business Advisory and Finance & Accounting practices. Contact him at mvita@fahrenheitadvisors.com.
Posted by Scot McRoberts at 1:51 pm