Virginia CEOs Expect Increased Sales Despite Shortages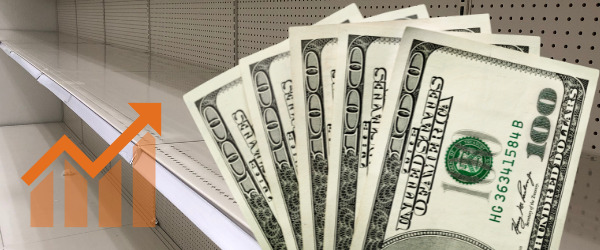 In Q1 survey, 70% expect sales to increase in next six months
According to the first quarter CEO Economic Outlook survey conducted by the University of Richmond's Robins School of Business and the Virginia Council of CEOs (VACEOs), about 70% of CEOs expect sales to increase in the next six months, despite supply chain and labor shortages.
Ninety percent of CEOs reported a labor shortage impacting their business, and 75% reported at least a minor impact from supply chain shortages.
VACEOs member, Andrea C. Johnson, CEO of van der Linde Recycling & Container Rentals LLC in Fluvanna County, recently told Virginia Business that her company has faced several supply chain challenges. "The time needed to obtain parts for maintenance and repair of trucks and equipment has increased. Additionally, the company faces higher costs on basic safety equipment for employees."
Johnson added, "probably the biggest impact we've had right now, because I run a fleet and equipment, is fuel," she said. "Our fuel costs have more than doubled over this time last year … and we're having to add that to the customer cost."
Another VACEOs member, Henry Clifford, CEO of Richmond-based Livewire LLC, said that he and his staff now call securing supplies "the battle of next week."
Livewire offers technology integration to homes and businesses, so it directly confronted chip shortages. "At this point it's now a daily and weekly activity where our logistics folks have just gotten used to life during wartime, essentially, and almost normalized the supply chain shortages," he said, adding that some lead times for obtaining gear run a year out.
Yet, despite facing strong headwinds like a looming recession and the war in Ukraine, entrepreneurs remain optimistic, said VACEOs Executive Director Scot McRoberts. A higher percentage of respondents (70%) expected sales growth in the next six months than in the survey conducted at the end of the fourth quarter of 2021 (60%).
"These are small and midsize companies' CEOs," he said. "These aren't corporate CEOs, and I think they're more nimble than larger companies, so they've adjusted well to the challenges of the pandemic."
"One [reason for that] is adjusting to the new virtual work environment that's demanded by employees," McRoberts said. "Even though they may be adding employees and growing the business, their demand for seats in the office is not growing with it.
Looking Forward Optimistically
Taken as a whole, the results pertaining to sales, capital spending, and employment continue to be positive with the overall Economic Outlook Index increasing slightly (98.1 versus 93.7) relative to the results from the end of Q4 2021. (Click HERE to view the full survey.)
"The survey results suggest that CEOs continue to be optimistic about the next six months, particularly with respect to predicted sales and employment. This is in spite of significant labor shortages being experienced and ongoing supply chain issues. The overall index has returned to its pre-COVID level."

Rich Boulger, associate dean at the Robins School
Rich Boulger, associate dean of the University of Richmond Robins School of Business, administered the survey from April 5 to April 14. The majority of respondents were in the services and construction industries. The average company represented had about $11 million in revenue for the past 12-month period and 53 employees.
The Robins School adapted the survey from one from the Business Roundtable, a Washington, D.C.-based lobbyist association of CEOs of U.S. companies, and has administered it since 2010.
About Robins School of Business
The Robins School of Business is the only fully-accredited, highly-ranked undergraduate business school that also is part of a highly-ranked liberal arts university. U.S. News ranks the Robins School's MBA program #2 in Virginia. The school's executive education division offers customized training and consulting to a wide variety of businesses.
About Virginia Council of CEOs (VACEOs)
Virginia Council of CEOs (VACEOs) is a nonprofit organization connecting CEOs for learning and growth. Formed more than 20 years ago, member benefits include placement in a peer roundtable group and access to a thought leader network, and a robust program of events for learning and growth. This is not a networking group, but rather a group of CEO peers who are invested in the success of each member. To qualify for membership CEOs must run a business with $1M+ revenue and 5+FTEs. Learn more at www.vaceos.org.
Posted by Scot McRoberts at 3:56 pm