Five VACEOs Member Companies Make "Best Places to Work 2022" List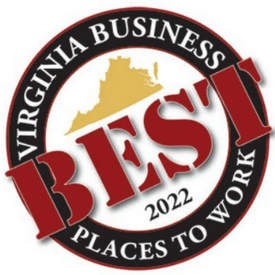 12th Annual "Best Places To Work" Rankings Announced
What does it take to be named one of the best places to work in Virginia? Would being celebrated in one of the top spots help you attract and retain the very best talent? Well, according to the business leaders we talked to, it sure couldn't hurt. In fact, it could really help.
For the past twelve years, Virginia Business has compiled a list of Best Places to Work in Virginia in collaboration with Pennsylvania-based Best Companies Group. The much anticipated 2022 list was just published and we were excited to see five of our member's companies recognized.
Please join us in congratulating VACEOs member Chris Leone of WebStrategies Inc., whose company ranked 28 on the annual list. Chris is not new to being honored. In fact, Chris has led his company to the "Best Places To Work" recognition five times before. Congratulations Chris!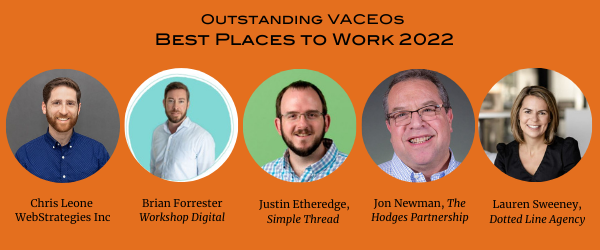 Other winning Council members include Brian Forrester of Workshop Digital whose company is ranked 15, Justin Etheredge of Simple Thread whose company is ranked 31, Jon Newman of The Hodges Partnership whose company is ranked 55, and Lauren Sweeney of the Dotted Line Agency whose company is ranked 60. Congratulations to each one of these outstanding leaders. We salute you.
Are you curious to learn more? Would you like your company to be listed as a 2023 Best Places to Work in Virginia? While we can't guarantee you will make the list, we can guarantee that by joining VACEOs you will have the opportunity to work with and learn from some of the greatest business leaders in Virginia. Don't wait. Come check us out.
About Virginia Council of CEOs (VACEOs)
Virginia Council of CEOs (VACEOs) is a nonprofit organization connecting CEOs for learning and growth. Formed more than 20 years ago, member benefits include placement in a peer roundtable group and access to a thought leader network, and a robust program of events for learning and growth. This is not a networking group, but rather a group of CEO peers who are invested in the success of each member. To qualify for membership CEOs must run a business with $1M+ revenue and 5+FTEs. Learn more at www.vaceos.org.
Posted by Scot McRoberts at 10:45 am