VA Council of CEOs Names Mike Matthews, Elissa Mast, and Connie Hom as Charles E. McCabe Leadership Award Winners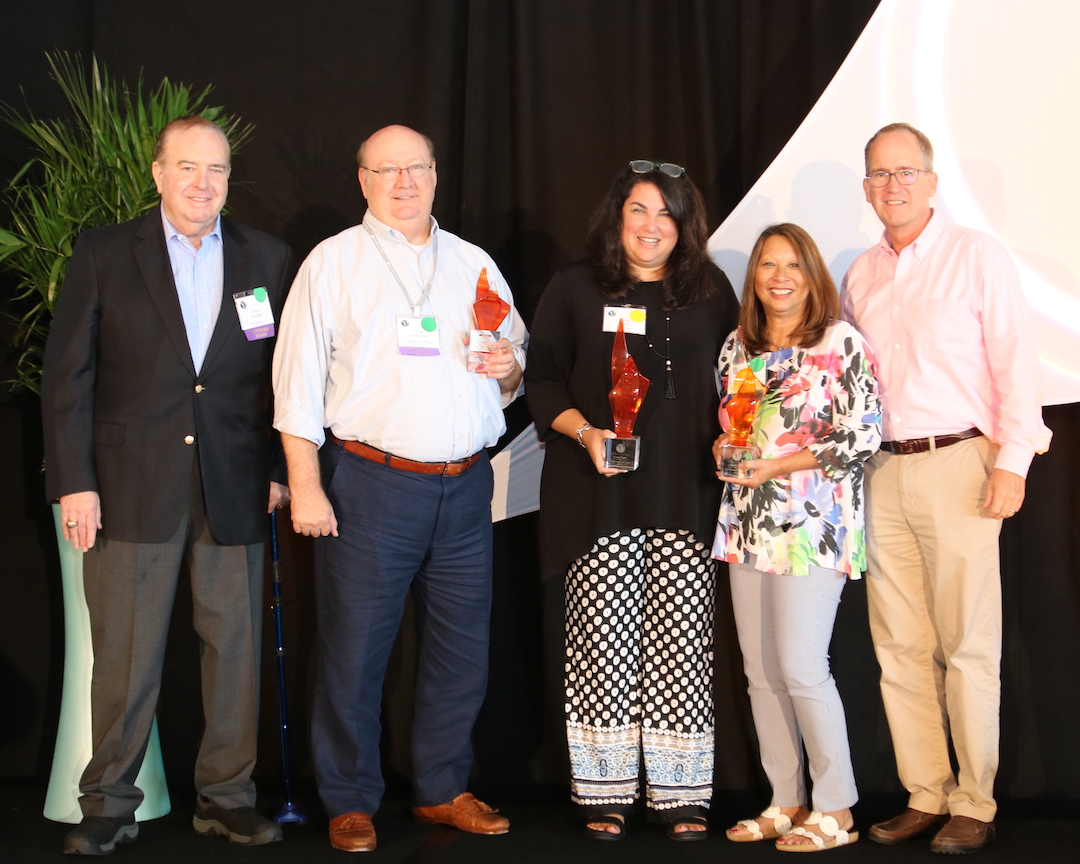 Recipients honored for their tireless work as VACEOs volunteers and for unwavering dedication towards sustaining the mission and the growth of the Council.
---
Richmond, Virginia: The Virginia Council of CEOs (VACEOs), a non-profit association serving more than 200 small and mid-sized business owners, announced today that three members were awarded the Charles E. McCabe Leadership Award on September 20, 2021 at the 1st Annual VACEOs Fall Leaders Conference held at the Marriott Virginia Beach Oceanfront in Virginia Beach.
The Charles E. McCabe Leadership Award, presented by the Virginia Council of CEOs Board of Directors, recognizes VACEOs members who make significant leadership contributions to the Council. Chuck McCabe, CEO of Peoples Tax and The Income Tax School, was appropriately named as the first recipient of the award during the 2017 VACEOs Retreat.
"Volunteers are a core strength of our organization. I am humbled by their dedication," said Scot McRoberts, Executive Director, VA Council of CEOs. Adding, "These honorees represent many others who apply their talents and energy to connect CEOs across Virginia for learning and growth."
As last recipient of the award in 2019, Arlene Lee, CEO, Lee Construction Group, was given the honor of introducing each new recipient.
Mike Matthews, President of Froehling & Robertson, was celebrated for his efforts in shaping the VACEOs Forum program and more.
Said Lee during the ceremony, "He was a member of our first CEO Forum for larger company CEOs, and helped shape that program. He served as leader of his Forum, on committees, the board of directors, as Treasurer, Vice Chairman, and finally as Chairman in 2016.
When Mike Matthews had a very successful business exit, and during his brief early retirement, Mike was a fantastic facilitator for a couple of our CEO Forums. He has since gone back to a full-time president role, but continues to serve VACEOs as chairman of the Finance Committee. Thank you and congratulations Mike Matthews."
Elissa Mast, President, E&R Sales, has been a member of the Council since 2005 and was honored for her active role within the Council and especially her impact on the Annual Retreat.
About Mast, Lee said, "Elissa Mast joined VACEOs 16 years ago to solve her 'lonely at the top' issue, and boy are we glad she did. In addition to speaking up at every meeting she ever attended, Elissa has led her roundtable, launched our Knowledge Network luncheons – where the experts are in the room – and served on the board of directors for nearly a decade. Perhaps her greatest impact has been in chairing several Retreats, where she raised the bar on content and speakers for us all."
And finally, Connie Hom, CEO of Buckingham Greenery, was celebrated for her dedication towards promoting and advancing the Council.
"This leader joined VACEOs in 2002. She has led her roundtable, served on nearly every committee, and on the board of directors since 2018. As a leader and active member in a host of business and community organizations, she has leveraged her network to advance the Council. Connie Hom always provides live plants to decorate our stages, and we are healthier for it!
For years, Connie has spread word of the Council to other CEOs, enthusiastically participated and promoted our programs, and served our association in so many ways large and small. Congratulations, and thank you Connie Hom for nearly 20 years of leadership," said Lee.
Charles E. McCabe Leadership Award Recipients (Past and Present)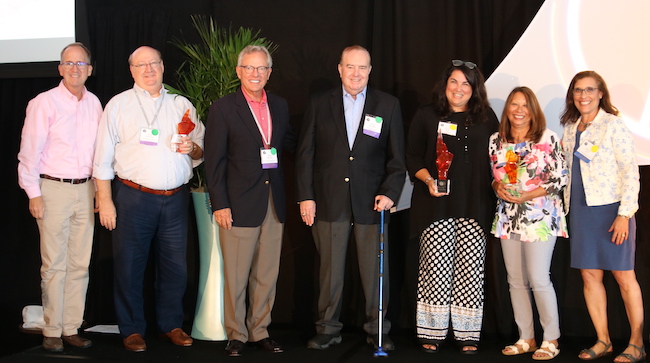 2021: Mike Matthews, President, Froehling & Robertson; Elissa Mast, President, E&R Sales; Connie Hom, CEO of Buckingham Greenery
2020: (Postponed due to Coronavirus)
2019: Arlene Lee, President, R.E. Lee Companies
2018: David R. Barrett, President and CEO of Barrett Capital Management
2017: Chuck McCabe, CEO of Peoples Tax and The Income Tax School
Posted by Staff at 8:53 am