2021 Fall Leaders Conference: FAQs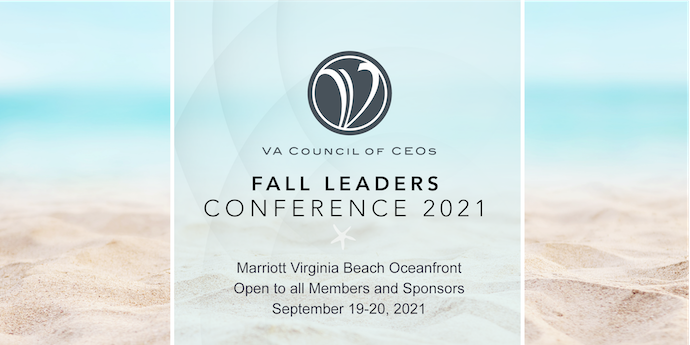 The 2021 VACEO's Fall Leaders Conference will be held at the Marriott Virginia Beach Oceanfront in VA Beach from September 19-20. Here are answers to some of the most frequently asked questions about the Conference.
Q. What is the schedule for the conference?
Sunday evening*
4:00 PM – 5:30 PM Registration and Welcome Reception
6:00 PM – 7:30 PM Reception at the Beach Bar and Grill hosted by Fahrenheit Advisors 
*Dinner on your own
Monday
8:00 AM – 9:30 AM Registration Breakfast
9:30 AM – 11:00 AM Welcome & Margie Warrell, Leading with Courage
11:15 AM – 12:00 PM Craig Lemasters, Unstuck!
12:00 PM – 1:30 PM Lunch
1:30 PM – 2:00 PM Welcome Back & Chuck McCabe Award
2:00 PM – 2:45 PM Workshop with Craig Lemasters
3:00 PM – 3:30 PM Margie Warrell closing address
3:30 PM Adjourn
Q. What are the COVID protocols?
A. We are asking everyone attending to either be fully vaccinated or have tested negative for COVID in the last 24 hours. Regardless of vaccination status everyone is encouraged to wear a mask whenever not eating or drinking indoors. We will have extra seating in the meeting room for those who prefer more space. Also, we will have color coded dots at registration to denote comfort level. See below.
Q. What do the red, yellow, and green dots on the name badges mean?
We've developed a sticker system to make sure everyone is comfortable while we gather. We ask everyone to please be mindful and respectful of each other during this event. Thank you!



Q. Is there a dress code?
A. Not really. Let's call it business casual or resort casual. Relax and be comfortable. Our Sunday evening party is outside so please dress for the weather.
Q: I've arrived at the Marriott VA Beach Oceanfront hotel. Now what?
Sunday arrival: Check in to the hotel, then between 4:00 PM – 5:30 PM come to conference registration on the 2nd floor to pick up your name tag and a special gift.
There will also be a Welcome Reception sponsored by Fahrenheit Advisors next to registration.
From 6:00 PM – 7:30 PM come to the Beach Bar and Grill for our Opening Reception.
Monday arrival: we will officially welcome you at the Retreat Registration desk located on the 2nd floor at 8:00 AM.
Q. What is the menu at the reception Sunday night? Should I make dinner reservations?
A. We will have heavy hors d'oeuvres at the reception. There will be ample food but for those preferring a sit-down meal, we suggest making reservations as soon as possible. See dining options and the reception menu below.
Sunday Night Reception Menu**
Pasta Station
Raw Bar (Local oysters, crab claw cocktail, poached North Carolina shrimp)
Artisan Cheese Table and Becca Garden Crudite
Passed Hors d'oeuvres (Vegetable Spring Roll, Mini Beef "Wellington", Baby Mozzarella and Tomato Skewers)
Dessert (Assorted mini sweets, petit fours & truffles)
**There will be gluten free options available at certain stations
Still have a question? Please email us or call: 804-360-2644
About the VACEOs Fall Leaders Conference
The Fall Leaders Conference is a program that VACEOs offers to all business leaders – business owners, C-suite executives, entrepreneurs, and consultants. You don't have to be a VACEOs member to attend!
Individuals and leadership teams have the opportunity to change the trajectory of their organizations in just one day.
Posted by Staff at 12:03 pm