CEO Roundtable: How to Get the Most Out of The Experience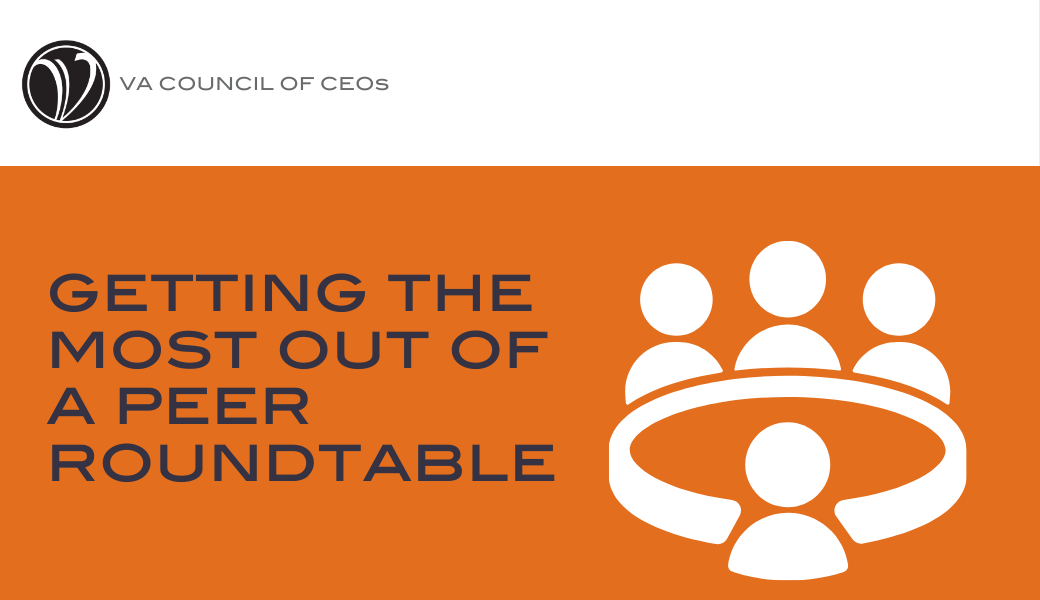 I recently came across a terrific article in CEO World Online Magazine written by Leo Bottary. Leo frequently writes for the magazine, and he is listed to be a member of the External Advisory Board (EAB) there. He is a staunch advocate for peer groups, and I follow his work closely.

Still, there is a nuance within a recent post about CEO roundtables where we differ.
In his post "The Power of We Begins with You," he writes: "After four years of helping new and experienced peer advisory groups squeeze the most value out of their time together, two findings have consistently emerged. First, the strength of the overall group rests in the hands of its members. Second, there are three things members can do to up their game to everyone's advantage: Show up. Step up. Follow up."
I liked his explanation about showing up, writing in part: "If you believe that 80% of life is about showing up, then understand that to be an outstanding member, it's that and then some." Stepping up is about being prepared and bringing your A-game.
The Follow Up action is where I begin to disagree with him, but I do see where he is going. His example is based on a scenario where advice is given in a roundtable session.
Our roundtable meetings at VA Council of CEOs are purposely designed not to function that way. Giving advice is forbidden.
The VACEOs Roundtable Way: No Advice, Only Experience Sharing
---
"Learning to participate in a group [using Gestalt Language Protocol] takes effort and practice, but it's essential for creating a safe, rewarding experience. By avoiding advice, VA Council of CEOs peer roundtables allow CEOs to connect more deeply, creating more opportunities for growth."
Scot McRoberts, Executive Director, VA Council of CEOs.
---
All VACEOs Roundtables adhere to a set of ground rules by which the group must abide. Chief among them is strict adherence to a code of confidentiality and Gestalt Language Protocol.
"The Gestalt Protocol is based on the theory that as children we were always told what to do by our parents," explains Mo Fathelbab, Forum Resources Network president and author of Forum: The Secret Advantage of Successful Leaders. "As a result, adults – especially entrepreneurs – resent being told what to do by anyone."
The guiding principle of the protocol is to never give advice but to share related experiences instead. Participants are careful to avoid phrases such as "If I were you…" when another group member presents his or her challenge.
Learning to participate in a group this way takes effort and practice, but it's essential for creating a safe, rewarding experience. By avoiding advice, VA Council of CEOs peer roundtables allow CEOs to connect more deeply, creating more opportunities for growth. (Read more here.)
CEO ROUNDTABLES OFFER "INCALCULABLE VALUE"
One thing is clear to both Leo and me. Peer groups that are confidential, highly structured, and based on trust is a powerful tool for the small business owner.
Said one VACEOs Member but echoed by many: "I was looking for a peer group to help guide me as I tried to guide the firm to places we'd never been before. And I can honestly say it's been one of the best things I've ever done."
Does it take commitment? You bet. Those who choose to join a peer advisory organization understand it's an investment in their professional development that will generate a worthwhile return.
Or, as Leo so eloquently writes in his post: "The reason you've been invited to enjoy the privilege of being part of a peer advisory group is because there is an expectation you will bring value to the other members. You're not there to fill a seat; you're there to make a difference. Once you accept that responsibility as seriously as how you see your role at your own company, you'll be on the path to receiving the kind of incalculable value you can only get from a group of your peers."
I could not agree more!
You can read Leo Bottary's post here.
About the Author
Scot McRoberts is the executive director of the VA Council of CEOs (VACEOs). One of the original co-founders, he has led the organization's growth from 20 members in 2000 to more than 200 today. Utilizing a best practice model for the Council's CEO roundtables and a dogged focus on its core purpose of connecting CEOs for the purpose of sharing experiences, McRoberts has developed an association that boasts 90% retention. Before coming to VACEOs, Scot was a senior executive at the Greater Richmond Chamber of Commerce, where he led business councils, small business programs, and business retention efforts.
Posted by Staff at 11:23 am