VACEOS Members Make 2020 INC 5000 and RVA 25 Fastest-Growing List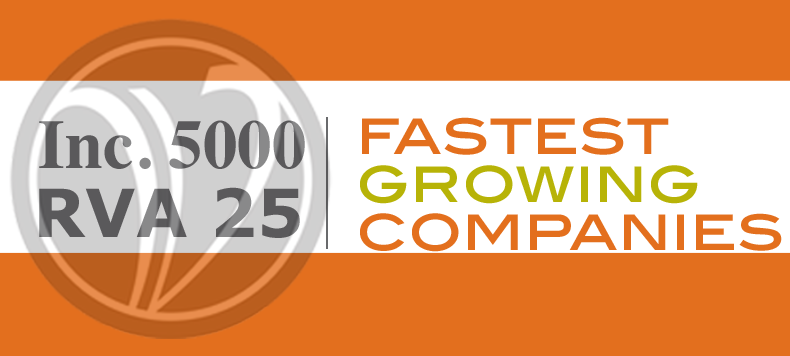 The VACEOs community is made up of CEOs from some of the fastest-growing businesses in the region. Here is a list of who earned Inc 5000 and RVA 25 "fastest-growing" acclaim in 2020.To these leaders below we say congratulations, and well done!
If you run a small to mid-sized business and wish you had a trusted tribe to help you navigate some of your toughest business challenges, consider joining the Virginia Council of CEOs. Visit membership to learn more.
VACEOs MEMBERS – 2020 INC. 5000*
VACEOs MEMBERS – RVA 25*
INC 5000 AND RVA MEMBER BUSINESS RANKINGS (2020)

| Name | Accolade | Rank | Growth* | Industry |
| --- | --- | --- | --- | --- |
| Canal Capital Management | INC 5000 | 4,227 | 80% | Financial Services |
| COLAB | INC 5000 | 3205 | 119% | Advertising & Marketing |
| Connected Solutions Group, LLC | RVA 25 | 23 | 44% | Telecommunications and Mobility Hardware and Services |
| Covenant Wealth Advisors | RVA 25 | 1 | 576% | Financial Services |
| Daybreak IT Solutions | INC 5000 | 3,384 | 112% | IT Management |
| Dominion Payroll | Inc 5000 | 4,214 | 80% | Financial Services |
| Forsyte IT Solutions | Inc 5000 | 779 | 613% | IT Management |
| Forsyte IT Solutions | RVA 25 | 12 | 99% | Technology Services Provider |
| Glen Allen Grounds Management, LLC | RVA 25 | 22 | 45% | Residential & Commercial Hardscapes, Landscapes |
| Old Dominion Mechanical | RVA 25 | 16 | 81% | Commercial Mechanical Contractor |
| Old Dominion Mechanical | INC 5000 | 855 | 556% | Construction |
| OneDigital | INC 5000 | 2,419 | 172% | Insurance |
| Red Orange Studio | RVA 25 | 24 | 43% | Creative Branding, Marketing and Design Agency |
| Shockoe.com | INC 5000 | 3,771 | 96% | IT System Development |
| Timmons Group | INC 5000 | 4,369 | 75% | Engineering |
| Triumph Services | INC 5000 | 2,730 | 147% | Human Resources |
| | | | | |
*SOURCES:
Posted by Staff at 3:43 pm