EO vs Vistage vs VA Council of CEOs. Which is Right for Me?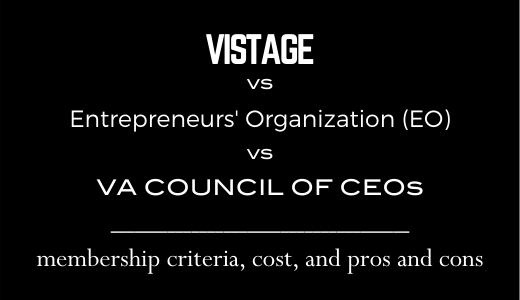 It's no secret. If you run a small or mid-sized organization, you know that it can be really lonely at the top. Turning to family members or your internal team when you face certain challenges is not an option. That's why so many successful business owners turn to peer advisory groups (peer roundtables).
Peer groups typically meet once a month and include CEOs from non-competing organizations. A strict protocol of communication and confidentiality is followed. This creates an environment of trust and confidentiality to share both professional and personal challenges. (Read Roundtable FAQs)
There are several organizations that offer a roundtable experience for CEOs. Some are international organizations with thousands of members, others are smaller in scale. Some feel more like a networking group, while others encourage a "no-selling" environment. The cost for membership can also vary. Lastly, most of these organizations have minimum membership requirement for annual revenue and/or number of employees. 
How do you choose which option is best for you? Here's a brief comparison of three well-known organizations that serve CEOs in Virginia. Take a look, and then ask a local business owner to share the experience they've had within their peer advisory group.  
About (From their website)
"Entrepreneurs' Organization is a high-quality support network of 14,000+ like-minded leaders across 61 countries. We help entrepreneurs achieve their full potential through the power of life-enhancing connections, shared experiences and collaborative learning."
Membership Criteria 
Business earning a minimum of $1 million in revenue during the most recent fiscal year. Venture-backed companies must have either privately-raised funds of at least $2 million or publicly-raised funds of $5 million, and a minimum of 10 employees.
Cost (2020)(US$)
Global dues are currently $2,470 (plus a one-time $2,500 initiation fee). Chapter dues and event registration fees can add several thousand to this amount. Source: https://www.eonetwork.org/why-join/apply-for-membership
Pros and Cons: Entrepreneurs join a local EO Chapter, which supports their forum and provides education and social programming in their local area. Members have access to a global member network and events on a regional and national level. EO Chapters are volunteer-led, with professional support from the national organization. For small and mid-sized business CEOs who crave a national or international network, EO is a good choice.
About (From their website)
"Vistage is the world's largest CEO coaching and peer advisory organization for small and midsize business leaders. We offer the most effective approach to achieve better results, grow your company faster and maximize your impact as a leader."
Membership Criteria 
For CEOs of businesses with $5+ million annual sales revenue. In some areas, Vistage offers groups for other executives.
Cost (2020) (US$)
$12,000 or more annually
Pros and Cons
Vistage groups are facilitated by an accomplished business leader (chair). The chair also meets with members between meetings to help the CEO move forward on their goals. Vistage offers access to subject matter experts and networking with members both locally and globally. For CEOs seeking a facilitated experience with coaching, Vistage is a good choice.
About (From their website)
"The Council was founded in 2000 by a small group of CEOs seeking to connect and learn from their peers in the area. The goal was to find a forum to comfortably test new ideas, learn from other CEOs, and think differently about their businesses. The Council has more than 200 members who participate in monthly roundtable discussions, learning and social events, and an annual retreat."
Membership Criteria (US$)
The Council is for CEOs of organizations with at least $1 million in annual revenue and 5 or more employees (FTE). The average member leads a company with $7 million revenue and 35 employees.
Cost (2020) (US$)
There is a $900 Joining Fee once acceptance is approved. Prorated dues are then invoiced once the new Member is seated in a Roundtable or Forum. Annual Dues: Roundtable-$3,060; Forum-$5,460. There are no additional registration fee for any of the dozens of learning or social events.
Pros and Cons
This organization is great for Virginia CEOs, providing the largest CEO network in the Commonwealth. The Council provides both member-led peer roundtables and professionally-facilitated forums as the main benefit of membership. Additionally, VACEOs brings its community together for learning and social events, including a three-day annual CEO Retreat. For small and mid-sized business CEOs who seek to learn and grow with others like them in a "no-sell" or "safe" environment, VACEOs is a good and affordable choice.
Posted by Staff at 2:38 pm