VACEOs Virtual CEO Retreat 2020 Extends Into May
CEO Retreat Extends Through May: Cameron Herold Kicks Off Bonus Content on May 6
We are pleased to announce that our Virtual CEO Retreat will continue through May with these speakers and presentations!
These events are for VACEOs Members and Sponsors only. Not a Member? We are offering a special no-cost membership in light of the current COVID-19 crisis. Watch this video to learn more:  "VA Council of CEOs Develops Community Roundtable Membership in Response to COVID-19"
"HOW TO GROW WHEN IT'S SLOW WITH CAMERON HEROLD"
May 6, 3:00 – 4:00 p.m.: Cameron Herold returns! He is a well-known and top-rated international speaker who ran his own companies during the 87 & 01 economic recessions. He coached dozens of companies through the 08/09 mortgage crisis and recession and in this presentation he will go over some amazing tips he covered in Chapters 11 & 12 of his first book, Double Double. Sign up for this and other events.
"HOW TO PLAN FOR THE NEW NORMAL WORKSHOP WITH RENE HAINES"
May 7, 1:00 – 2:30 p.m.: René Haines is the President, founder and owner of FocalPath Coaching — a business and leadership coaching firm that works with clients all around the U.S. This workshop will cover moving forward in a post-pandemic world. How do you plan, project and forecast?  Sign up for this and other events.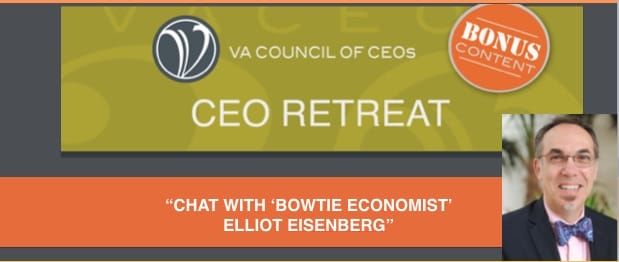 "ECONOMIC CHAT WITH ELLIOT EISENBERG"
May 13 and May 27, 10:15 – 10:45 a.m.: Back by popular demand, "Bowtie Economist" Elliot Eisenberg returns in May for a 15-minute chat with VACEOs Members and Sponsors.  Sign up for this and other events.
---
Posted by Staff at 10:18 am