Economic Survey Reports Outlook Collapse and Historic Negative Index Amid COVID-19 Outbreak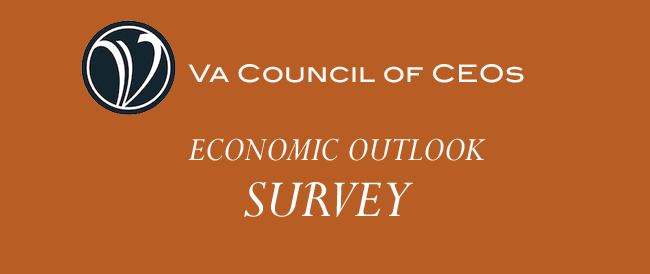 Read Richmond Times coverage >
Each quarter the Virginia Council of CEOs (VACEOs) and University of Richmond's Robins School of Business partner to take the pulse of top executives in the region through a comprehensive Virginia CEO Economic Outlook Survey. 
The first quarter 2020 CEO Economic Outlook Survey by the University of Richmond's Robins School of Business and the Virginia Council of CEOs finds that fewer than 7% of Virginia CEOs expect sales, capital spending, or employment to increase over the next six months. Overall, expectations at the end of the first quarter of 2020 were the lowest seen in the survey's 10-year history, producing the first-ever negative index.
Economic Index Historical Data
| Year | Quarter 1 | Quarter 2 | Quarter 3 | Quarter 4 |
| --- | --- | --- | --- | --- |
| 2020 | -18.73 (historic low) | | | |
| 2019 | 100.5 | 94.13 | 86.33 | 101.47 |
| 2018 | 94.60 | 92.73 | 104.30 | 97.97 |
| 2017 | 108.97 (historic high) | 103.63 | 99.17 | 106.3 |
| 2016 | 102.00 | 89.00 | 89.67 | 107.37 |
| 2015 | 93.90 | 93.42 | 99.80 | 92.67 |
| 2014 | 86.07 | 88.71 | 96.10 | 95.92 |
| 2013 | 86.40 | 91.60 | 92.53 | 89.57 |
| 2012 | 94.10 | 81.13 | 81.17 | 77.57 |
| 2011 | 85.63 | 74.17 | 81.17 | 88.63 |
| 2010 | | 81.33 | 94.47 | 92.27 |
| | | | | |
FINDING A WAY THROUGH THE CRISIS 
Scot McRoberts, Executive Director of the Virginia Council of CEOs says, "I've heard from several small and mid-sized business CEOs that it is like someone turned off the faucet. Suddenly last week, no one is calling, no one is buying. Some of these businesses will go under."
---

"We are working hard to help our CEOs stay connected so that they can help one another." – Scot McRoberts

---
"We have never seen such a complete reversal in CEO sentiment. Just last quarter, CEOs seemed optimistic for a continued strong economy," said Randy Raggio, Associate Dean at the Robins School of Business. Raggio administers the survey and collects the responses each quarter. "Now, everything has collapsed and none has any certainty about the future."
However, McRoberts believes that "many will find a way through this crisis by relying on reserves, scaling back, and innovating within the current environment." He assures VACEO members, "We are working hard to help our CEOs stay connected so that they can help one another."
Mickey Quiñones, Dean of the Robins School of Business, noted, "The sentiment expressed by these executives is consistent with what we have heard in our own conversations with business leaders over the last couple of weeks. One of the great things I have learned in my short time in the Robins School is that our faculty are viewed as valuable experts in all kinds of economic conditions, and we are ready to help them through this crisis."
CEOs RESPOND TO COVID-19. WEIGH-IN ON TAX RELIEF MEASURES
Because of the current crisis, CEOs were asked several questions that related specifically to COVID-19. More than 50% believe that they have been able to quickly adapt to the disruption caused by COVID-19 so that they will continue to operate without significant layoffs, but 14% believe that significant layoffs are "probably" (9%) or "definitely" (5%) likely. Thirty-two percent are still uncertain at this time.
CEOs were asked in what ways COVID-19 has caused them to change products, markets, or customers. Many have moved to virtual offerings and interactions, but many others are not able to make changes and are trying to cope with expected declines in sales. As one wrote, "We are just slow…less business." A few are lowering prices to encourage sales.
When asked what "other extraordinary steps your business is taking," nearly all mentioned remote work and sanitation/cleaning/health guidelines. As one CEO responded, "Cleaning…all the time. Working from home for those who can." A few mentioned pay cuts and furloughs, and those in business-to-business markets emphasized the importance of continued client contact.
When asked what state and federal governments could do to help small businesses through the crisis, there is a clear consensus that in order to remain in business tax relief and low- or no-interest loans are required. CEOs desire to keep their employees rather than release them to unemployment programs.  
EXECUTIVE SUMMARY: SALES, CAPITAL SPENDING, HIRING
The first quarter survey found that executives' expectations for sales, hiring, capital spending fell. To summarize, CEOs predictions over the next six months include:
More than 87 percent expect sales to be lower

 

82 percent of respondents expect capital spending to decrease

 

54 percent expect employment to decrease (40 percent expect employment to remain flat)
101 CEOs responded to the survey, the largest number of respondents in the history of the survey,

 

The survey was administered March 18-23
Multiple industries are represented in the sample, including construction, manufacturing, finance and insurance and retail
The average company revenue (most recent 12-month period): $11 million
The average employment count: 57
READ COMPLETE ECONOMIC SURVEY RESULTS
The Robins School and VACEOs jointly conduct the quarterly survey, which regularly asks about expectations for sales, capital spending and employment, plus other relevant issues, helping Virginia companies anticipate business conditions and plan for growth.
The Robins School adapted the survey from the Business Roundtable, an association of CEOs of American companies that conducts a similar survey nationally. Randy Raggio, associate dean at the Robins School, administers the survey and collects the responses each quarter. The survey has been administered quarterly since 2010.
Read Richmond Times coverage >
REQUEST RESULTS
The Council continues to expand the survey beyond its members, offering any area business owners whose companies gross at least $1 million in annual revenue the opportunity to participate. If enough businesses participate, the Council will provide survey results by industry. Participation is free, and all participants will receive copies of the survey data.
Business owners and CEOs who would like to participate in the next survey should contact Scot McRoberts at smcroberts@vaceos.org.
ABOUT VIRGINIA COUNCIL OF CEOs
The Virginia Council of CEOs is a nonprofit association whose mission is to connect the CEOs of small and mid-sized businesses for learning and growth. The Council is led by a volunteer board of directors, advisory board and a small staff. Currently, there are 215 CEO members, mainly in Richmond and Charlottesville. Learn more at www.vaceos.org.
ABOUT ROBINS SCHOOL OF BUSINESS
The Robins School of Business is the only fully accredited, highly-ranked undergraduate business school that also is part of a highly-ranked liberal arts university. U.S. News ranks the Robins School's MBA program #35 in the country. The school's executive education division offers open enrollment courses and customized leadership development, training and consulting to area businesses.
Posted by Staff at 8:57 am