Connie Bruce Earns Certified Association Executive Credential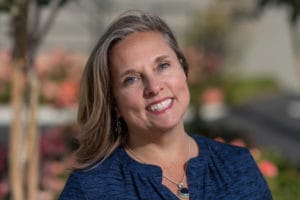 Richmond, Virginia, February 10, 2020: The Virginia Council of CEOs (VACEOs), a non-profit association serving 220 small and mid-sized business owners, announced today Connie Bruce, Director of Operations & Member Services, Virginia Council of CEOs, has earned the Certified Association Executive (CAE®)  designation. The CAE is the highest professional credential in the association industry. 
"Connie exemplifies what the Council is all about — continuous learning and growth. A key member of our team for 14 years, she raises the bar for us every day! We are very proud of her accomplishment," says Scot McRoberts, Executive Director, VA Council of CEOs.
To be designated as a Certified Association Executive, an applicant must have experience with nonprofit organization management, complete a minimum of 100 hours of specialized professional development, pass a stringent examination in association management and pledge to uphold a code of ethics. To maintain the certification, individuals must undertake ongoing professional development and activities in association and nonprofit management. More than 4400 association professionals currently hold the CAE credential. The CAE Program is accredited by the National Commission fro Certifying Agencies (NCCA). 
About ASAE:
ASAE is a membership organization of more than 46,000 association executives and industry partners representing 7,400 organizations. Our members lead, manage, and work in or partner with organizations in more than a dozen association management disciplines, from executive management to finance to technology. In 2020, ASAE is celebrating 100 years of making the world better, safer, and smarter. The centennial anniversary represents ASAE's role as a leader and supporter of progress and innovation in the association industry. Visit ASAE at asaecenter.org.
About the Virginia Council of CEOs
The Virginia Council of CEOs is a non-profit association that serves CEOs of small and mid-sized businesses in Virginia. The Council was founded in 2000 to connect CEOs so that they can learn and grow together. With 220 members in Central Virginia at this time, the Council is forming new CEO Roundtables in other parts of the state in 2017. Learn more at vaceos.org.
Posted by Staff at 1:11 pm