Business Growth by Vivid Vision: Cameron Herold at Retreat 2019
Cameron Herold is the mastermind behind hundreds of companies' exponential expansion, and he's rightfully earned a reputation as a growth guru by guiding his clients to double their profit and their revenue in just three years or less.
During VACEOs Retreat 2019, Herold taught attendees actionable, practical tactics for taking their business to the next level. More specifically, he explained how to build a culture, how to define your big hairy audacious goal (BHAG), and how to leverage a second in command. His most important message: Growth won't happen unless you define your vision first.
Kelley Powell, CEO of MacLaurin Group, has already taken Herold's words to heart. She netted an extra hour with Herold after submitting the top wager in a friendly bidding war that raised funds for an amazing cause, the Cameron K. Gallagher Foundation. She's recently spent her time working with Herold on her company's Vivid Vision.
"Our time was incredibly meaningful…"
"I am humbled and appreciative that Cameron Herold is a part of MacLaurin Group's journey," said Powell. "For those who know Kelley Powell best, you will not be surprised to hear Cameron had me at 'Goals. Measurements. Outcomes.' Data always tells the true story. The only way to reach a Vivid Vision is to know you are on pace to get there," she says.
"How you reach your destination of a Vivid Vision? Simply, focus," Powell adds. She suggests you start as she did, by purchasing Cameron's recent book, Meetings Suck for everyone on your team.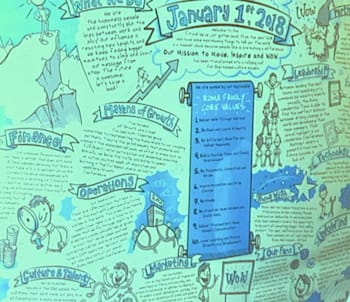 How to Create the Vision: Get Out of Your Box. Visualize and Define.
Ever think to yourself, "I wish my employees were as intuitive as I am"? If you're like most CEOs, you have. "We've all said it," said Herold at the VACEOs Retreat 2019. "The only reason you're so intuitive is that you see the picture no one else can see. If they could see what you can see, they would be just as intuitive."
So how do you get them to see what you can see? Create a Vivid Vision.
"The first step is you've got to get out of the box," Herold told the VACEOs Retreat 2019 crowd. "You have to go, get out of the box, get out of your office, and go somewhere around nature – somewhere where you can get inspired. Pretend you're flying in a time machine and you leave today and you arrive in the future to December 31, 2021, and I want you to look around your company, and I want you to describe what you see as if you're standing in your company and you're describing what you see."
Herold's approach includes capturing three or four bullet points about:
What customers are saying;
What employees are saying; and
What the media is writing about you.
Then move on to what your suppliers are saying, what your banker is saying, what your accountant is saying … your lawyer. Describe meetings, customer service, marketing, operations, IT, engineering and finance.
"Don't worry about how these things are going to happen," Herold explained. "Just describe what it feels like and then start pulling together your first rough draft. Your job as the CEO is to only pull together the first rough draft. A rough Word document – three or four pages of a Word document."
Next, pass off your rough draft to a writer to capture it in such a way that it becomes a magnet and pulls people toward your business. Later, add some design elements to it to make it feel more like your brand.
Your Vivid Vision should attract AND repel those who take it in. "You have to be willing to push people away," said Herold. "The alignment around vision is where culture starts. The media talking about the massages, the free bicycles, all the lunches – that's not culture. That stuff comes way later. Culture starts with alignment on vision and getting a good employee in the same direction. Our role as CEO is to be the Chief Energizing Officer and communicate vision – and to bring in the people who buy into it."
Learn More About Kelley Powell's Vivid Vision Journey
About the overall experience with Cameron she tells us: "With a shared spirit of investing in others, our time was incredibly meaningful knowing together we contributed to the beacon of hope for those affected by teenage mental illness, the Cameron K. Gallagher Foundation. I have personally signed up to run the 5k in the fall. I encourage each of you reading to do so as well. Special thank you to Cameron and to the team at Virginia Council of CEO's for creating truly meaningful connections."
Want to hear more about Kelley Powell's journey with Cameron Herold? Cameron will be joining Kelley on the MacLaurin Group's "Demystifying Technology" podcast soon. (Subscribe here: https://maclaurin.group/demystifying-technology-podcast/)
Thanks for sharing your experience with us Kelley!
"Worth the Price of Membership"
We often hear that the VACEOs Annual Retreat is "worth the price of membership alone," and it's no wonder: It's a three-day event filled with opportunities to learn from national thought leaders, participate in CEO workshops and network. But there are many other reasons to become a member of the Virginia Council of CEOs. Learn more about the benefits of membership.
Posted by Staff at 12:41 pm