VA Council of CEOs Brings CEO Roundtable Experience to Startup Virginia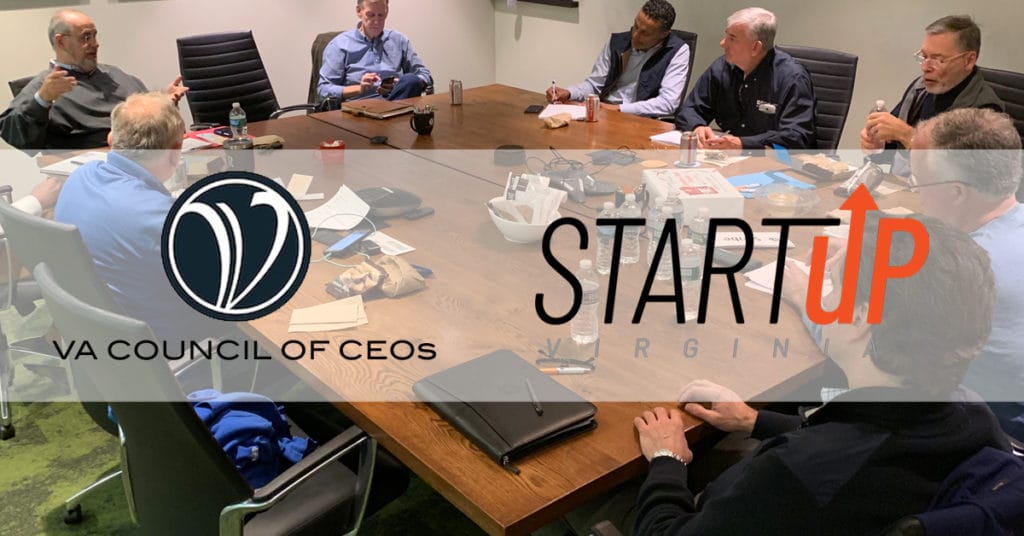 The VA Council of CEOs and Startup Virginia are pleased to announce a new community partnership, as Startup Virginia officially launches its peer-to-peer Founders Roundtable program. The program provides founders an intentional opportunity to connect with other founders in order to share, support, and learn from each other as they grow their businesses.
"We were happy to help SVA with the tools and training they needed to build their roundtable program," said Scot McRoberts, Executive Director, VA Council of CEOs. "We believe peer roundtables make better CEOs and more successful companies, which makes our community stronger. It's natural for us to want to equip these startup CEOs with such a powerful tool to help them grow and succeed."
The VA Council of CEOs worked with Startup Virginia staff to create the Founders Roundtable program and provided training for the leaders of the five groups. The program will facilitate structured monthly meetings for small groups of 7-10 diverse entrepreneurs to participate in confidential discussions about the professional and personal challenges of operating a high-growth startup.
"We are incredibly grateful for the support and expertise of the VA Council of CEOs in the development of our Founder Roundtable program," said Richard Wintsch, Executive Director, Startup Virginia. "As a business incubator, the biggest value we offer our founders is the opportunity to support and learn from each other, and this new initiative does it in an intentional way. We're really excited to provide this opportunity to our member startups."
About the Virginia Council of CEOs
The Virginia Council of CEOs is a nonprofit association that serves the CEOs of small and mid-sized businesses in Virginia. The Council was founded in 2000 to connect CEOs so that they can learn and grow together. Made up of more than 240 members from the Richmond and Charlottesville regions, the Council is poised for continued growth. Learn more at https://www.vaceos.org/.
About Startup Virginia
Startup Virginia (SVA) is a nonprofit, high-growth business incubator dedicated to advancing businesses that build a long-term, sustainable economy for Virginia. We currently serve 70 startup companies, more than 180 mentors and subject matter experts, and a regional investors network. SVA also provides entrepreneurial guidance and education that is open to all. With support from our partners, mentors, investors, and donors, we help entrepreneurs reach their full potential. For more information, visit www.startupvirginia.org.
Related posts:
VACEOs CEO Roundtable Experience: 5 Frequently Asked Questions
Posted by Staff at 10:13 am