JJ White on His Calling, His Podcast and His Plan to Shape VACEOs
JJ White is the Chief Engagement Officer of Dale Carnegie Central and Southwest Virginia and Central West Virginia. He's also the newest Chair of the Virginia Council of CEOs.
Maybe he looks familiar. It could be you've seen him on Facebook or iTunes hosting "The Great People Show" – a weekly radio program broadcast in Richmond and (hopefully) coming soon to Phoenix.
If you listen to JJ's podcast, you know he's not afraid to ask difficult questions. He's funny, quick witted and often drops inspiring quotes into conversations – whether it's in his podcast or in person. He's a voracious reader and aspiring author. He's also a Virginia native who loves the outdoors and his family: his wife, Samantha, and children Ike (9) and Millie (6).
We sat down with JJ at his podcast studio on Valentine's Day to learn more about his business and how he hopes to shape the Council during his tenure as Chair. Here's what he had to say.
Q&A with JJ White, Current Chair, VA Council of CEOs
Q: HOW WERE YOU INTRODUCED TO FRANCHISE OWNERSHIP?
A: I joined Dale Carnegie in sales in the year 2000, and three months later, the owner of the franchise threw his back out and became disabled. I hung out for a few months, just waiting for that business to get sold, and no one was buying it. So I raised my hand and said, "Hey, I'll buy the business. I don't have any money. I don't even know if I've got good credit, but let's do this thing."
So it was a completely owner-financed deal, and it was right after the September 11 recession. It was a really rough start. I didn't have any idea what I was doing. I was winging it. I put two extra mortgages on my house, but I made it, and we built a business. And then in 2008, I had the opportunity to buy the Central Virginia franchise and have been here ever since.
Q: YOU SAY DALE CARNEGIE IS YOUR CALLING. WHY IS THAT?
A: The reason I love being with Dale Carnegie is because we do so much good for other people. I've seen people's lives transformed, because you're talking about relationships and overcoming their self-limiting beliefs. Most of our leadership ability comes from two places growing up: our parents and our teachers, and then once we get into the working world, from other leaders.
Well, sometimes there are patterns there that need to be redirected or broken, and people need to be given the tools to let them see themselves in a different capacity. It's a joy to be part of that. It's challenging, but it's worth every minute.
Q: YOU OPERATE TWO FRANCHISES. WHAT'S THE BIGGEST CHALLENGE FOR YOU?
A: The hardest part for me, being a business owner, is this is very easily an owner-operated business. I could do everything, if I wanted to, and be successful at it. I could be a trainer. I could be a salesperson. I could be the janitor. I could take care of all of it. And I think that's a trap. You end up hanging out in the part you're really good at and you don't realize that you need to build the business by investing in people to do the sales and the training, etc. And it's not just to build a strong business that you can eventually exit from, but to give other people the opportunity to really do and exercise their gifts.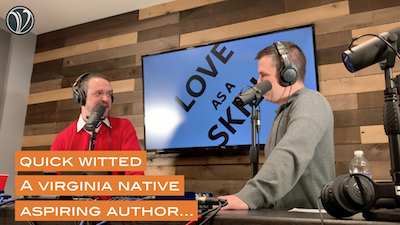 Q: ALONG WITH MANAGING THE FRANCHISE, YOU ALSO HOST "THE GOOD PEOPLE SHOW" PODCAST EACH WEEK. WHY THAT PLATFORM?
A: Dale Carnegie always happens inside of a vacuum – inside of a classroom where people can share and be open. And I'd always thought, how can we make this larger? At the same time, I was approached to be on the radio, and I thought, "This is it. This is the chance to take this type of content and this experience to a much wider audience and through the miracles of podcasting that can go all over the world."
Our focus, whenever we pick topics on the show, is to get people thinking about something that they've not thought about in relation to two things: themselves and how it impacts other people. Our show today, before this interview, was about how the word "love" is just completely misunderstood. Most people don't truly express love for people like they should. So it's part of getting people out of their comfort zone to think differently about everything going on around them.
Q: YOU WERE ELECTED BOARD CHAIR IN JANUARY OF THIS YEAR. WHAT DO YOU HOPE TO ACCOMPLISH DURING YOUR TENURE?
A: My mode of operation in everything I do is to try to be the best listener that I possibly can be. And there's so much irony in that, because people associate Dale Carnegie as speakers. We are not the "sage on the stage" – we're the guide on the side. My role is to really stand back and listen to what other people want to have happen in their business and in their life, and to guide Scot [Scot McRoberts, Executive Director, VACEOs] to make those decisions that will provide as much value to the membership as we possibly can.
Never before in our society have things changed so often and so fast, and the Council of CEOs is not exempt from that pressure of change. And what I believe you're really going to see in my mission over the next year is, how do we reimagine some of the things we're doing to provide even greater value to our membership? We don't want to mess up our core – we don't want to flip things on its head – but we have to be looking at things from the members' perspective and – back to that listening thing – really hearing and watching what other people are wanting and struggling with that the Council can provide that's part of our core.
Thanks for spending time with us, JJ!
LEARN MORE ABOUT VA COUNCIL OF CEOs
The Virginia Council of CEOs is an organization built on a solid mission and strong leadership. With more than 250 CEO members from the Richmond and Charlottesville regions, the Council is as diverse and strong as ever.
Ready to learn more? Hear why JJ values the Council in the video below, then consider becoming a member. Learn more about membership criteria here.
Posted by Staff at 9:21 am