Virginia Council of CEOs Forming Third CEO Roundtable to Serve Entrepreneurs in Charlottesville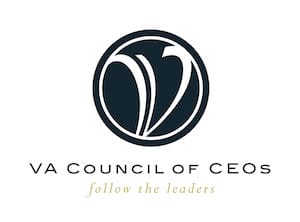 The Virginia Council of CEOs (VACEOs), a non-profit association serving 225 small and mid-sized business CEOs, announced today that it is forming a third CEO roundtable in Charlottesville, Virginia – just 17 months after the organization announced plans to serve that market.
"We are truly thankful to be so well received in the Charlottesville market," said Scot McRoberts, executive director, Virginia Council of CEOs. "Now it's full steam ahead. We anticipate filling a third roundtable before the end of the year."
The Council reports that, to date, of its 225 total membership, 21 Charlottesville-area CEOs have joined.  
Entrepreneurs and CEOs join the Virginia Council of CEOs for a variety of reasons, but the primary reason is to participate in a Roundtable. Roundtables comprise eight to 10 individuals from non-competing industries who meet on a regular basis. Members follow a strict "no advice" protocol, and all information shared in the meetings is confidential.
"In general, Roundtable discussions tend to focus on how to be a better leader and anticipate what's next, instead of being in the trenches with everyone else," McRoberts explained. "The confidential, safe haven environment in our Roundtables is also a place where CEOs can share family or personal concerns, which greatly impact their performance as leaders."
The opportunity to engage in peer-to-peer experience-sharing was the main reason new Charlottesville member John Woodell joined the Council in 2017.
"I joined to tap into and contribute to the wealth of knowledge shared by the numerous chief executives running similarly sized companies and facing similar issues," the president of OpenSource Connections explained. "All the extras that the Council provides – such as the Annual Retreat, quarterly speakers and social events – have been part of a surprising and enriching experience."
Woodell recently completed the required Roundtable Protocol Training and has had the first meeting with his new group. "I look forward to having a group of peers that face many of the same challenges I face and who, through sharing our experiences related to specific and pertinent issues, help support each other in finding real solutions to those challenges."
About the Virginia Council of CEOs
The Virginia Council of CEOs is a non-profit association that serves CEOs of small and mid-sized businesses in Virginia. The Council was founded in 2000 to connect CEOs so that they can learn and grow together. With 225 members in Central Virginia at this time, the Council is forming new CEO Roundtables in other parts of the state. Learn more at https://www.vaceos.org.
Posted by Staff at 1:28 pm