VACEOs Members Learn How to Ditch the Drama with Cy Wakeman
Got drama in your workplace? Gossip? Tattling? Employees constantly complaining about a colleague's poor communication skills? Are you spending an inordinate amount of time dealing with unproductive behaviors like jealousy or resistance to change? If it seems like hours every day, you're not wrong, and you're not alone.
Cy Wakeman, researcher and New York Times bestselling author, has determined that employees spend nearly 2.5 hours a day – more than 17 hours a week, or 68 hours a month (816 hours a year!) – on negative behavior that results in drama in the workplace. And for the average business, that can add up to millions of dollars in wasted time and energy.
Earlier this year, Wakeman shared her research and conclusions with Virginia Council of CEOs (VACEOs) members and University of Richmond MBA graduates and alumni at a workshop co-sponsored by VACEOs in which she challenged attendees to think differently about leadership. Her view: Your role isn't to motivate employees or find ways to engage them and keep them happy. "Drama is really emotional waste!" she exclaimed. "We need to modernize our leadership philosophy."
"I'm here to tell you, the research I've done on drama will blow your mind," Wakeman told the CEOs and future leaders in the room. "And there are businesses that are saving millions of dollars – actually actualizing on their bottom lines – by leading differently. That's the good news. The bad news is that much of what we've been teaching you about leadership doesn't work."
"Your role is to help [employees] use good mental processes, live skillfully in current realities and deliver on organizational promises." – Cy Wakefield
SOURCES OF DRAMA
Think about it: What if you could recapture those 816 hours a year, PER EMPLOYEE, and put that energy back into improved customer experience or a new revenue stream? Wakeman believes there are millions of dollars' worth of potential for the average organization.
Not sure where to begin? First, realize that there only three ways drama can enter the workplace:
You hired it;
You keep it or enable it; or
You ARE it.
"This waste," says Wakeman , "is completely treatable."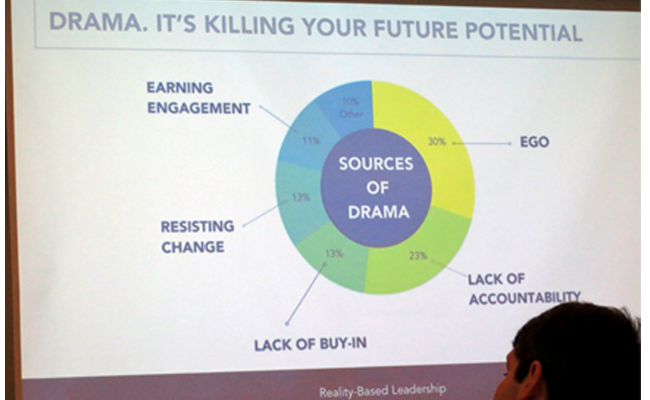 Wakeman's research finds that ego issues – behaviors where a scorekeeper mentality and/or judgment are the culprits – are the greatest source of wasted time (30 percent) for employees and management. Other drama offenders that can drain your business' potential are lack of accountability (23 percent) and resistance to change (13 percent).
Main Sources of Drama in the Workplace*
Ego
Lack of Accountability
Lack of Buy-in
Resistance to Change
Lack of Earned Engagement
By the end of Wakeman's day-long workshop, members and future leaders learned how to:
lead differently to combat ego;
foster accountability more effectively;
create earned engagement and buy-in; and
stop feeding into the drama.
"I'M NOT RESPONSIBLE FOR THE HAPPINESS OF MY COWORKERS?"
The day was full of valuable takeaways. Here's what two VACEOs members had to say about their experience.
"… I left Cy's talk no longer preoccupied with obstacles; I left focused on opportunities." – Charlie Connell, Principal, Punch.
"Cy Wakeman's 'Reality-Based Leadership' presentation is yet another example of a great educational opportunity I gained access to through my participation in the Council. I walked into the talk preoccupied with work, but it didn't take her long to grab my attention.
'I'm not responsible for the happiness of my coworkers'? 'You can't purchase buy-in'? These are things you know are true, but you still want the happiness and the buy-in. Cy explained other ways of thinking about these statements that made sense.
My favorite takeaway was combating 'Why Can't We' statements with a 'What If We Could?' mindset. Again, a simple concept, but delivered in a way that was impactful for me. The segment about accountability and the fact that it cannot be enforced – it's something that must be chosen – also hit home for me. All in all, I left Cy's talk no longer preoccupied with obstacles; I left focused on opportunities," says Charlie Connell, Principal, Punch.
---

The learning opportunities that are offered through VACEOs have been invaluable for my professional and personal growth."–   Jennifer Boyden, Chief Executive Officer, Heart Havens
"I was delighted to attend the presentation by Cy Wakeman! Aside from providing a straightforward, common-sense approach to workplace issues, she offered humor and personal examples. It's frequently challenging to step away from daily operations, so I like to consider that my time is well spent. VACEOs offers these kinds of opportunities.
This workshop provided many take-away actions – not the least of which was implementing an SBAR Sheet to control the energy in the workplace and move from thought processes to 'how to make it work.'
What's SBAR?
S = present the situation in one sentence
B = share the relevant background
A = conduct an analysis/fact check
R = present recommendations (with an emphasis on the plural)
The learning opportunities that are offered through VACEOs have been invaluable for my professional and personal growth," –   Jennifer Boyden, Chief Executive Officer, Heart Havens.
HAVE A THIRST?
Do you have a thirst for knowledge that will help you grow your business? Do you need inspiration to help you get "unstuck"? VACEOs can help you work ON your business – not just in it. Our members are regularly exposed to inspiring presentations by local and national thought leaders. Topics range from management techniques to trends in technology and marketing, and much more.
Next up? "Future-Proofing Your Career" – a special knowledge-sharing and networking event for women co-sponsored the Robins School of Business, a VACEOs sponsor. Become a member today – or contact us about attending an event as a guest.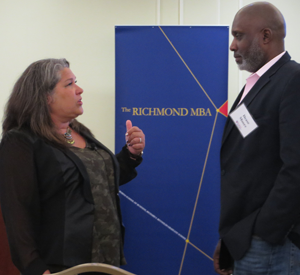 About Cy Wakeman
Cy Wakeman is a dynamic international keynote speaker, business consultant, New York Times bestselling author, and global thought leader with more than 25 years' experience cultivating a revolutionary new approach to leadership. Grounded in reality, Wakeman's philosophy has helped organizations and individuals all over the world learn to ditch the drama and turn excuses into results. Learn more.
*Cy Wakeman Presentation: "Reality-Based Leadership"; January 12, 2018; University of Richmond
Posted by Staff at 10:47 am