NBA Coaching Legend Kevin Eastman Shares Leadership Lessons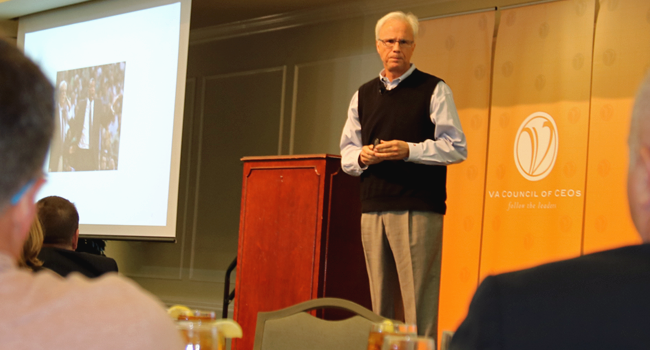 What can you learn about leadership from a 13-year NBA veteran and World Champion coach? Turns out, a lot.
Before we said goodbye to 2017, we said hello to former Boston Celtics and LA Clippers coach Kevin Eastman at our last Quarterly Luncheon of the year. Like our membership, Kevin has a thirst for knowledge – becoming very agitated if he can't find an entry for his WILT (What I Learned Today) notebook each day.
If you were lucky enough to be at the luncheon, you heard stories about winning championships, managing personalities and, most importantly, what it takes to lead teams to greatness. Simply put, Kevin Eastman's life is truly a lesson in leadership.
One of the best messages he left us with? "If you fear the consequence of failure, please put equal fear in the consequence of never trying."
Here are just a few other nuggets he shared with us during his presentation.
Five Leadership Lessons from Kevin Eastman*:
Create buy-in. Be competent. Be trustworthy. Work hard. Be sincere.
Be prepared to refocus your lens. "It's inevitable that things are not going to go well. I believe our biggest opponents are not the teams we play, and it's not the competition in your industry. I believe your biggest opponent is human nature: how we react to success and how we react to failure."
Build a jealousy-free culture. "I found out the best cultures in sports or in the business world are the jealousy-free cultures. If you create a culture where there is very little jealousy, you'll have a shot to win championships in your lives."
The best of the best don't want to be taken out of the game. "A lot of people do the hard work, but the best of the best do the unrequired work. I say to teams and companies I speak with, 'Hard work is not the answer. It's the price of admission for you to become a part of the organization. It's the price of admission for us to hire you.'"
Embrace the philosophy of Ubuntu. "The two tenets of this philosophy are, one: People are people because of other people – meaning, I can't get to where I want to go without other people around me. Even the greatest players need teammates. The second tenet: I can only be all I can be if YOU are all you can be."
Have a thirst?
Do you have a thirst for knowledge that will help you grow your business? Or maybe you need inspiration to help you get "unstuck"? VACEOs can help you work ON your business – not just in it. Our members are regularly exposed to inspiring presentations by local and national thought leaders. Topics range from management techniques to trends in technology and marketing, and much more. Become a member today, or contact us about attending an event as a guest.
*Source: ""Leading in Today's Competitive Environment," VACEOs Quarterly Luncheon presentation by Kevin Eastman, former NBA coach and World Champion turned motivational speaker.
Posted by Staff at 9:50 am