For the Health of It: Buckingham Greenery Turns 35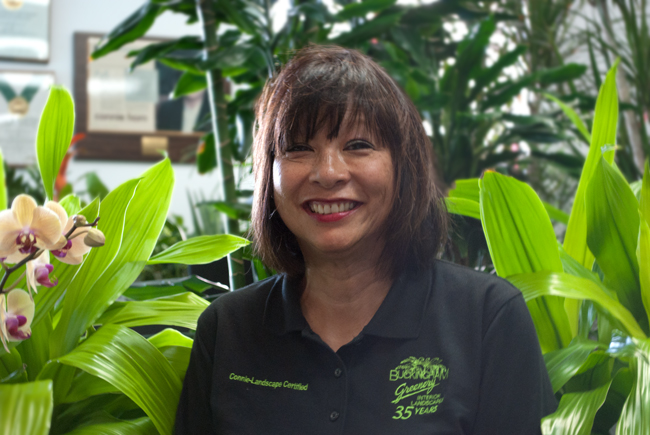 It's a great story: a business owner finding success with a hobby they love. But look closer. This tale has much more to offer.
Connie Hom's business, Buckingham Greenery, has an employee retention rate that is unbelievably high (over 90 percent) in an industry with an employee base that can be, for the most part, transient and seasonal. And its CEO? She's still keeping a promise she made to herself more than 35 years ago – and following a passion that's about much more than delivering pretty plants.
Here's the story of the amazing, blossoming ecosystem that is Buckingham Greenery, Inc.
"I'm Most Passionate About What Plants Do."
It might not be surprising to hear that Hom always had an affinity for plants (she grew up on a farm in New Jersey). What might be surprising to some is that she describes her level of horticultural literacy as "hobby knowledge." Instead, her passion centers around the environmental impact plants offer. "Everyone loves plants because they're pretty, but I'm most passionate about what plants do," she says.
"The average person works eight to 10 hours a day in a closed space with closed windows," she explains. "A lot of the products that surround us are petroleum-based products that release toxins. Toxins can also be found in linoleum, carpet, wood, paints, furniture, desks, and even our refrigerators. The printers and copy machines we use at the office are the worst, because of the toners. We're surrounded by a lot of toxins in the air, which may be filtered, but we're continuously filtering bad air."
Her solution? Plants. "It's a very cost-effective way to have a healthier environment and healthy employees," says Hom. And it's why she's dedicated a large portion of her time to helping with a NASA interior landscape study and speaking to business owners and industry leaders about the environmental and health benefits of plants. (Watch video to learn more.)
---
5 BENEFITS OF INDOOR PLANTS  

1. Better indoor air quality

2. Improved mood and productivity

3. Reduced stress levels

4. Faster recovery from mental fatigue

5. Decreased workplace absenteeism

(source: source: houseofplants.com)
---
"If I Ever Own a Business…."
Hom founded Buckingham Greenery in 1982 in Buckingham, Virginia, and for the past 35 years, she has brightened the interiors of some of Richmond and Central Virginia's most prominent commercial spaces and adorned countless hospital waiting rooms, small business offices, universities and mall courtyards with her work. From Fortune 500 companies to regional healthcare facilities to national retail chains, her business' portfolio is as complete as it is diverse. It's also a business that has survived three recessions.
Today, the company employs approximately 25 people and has satellite facilities in Richmond, Charlottesville and Norfolk that serve Richmond, Fredericksburg, Chesterfield, Colonial Heights, Petersburg, Norfolk, Virginia Beach, Williamsburg (all of Tidewater), Charlottesville, Harrisonburg, Staunton, Lynchburg, Roanoke, Christiansburg, Blacksburg and, of course, Buckingham.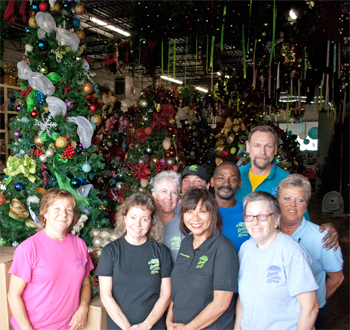 We recently caught up with Connie at her Richmond location, which is Buckingham Greenery's "Christmas Headquarters," and it's abuzz with activity. Holiday music plays in the warehouse, which, at the moment, is a holiday forest of nearly 100 fully decorated trees. Enormous wreaths hang from the rafters; ornaments, ribbons and holiday displays abound; and champagne reindeer adorned with rhinestones watch on, awaiting their turn for delivery. The space exudes creativity and fun, and we were introduced to each and every employee.
Amidst the hustle and bustle, we learn about a promise Hom made to herself years ago, after a disheartening experience she had working in "Corporate America." It's a promise she still keeps today. "I never wanted to be in a place where people couldn't excel or reach their full potential or like what they were doing," she says. "I told myself, 'If I ever own a business, I want to be sure that people are not complacent – that they're always challenged, and they don't have this mediocre mentality. The 'just get by until I retire' mentality."
Hom is far from complacent these days. "I want everything!" she tells us. And she's on her way to getting it. More inorganic growth by way of acquisition is in the near plans for Buckingham Greenery. We couldn't be happier for her.
Happy 35th anniversary, Connie Hom and Buckingham Greenery!
---
CONNIE HOM SHARES
7 MANAGEMENT LESSONS SHE'S LEARNED
Find someone to supplement an area of weakness for you as the CEO.
For Hom, that meant a horticulturalist to supplement her "hobby knowledge."
Learn how to adapt.
"We've been through three major recessions," says Hom. "As a team, we figure out how to adapt. We're always thinking ahead."
Diversify your portfolio.
Over the years, Buckingham Greenery has broadened its market base: an important reason why the business has survived three recessions.
Know when to hire.
If you need to be well staffed for a certain business cycle or time of year, factor in time for the learning curve.
Keep employees happy.
How? "Find jobs or clients that will challenge them," Hom explains. "Empower them and let them do their job!"
Have a code.
Buckingham Greenery operates strictly by four core values. "Every Monday morning, we share examples of how we met our values the week before," says Hom. "We make decisions by our values, and it makes a difference. We live by them. It's not just something on the wall."
Express gratitude.
Hom likes to write thank-you notes to her team and clients. "They're giving you the opportunity to blossom and to grow!"
Posted by Staff at 11:51 am