A Look Back at the Evolution and History of VACEOs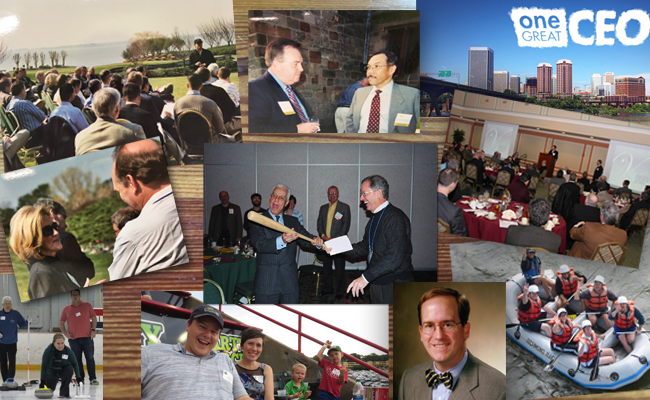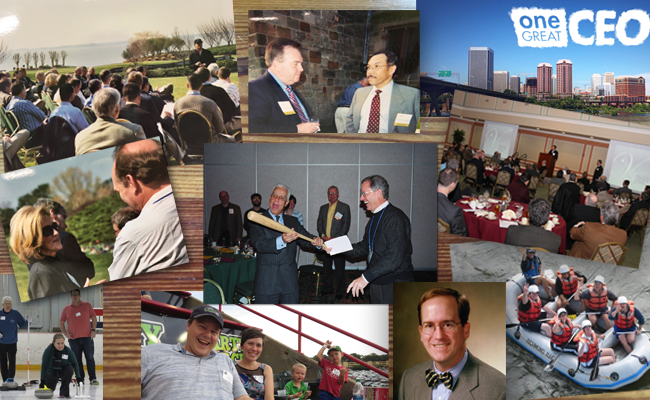 Like many budding startups, the Virginia Council of CEOs began with a vision and a dedicated core of individuals. Today, nearly 20 years after a state charter morphed into the organization as it exists today, VACEOs is a successful, thriving association with an unwavering mission and strategy to serve more Virginia CEOs.
In the Beginning…
VACEOs didn't begin as a non-profit organization, but rather as a state chapter of the Council of Growing Companies, which was formed in 2000 by Chuck McCabe, CEO of Peoples Tax & Business Services. Under his leadership, the chapter did not dissolve when the national organization failed, but came into its own on January 1, 2002, when its first executive director, Scot McRoberts, filed for 501(c)(6) non-profit status.
"I was the spark plug that brought the CEO peer-to-peer concept of the Council of Growing Companies to Richmond, which later become the Virginia Council, but I would credit Scot McRoberts as a co-founder of VACEOs," explains McCabe. "And without Scot as the executive director, the Council would not have succeeded and would not be as successful as it is today."
In 2000, Scot McRoberts was senior vice president of the Richmond Chamber and a board member of the Council of Growing Companies. When asked why he left the Chamber to become VACEOs executive director, McRoberts says, "The Council of CEOs was compelling to me. It met an immediate need not found in the business community. The people there were energetic and exciting. I had been at the Richmond Chamber for eight years, and it was a good time to do something different."
In 2002, VACEOs membership totaled 34. McCabe and McRoberts recruited board members from the Richmond CEO community to help guide the organization's mission. Original board members included Bernard Robinson of Networking Technologies + Support, Inc.,
Gail Johnson, CEO Rainbow Station, Inc., was also among the original VACEOs membership and the lone female executive in 2002. At the time, her business was 12 years old, and she was poised to franchise. "It was all good timing to be involved in a peer support group," she recalls. "When Chuck asked me if I would be a part of the Council's board, I quickly understood I was THE woman being asked to be an active participant at the table. This is an opportunity. How can I possibly refuse?'"
 Remember When?
With the core peer-to-peer roundtable concept and Gestalt Language Protocol in place, VACEOs steadily evolved from a volunteer-driven organization with only a few opportunities to learn and network during the year into a growing and vibrant organization with an active governing body and a busy events calendar.
"When we first started out, we were very volunteer driven," says McRoberts. "My role as executive director was part time. We had a large board and relied heavily on volunteer leadership for recruiting, program development – really everything. Over the years, that's changed dramatically. It's became more staff driven, with volunteers more involved in strategic leadership of the Council."
"I would say a big part of our success can also be credited to our culture of succeeding executive chairs," says McCabe. "Each chairperson has made their own contributions, and collectively all have helped to make the Council what it is today."
The first-ever VACEOs CEO retreat did not take place until 2005. It was held at Kingsmill Resort in Williamsburg, and approximately 50 CEOs attended. Roger Schnorbus, from the University of Richmond's Robins School of Business, spoke … for free. That first year Doug Wilder, the newly elected mayor of Richmond, was awarded our first Home Run Bat in appreciation of his presentation. (Later that day, he took his bat to a press conference at City Hall as a prop!)
The VACEOs Annual Retreat has since become the highlight of the year for many, as New York Times best-selling authors, respected national keynote speakers, and well-known CEOs and business leaders now come to present their ideas and experiences to the membership.
VACEOs Today
So far, in 2017, VACEOs has accomplished three very important milestones:
1) Membership has grown to 200;
2) A record number of sponsors have come on board; and
3) The Council has announced an alliance with the Virginia Chamber of Commerce.
"The Council is beginning to grow into its name as the Virginia Council of CEOs," says McRoberts. "I'm really excited about the opportunity to serve CEOs across Virginia, beginning with Charlottesville this winter and by forming roundtables in other communities across the commonwealth. The future is bright."
Going forward, the Council's ultimate mission will remain the same: to connect CEOs for learning and growth, with the peer-to-peer roundtable experience remaining at the heart of the organization.
"The Virginia Council of CEOs remains as relevant an organization today as it was yesterday," says Bernard Robinson, president & CEO of Networking Technologies + Support, Inc., and original VACEOs board member. "One of the nicest things about the Council is that it's made up of a bunch of dynamic people from dynamic organizations – and they're there for you to learn from every day. It's not a place for people to grow stagnant. There are new ideas and concepts and something for you to pick up every time you meet."
Leadership
There's strength behind leadership. View VACEOs current Board and Past Chairs.
Posted by Staff at 1:47 pm