Cyber Security 101: 7 Facts and Tips to Remember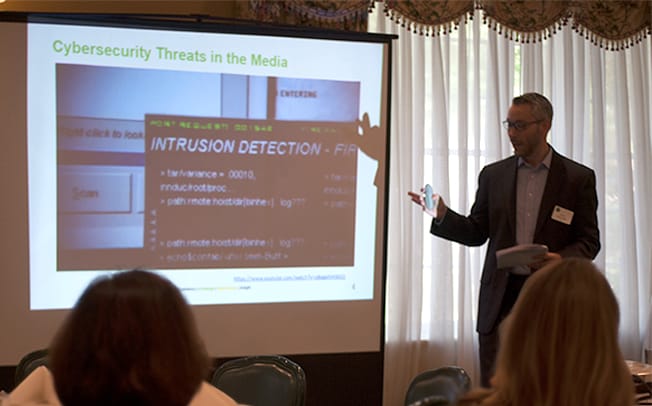 October has passed, so we must say farewell to Cyber Security month, but not before we leave you with seven important things to remember, thanks to Chris Moschella, Manager of Risk Advisory Services at Keiter, who was on hand at a recent Knowledge Network lunch. Listed below are just a few of the things we learned.
CYBER SECURITY 101: 7 FACTS, FIGURES AND TIPS TO REMEMBER 
Attacks can cost hundreds of dollars per data record to recover, but it's the damage to your reputation and loss of business (and sometimes employees) that costs SMBs the most.
One of the best investments you can make as an SMB owner is in security awareness training.
91 percent of breaches start through email.
It's vital to know where your "cyber doors and windows" are – and to keep them closed.
Mobile devices, laptops and phones = examples of cyber windows.
Know exactly where your sensitive data resides – and limit who has access to it.
When it comes to security, know where your data/internet service provider's responsibility ends and yours begins.
Members Only: Please send me Chris Moschella's presentation on cyber security risk prevention. 
HEARD AT THE DEMYSTIFYING CYBER SECURITY KNOWLEDGE NETWORK LUNCH
"While I admit that the topic of cyber security did not elicit feelings of excitement, it's exactly the kind of information that responsible CEOs need to have in this world that's changing at lightning speed. I now feel prepared and have the much-needed information to ensure the right checks and balances, appropriate training and policy needed to protect our business investment." – Maria Page Candler, President, James River Ground Management

"If something is not important to you, there is almost a zero percent chance it will be important to your staff." – Chris Moschella, Keiter, on setting a serious corporate tone when it comes to cyber security and threat prevention.
Related articles: "Making a Claim for Cyber Security Insurance."
Posted by Staff at 10:03 am