VACEOs Feedback Aids in Development VA Export Initiative

As part of a two-year effort by variety of local, state and regional partners, the first formal export initiative organized by a Metropolitan Statistical Area in the Commonwealth has been officially drafted. The Metro Richmond Exports Initiative (MREI) was unveiled at the picturesque Boathouse restaurant in Brandermill on September 8.
The goal of the MREI is bold: increase exports from small and medium-sized Richmond-area businesses by 40 percent by 2020.
WHY EXPORT?
Global demand for all kinds of products is skyrocketing, and, according to the initiative's organizers, "between 2015 and 2020, 81 percent of global demand for products and services of the sort that American firms produce or could produce will come from other countries – not the United States."
Exporting is good for companies and for the regions in which they're located. Compared to their non-exporting counterparts, companies that export*:
Enjoy higher productivity (revenue per employee)
Are able to pay higher wages and retain talent
Produce and patent more product innovations
Grow more quickly
Have higher market value
Do not experience cyclical fluctuations in revenue
These benefits strengthen the regional economies where the exporters are located. In 2015, exports generated $36 billion in revenue for Virginia, bringing $18.7 billion in income wages back into the state – as well as $2 billion in tax revenue. As Virginia Secretary of Commerce and Trade Todd Haymore pointed out during the initiative unveiling ceremony, "If you don't understand the important role that exports play in Virginia's economy, just look at the numbers."
MREI METHODOLOGY
The core group driving the creation of the MREI includes the Greater Richmond Partnership (GRP), Virginia's Gateway Region (VGR), the Virginia Economic Development Partnership – International Division, JPMorgan Chase, and CURA@VCU (Center for Urban & Regional Analysis).
Over the last two years, the team worked to solicit feedback from local, regional and state officials, including those within the public sector, VEDP VALET program graduates, various chamber of commerce members across Virginia, and several business associations, including the VACEOs.
The overall process included a comprehensive SWOT analysis; community-wide meetings; interviews with local stakeholders; hundreds of surveys; and numerous focus groups, phone calls and visits.
"It was an honor to participate in this important initiative," said Scot McRoberts, VACEOs executive director. "The Council's membership comprises knowledgeable small and medium-sized business owners who represent a diversified range of industries – many with export experience and some on the brink of taking that next step. We were happy to share our knowledge during the focus group phase of this initiative."
"A GREAT BEGINNING"
"This is a great beginning for us," said Michael Rao, Ph.D., VCU president, in his closing remarks at the MREI unveiling. "We get the chance to think and work together as a unified region. Think about the incredible diversity we have – and don't talk a whole lot about – in our region. It's an important part of how we connect ourselves to the rest of world. When the rest of world sees that we embrace diversity found in all of our people, it gives us a chance to send a message to the world about how committed we are to the experiences of ALL human beings."
The MREI was officially handed off by CURA@VCU to Metro Richmond's regional economic development teams for implementation during the unveiling event.
According to a press release from the L. Douglas Wilder School of Government and Public Affairs, annual reports will document the progress of the initiative over the next four years, and adjustments to the program may be made as warranted by annual results. A communication plan has been created to keep stakeholders informed of changes, successes and opportunities.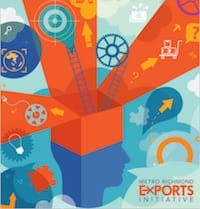 Ready to learn more? Download the MREI Report (PDF) to review the SWOT analysis, MREI Goals & Metrics and Objectives, and more.
*Source: Metro Richmond Exports Initiative.pdf
Posted by Staff at 1:32 pm