VACEOs Member Profile: Russ Martin, CEO, IMMCO and Tube Tape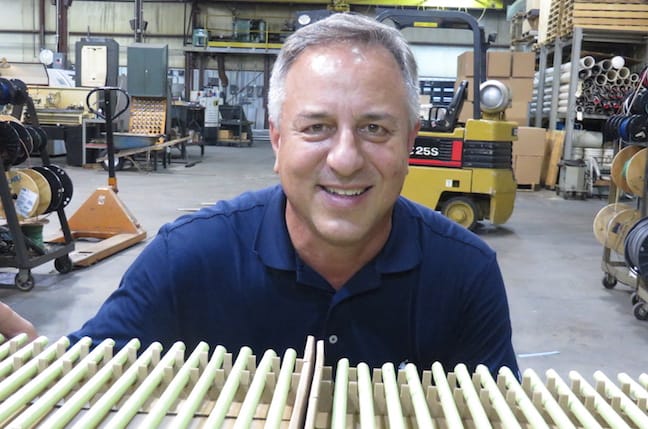 In July, we officially welcomed (and listed) our Class of 2016 New Members in one of the most highly viewed articles we've posted. So let's dive in a little deeper and get to know Russ Martin, one of these new members.

Meet Russ Martin.
His business ownership experience spans 30 years, and he recently took ownership of a startup AND a long-standing company that needed a complete rebrand – both in the same year. His rationale for the challenge? "Sure! Why not?"
Welcome aboard, Russ. We're looking forward to getting to know you better.
Q: You've been an entrepreneur for several years. Tell us about your experience.
A: I bought my first company from my father in 1990. The company, which began in 1983, was small and laden with debt. It had about a five percent market share and no international business, but it did have a great product. The company made specialty machines used to package hot dogs.
I made my father an offer, and he accepted. Over the next 15 years, the business achieved a 22 percent compounded annual growth rate and about 95 percent of the world market share. I sold that company in 2005 to a private equity firm and semi-retired for a while, doing analysis and acquisition work for that firm – which soon turned into full-time work. Then I finally decided I preferred to run my own company, rather than someone else's.
In 2015, I bought Industrial Machine Manufacturing Company (IMMCO) and started an unrelated company, Tube Tape.
Q: What was it about IMMCO and Tube Tape that made you want to get back into the ownership game?
A: IMMCO had a premium product and a great reputation, but the company had been ignored. I thought it was a great opportunity to revitalize the brand. I felt it was a good company that I could grow. One week after buying IMMCO, I heard about Tube Tape. Unlike IMMCO, it was a startup company, but I got really excited about the product, so I partnered up with Tube Tape's inventor. It's been a lot of work and an interesting process!
Q: What do you think are some of the biggest challenges business owners face today?
A: When I attended Darden, I took an Organizational Behavior class. A visiting CEO said, "This will be the most important class you will take." In many ways, he was right. Being able to find, recruit, maintain and develop the right people is critical. Once you have that part of the business figured out, it becomes easier.
I will add that I believe banks are not nearly as easy to work with as they used to be, and that's another really big challenge business owners face today. It's really difficult to get the capital you need to get your business started.
Q: You're a new member of the Council. Why did you want to join?
A: When I started out in business as a newly minted MBA, I thought I knew it all. Of course, I didn't. A real turning point for me was when I joined an industry trade association and I met a number of CEOs who had businesses similar to mine. Being able to talk through shared experiences and having those contacts was key.
I'm really looking forward to a similar CEO experience and meeting new people. Most of all, I'm looking forward to learning something new and hearing about experiences I haven't encountered or experienced yet.
Q: What brings you the most joy in your life?
A: That's an easy question! Five years ago, the answer would have been a well-struck golf shot. But now I have a daughter who's 4 years old and 6-month-old twins. My family brings me the most joy. Being more experienced and a little older makes it easier for me to understand priorities.
Posted by Staff at 1:25 pm