Disaster Planning: Is Your Business Prepared?
How prepared is your business to handle a disaster? Would you go out of business if you had to shut down for more than a few days? According to the U.S. Small Business Administration, "roughly 40 to 60 percent of small businesses never reopen their doors following a disaster."
Major disasters like earthquakes don't happen every day in our region, but smaller-scale disasters – like server failures, power outages and fires – do. And disruptions of any kind can wreak havoc on a small business.
"Considering other types of disruptions is very important when you're putting together a disaster preparedness plan," says Michelle M. Cann, CPA, Chief Operating Officer, The Fahrenheit Group. "Things like technological or mechanical hazards, such as sudden facilities failure (power, HVAC systems, hazardous materials), and human-caused disruptions – such as cyber security events, civil disturbances or a health crisis affecting a key employee – can dramatically impact your business."
"A good disaster or emergency operation plan can mean the difference between a manageable business disruption or a major, time-consuming, costly and perhaps even unrecoverable business failure," adds Cann.
CREATING AN EMERGENCY PLAN
Most disaster recovery or emergency preparedness plans include five components: Program Management, Planning, Implementation, Testing and Exercises, and Program Improvement.
PrepareMyBusiness.Org offers several helpful checklists to help you create an emergency plan for your business. The worksheet listed below will ask you to think about who should be on your recovery and communications teams, where your alternate business location would be, and how your technology and data can be recovered. (Go to SBA Disaster Recovery Overview Checklist.)
Don't be intimidated by the plan creation process. The simplest plans are often the best.
"Disaster recovery plans need not be complex or consider every possible hazard," says Cann. "The most successful plans are simple and flexible. Designing a plan need not be a difficult process. In fact, starting with the basics, such as who to call with current contact information, is better than waiting until an extensive or all-encompassing plan can be designed."
According to Cann, the best emergency plans are:
1. Simple and flexible 2. Designed by those most familiar with the key aspects of operations 3. Inclusive of the financial team 4. Communicated internally 5. Tested at least once a year.
Cann also offers some great advice for making sure your plan is tested periodically.
"Couple the review of the plan with another company event – an annual board or key business meeting, the budget approval process, or even the summer company event. Review should include testing elements of the plan, including company-wide communications to ensure the plan is operational. Fire drills, recovering test documents and calling backup IT services are just some examples of how to test the plan."
---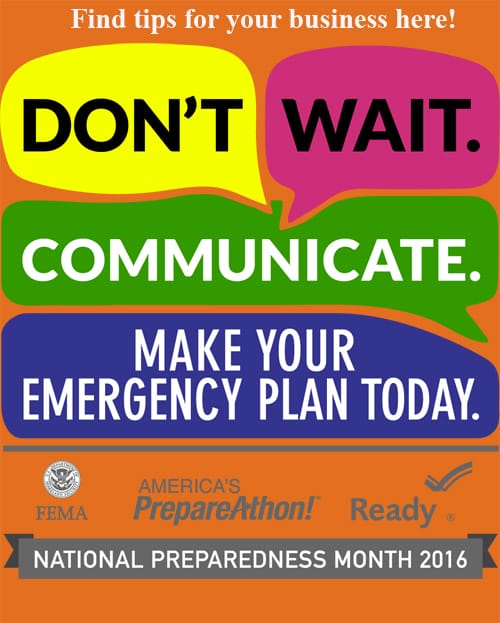 Posted by Staff at 9:59 am