2016 VACEOs Retreat CliffsNotes
This year's CEO Retreat was a huge success! "CEO Essentials" was the theme, and we've got a few short and sweet nuggets here to jog your memory, should you find yourself lost in (ahem) "urgent" matters. Bookmark this page and return to it often. If you care to relive some of the fun, take a look at our Retreat Sights and Sounds video.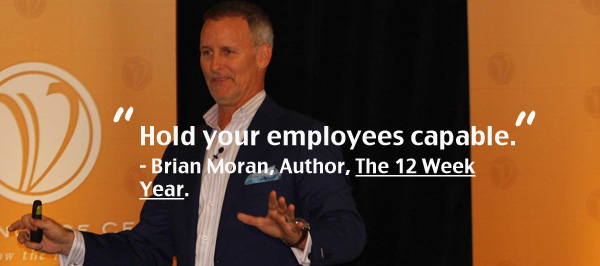 BRIAN MORAN: "The 12 Week Year"
When you think of Brian's presentation, think blue poker chips. He gave us tools to develop clarity and focus – and a healthy sense of urgency. When you shift to a 12-week year, everything changes. And you're sure to discover what matters most.
Nuggets from this presentation:
• Develop a repertoire of "gracious no's" for non-essential requests.
• The moment you decide what matters most (i.e., what you need to do) will be one of your Greatest Moments.
• Move through the plan one week at a time. Peer support is important. You will quickly succeed or fail. Refine your plan. Repeat.
• Learn more here.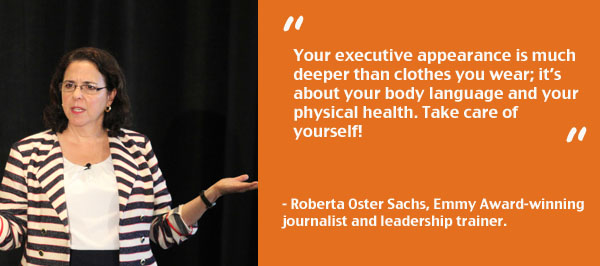 ROBERTA OSTER SACHS: "Enhance Your Executive Presence: Tools to Fuel Your Confidence and Impact"
When you're getting ready for a big sales pitch, think about Roberta's presentation. This Emmy Award-winning journalist and leadership trainer taught us about the science behind "Power Posing" and gave us mindfulness tools to enhance our productivity and health.
Nuggets from this presentation:
• Executive Presence Pillars:
1. Gravitas (ability to recognize others' emotions)
2. Communication (*listening* skills)
3. Appearance (physical health)
• Feeling stressed or not confident. Practice your best power pose!
• Meditation matters. And mindfulness makes you smarter.
• Learn more here.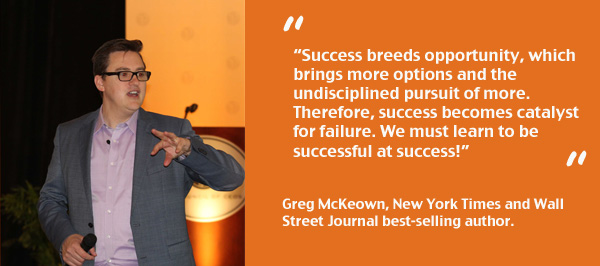 GREG MCKEOWN: "Essentialism: The Disciplined Pursuit of Less"
Need inspiration to de-clutter your life? Think about Greg. This superbly hilarious professional from across the pond is a New York Times and Wall Street Journal best-selling author and founder and CEO of THIS Inc. He gave us the inspiration to pursue less to reclaim control of our own choices about where to spend our precious time and energy. Or said another way, to pursue a closet filled only with joy. "Can we get a snap?!"
Nuggets from this presentation:
• Your job as CEO is to protect your ability to prioritize.
• Become more of who you REALLY are. Eliminate the non-essentials.
• Remember: It's either "HELL, YES!" or "No."
• Becoming an Essentialist begins with small wins.
• Learn more here.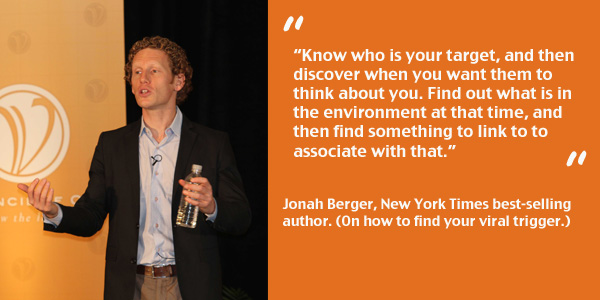 JONAH BERGER: "Crafting Contagious"
This fast-talking New York Times best-selling author and Wharton professor showed us the science behind content that goes viral. He shared just enough data and secrets to entice us to devour his book. Genius approach, wouldn't you say?
Nuggets from this presentation:
• Remember these three stories:
1. Secret entrance into bar / social currency
2. Blender video / inner remarkability
3. "Never say no to a panda" / story content that carries a message
• There's power behind peanut butter and jelly. Find your trigger.
• Your homework: Read your free copy of Contagious by Jonah Berger.
Posted by Staff at 6:24 pm