Avoiding the Bermuda Triangle with Entrepreneur Avrum Elmakis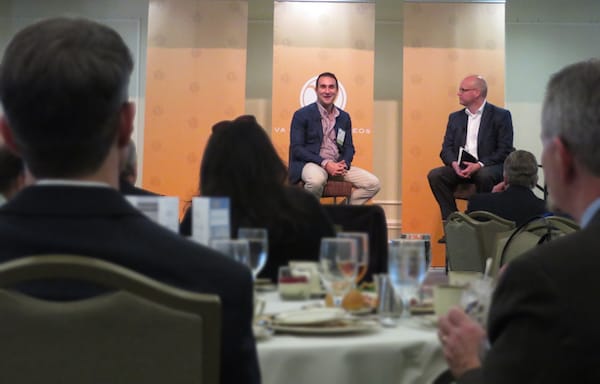 It was like a casual chat with a friend. CEO to CEO. Only he happens to run a $40 million company that in all likelihood will double its size in the next several years.
The Virginia Council of CEOs is all about quality knowledge sharing, and we weren't disappointed as Avrum Elmakis took the stage during our recent Quarterly Luncheon.
Avrum Elmakis, CEO of TDBBS, LLC, is a self-proclaimed "business addict," award-winning entrepreneur, strategic investor, innovator and trusted business consultant.
"Every person I meet wants to be an entrepreneur, " said Elmakis to the large group. "We all know what it takes to do that. It takes a lot of passion and drive and risk – all those things that define who we are as entrepreneurs. That's our first move into risk-taking. Then we become comfortable and we want to keep what we have. We become content."
Elmakis' advice is to join him in the world of the discontented.
Avoiding the Bermuda Triangle
Elmakis likens business contentment to the Bermuda Triangle – a place where business owners get comfortable generating a certain kind of volume and revenue. We get wrapped up in staying lean and small, and we don't make the kinds of investments required to become a more formal organization. We hover instead of pivoting to the next revenue tier. We don't allow our employees to take on responsibility. Our decision-making ability is paralyzed.
Sound familiar?
So how did Best Bully Sticks avoid the Triangle? "For me, an important moment was when I recognized early on the powerful concept of surrounding yourself with real quality people who are way more advanced than what you need. I started doing that in 2013, and it allowed us to fuel our growth early and break through. It's very easy to fall into the trap of 'I could hire this person, but the cost is too great for me.'"
A few other things we learned from Elmakis:
• A peer network is critical for an entrepreneur.
• The timing is never right. Don't wait. Stretch yourself.
• Remember to check your company's horizon often. Are you honoring your original intention?
• Always be able to separate emotional attachment to your business from good decision-making.
• The attraction to the excitement of a young company, the building of a team, the passion of an entrepreneur – these are things that should not be taken lightly when recruiting top talent.
Posted by Scot McRoberts at 2:48 am