What's On Our Minds? Stinky Culture.
"If you have a bum culture, you can almost smell it."
THINK ABOUT IT. This sentiment, expressed by Tom Laughon, co-founder of Catch Your Limit, sure rings true.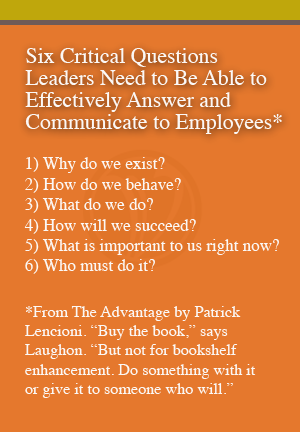 The good news, as we learned during his recent Knowledge Network presentation, is that it's relatively easy to get rid of the stench. It begins with getting the right people on the bus and building a culture around trust.
"The most strategic decisions a CEO should make are focused on people – checking who is on the bus and in the right seats, growing and retaining great talent and pruning all others. Where you're going is for naught if you don't have the right people to get you there."
Sometimes it's just plain nice to see a best practice in action, and that's what Tom gave us. How do we connect with that passionate yet disparaged employee we saw on the video – the one who openly shared her concern for the business and wanted to do more to help it grow?
You have to be brave enough to hear what she has to say – all the good, the bad and the ugly about your business. You must simply listen and collectively think of ways to make a change. Then, "amazing conversations will result," Laughon promises us.
Remember: This is a "we" game. Listen. Get your employees involved. And witness a change.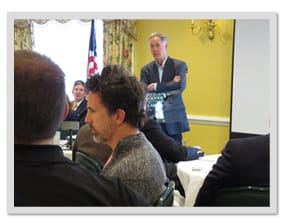 * This "What's On Our Minds" moment is from the VACEOs Knowledge Network Luncheon "The Company You Keep: Keys to Attracting, Growing & Retaining Talent," presented by Tom Laughon, co-founder, Catch Your Limit Consulting.
Posted by Scot McRoberts at 3:08 pm