Getting Unstuck: The VACEOs Forum Experience
Let's be honest: It's not always business that causes the negative emotions you sometimes struggle with. Often, it's life. To have a group of people who understand you as a human AND as a CEO is HUGE.
Imagine sitting around a table with several Inc. 5000 and RVA 25 business owners – each focused on your issue or opportunity – and finally realizing you're not alone. Each VACEOs member has experienced this feeling during a Roundtable or Forum peer group session.
FORUM VERSUS ROUNDTABLE: WHAT'S THE DIFF?
All new VACEOs members are assigned to either a Roundtable or Forum peer group. Roundtable groups typically include 8-10 members and meet once a month for four hours. Forums, on the other hand, meet only once a quarter for a full day of discussion.
The biggest difference between a Roundtable and Forum is the type of CEOs sitting around the table. A typical Forum member leads a more complex business that may have multiple locations and 75 or more employees. Forum groups typically include only eight members and require the participation of a skilled facilitator to ensure these high-horsepower individuals stay on track.
"It's a slightly different altitude because of the complexity or scope of the business," he adds. "The management and hiring issues and competitive strategies are just a little bigger, but the business issues are remarkably similar," explains Randy Wyckoff, VACEOs Forum Facilitator.
No matter the type of meeting – Roundtable or Forum – each calls for strict adherence to confidentiality and to the Gestalt Language Protocol. (The guiding principle of the Gestalt Language Protocol is to never give advice, but to share related experiences instead. (Read more.)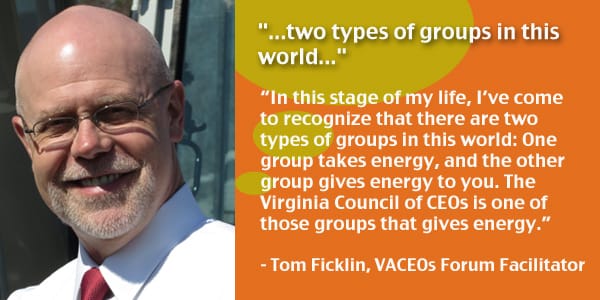 THE FORUM EXPERIENCE: BECOMING UNSTUCK
Forums quickly become a safe haven – a place to vent, ask questions, release fears and build lifelong friendships. During each quarterly day-long meeting, several members present personal or work challenges to the group.
It's the facilitator's responsibility to ensure the agenda is set well before the meeting occurs and to make sure the meeting and attendees follow Gestalt processes and principles. Another important role the facilitator may play is that of coach. The ultimate goal is to help the CEOs presenting their challenges get "unstuck."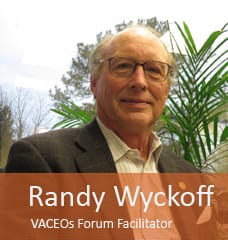 "The coach works with the presenter to set the tone for the discussion," says Randy Wyckoff, who is also a non-profit strategy consultant and coach. "I help the presenter through the process of identifying and defining the issue. I also help them clarify anything they specifically don't want brought up during the discussion; for example, they may have tried a specific solution to the challenge already, so they don't want to hear about experiences that include that specific approach. I also help the presenter talk about their emotional reaction to the issue – how the issue makes them feel."
Opening up emotionally and honestly is how members get the most out of the Forum experience. "If you come into a meeting guarded or not willing to open up, then you're limiting your experience with the group," says Tom Ficklin. He's a VACEOs Forum Facilitator, a certified Christian Life Coach and a soon-to-be International Coach certificate holder.
"In the coaching world, we live for the 'aha!' moments," he explains. "It's tough for executives who are at a high level to talk about what they do with their spouse or accountant or attorney. When they get into a Forum and find out others have been down a similar path or share similar experiences, you see lights come on, and you see them think, 'Ok, I'm not the only one.' Then they begin to take in the experiences of the others and they begin to see how to get unstuck. They see the direction. They have a turn signal. It's about finding the next step and taking it with a level of confidence."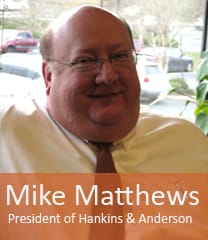 Mike Matthews, president of Hankins & Anderson and a longtime Forum member, has found confidence and friendship in his peer group.
"They all have the same responsibilities that I have – the same difficulty in making decisions," says Matthews. "There's something about being with a group of people who do what you do. You don't often find that. It's very rewarding. When you're talking about something, you don't have to explain it in context. They get it. It's great to have those conversations. I think that being a part of a Forum and a member of the Council has made me more confident in my decision-making."
Matthews says his group truly enjoys their time together. "One Forum member said, 'You know what? Even if we didn't have presentations, I would still want to meet every quarter.' I think that speaks volumes about how close we are as a group and how much value we find in the peer group experience."
Posted by Scot McRoberts at 1:11 pm