What's On Our Minds? Developing a "Success Virtuous Cycle"
"The 'Best Place to Work' companies are not fighting for the best talent out there. In fact, the best talent out there is in line, trying to get in," said Willy Stewart during his recent VACEOs presentation. The author of Fire Yourself [as your own higher power] said a "Success Virtuous Cycle" – where your business is constantly becoming greater – is driven by leadership. To attract and keep the best, it's essential to keep employees engaged.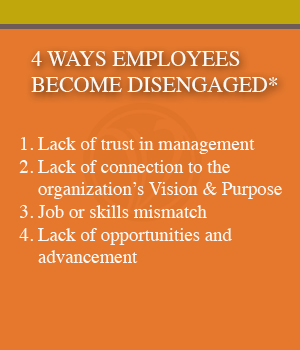 The group before him was challenged to think about it and absorb his research.
During his presentation to Council members and their guests, Stewart shared experiences from his background in engineering and business consultancy. He also detailed his rigorous recruiting process, his 90-day on-boarding training process, and the management techniques he uses to keep employees engaged.
Afterward, several VACEOs members took an even deeper cycle dive with Stewart, spending an additional two hours in a workshop that followed his initial presentation. One CEO took full advantage of the opportunity by having one of his employees attend the session, as well.
"I really appreciate having the after-lunch workshops, especially when I can bring key employees along in order to get them thinking in a way that's outside the box, too," said David Staples, Managing Member, Appraise Sell, LLC / EbidLocal.com. "It's a chance for them to learn how their thoughts and ideas can make a significant contribution to the business."
How often do YOU think outside the box? Expand your mind AND your business, and come join us!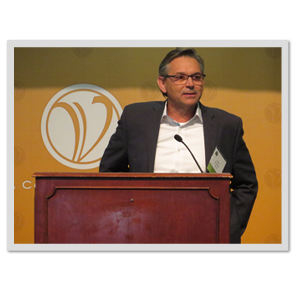 *This "What's On Our Minds" moment from VACEOs Knowledge Network Luncheon "Success Virtuous Cycle," presented by Willy Stewart, CEO of Stewart, Inc.
---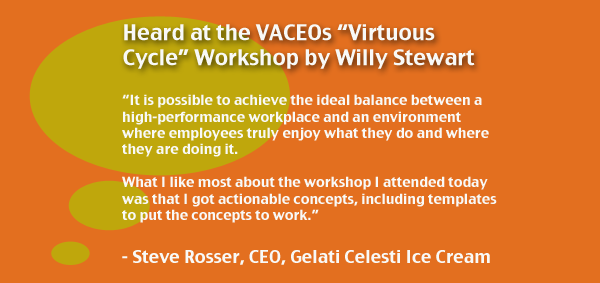 Posted by Scot McRoberts at 3:14 pm