VACEOs Membership Grows in 2015
We've had a great 2015, and we are pleased to announce our membership is stronger than ever — thanks to our stellar core of entrepreneurs and these new members.
Imagine the possibilities and the hurdles you could overcome if you had an exclusive network of company leaders like these as your private think tank. Visit VACEOs membership to learn more!
VACEOs 2015 (New) Members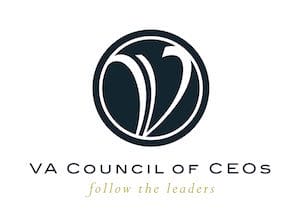 Juan Bialet / Productive AV
Ken Brown / Integra Realty Resources
Peter Cammarata / Northern Neck Insurance Company
Clarke Chase / Chase Dominion
Glenn Childress / Bizport
Jamie Christensen / WorldView Solutions
Billy Davis / Arborscapes, LLC
Mark Deutsch / Pediatric Partners of Virginia
Jim Edge / Cornerstone Valuation
Steve Fey / Proxios
Molly Fuller  / Girl Scouts of the Commonwealth of VA
Matt Holland / Super Radiator Coils
Ben Humphries / Simplicity VOIP
Dana Kuhn / Patient Services Inc.
John Lewis  / The Lewis Group
Kim Mahan /  Maxx Potential
Todd Mawyer / TK Promotions
Whit Morris / Morris Tile Distributors
Alex Murdock / BC Wood Products
Jon Newman / The Hodges Partnership
Joe Niemann / Acoustical Solutions, LLC 
James Pickren / Sherex Fastening Solutions
Paul Poggi / Harris Williams
John Sims / Rainbow Station – The Boulders
Vijay Thomas / Teacup Systems
Scott Turner / TrueTimber Tree Service
Andy Williams / 3Sports
Posted by Scot McRoberts at 6:56 pm