Nine Business Lessons from a Lifetime of Entrepreneurial Work, by Linda Nash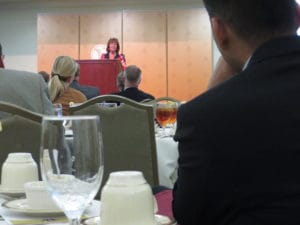 Linda Nash, successful serial entrepreneur and founder of PartnerMD, knows how to work a room full of business owners. "This is my favorite kind of group to speak to – entrepreneurs," she said at the start of her VACEOs Quarterly Luncheon presentation. "I love talking to people who have figured it out, have taken risks and are out there doing it every single day. Entrepreneurs really, really get it. I believe down deep that most entrepreneurs are some of the happiest people on the planet."
Nash was gracious and candid during her talk. She reminded the large group of CEOs eagerly waiting to hear her story that it's NOT always best to grow as big as you can, but, rather, it's about finding your mission and what makes you really happy. Nine business lessons later, it was clear that Nash's mission is to be an entrepreneur.
Are you a passionate business owner? Most VACEOs luncheons and events are open to qualified guests. Come join us! You might just learn something that could profoundly impact your business.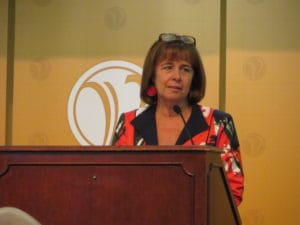 Nine Business Lessons from a Lifetime of Entrepreneurial Work, by Linda Nash:
#1) Know that all investors are not equal. (Be sure to clarify everyone's expectations.)
#2) Keep your eye on your Exit Plan. (And plan for life after you leave!)
#3) Don't be afraid to ask for help.
#4) Know when it's time to jump from a lifestyle to a valuable business idea.
#5) Find mentors.
#6) Do a lot more listening than talking – and ask really hard questions of your employees and customers.
#7) Address issues almost right away. (Sleep on the big ones. If they're still bothering you, confront them and communicate clearly.)
#8) Don't forget: The more successful you become, the more people want what you have.
#9) Take your temperature often. Are you still having fun?
About Linda Nash
Linda Nash is a serial entrepreneur who enjoys identifying business opportunities and growing those concepts from scratch into thriving enterprises. She started the first exclusively school-age childcare program in Richmond in 1983, which she grew to six locations. Nash ran the chain for 15 years, and then sold it to Nobel Education Dynamics. She then designed and started The Compass School, a private preschool and kindergarten, where she served as CEO and Chairman of the Board for three years.
In 2003, with 40 patients and one physician, Linda opened the doors to PartnerMD, a membership medical and executive physical practice that gives patients round-the-clock access to their doctors. She sold PartnerMD to Markel Ventures in 2011 and then grew the company to 13 locations, 28 physicians and 9,000 members coast to coast.
Linda left PartnerMD in 2015 to help other businesses and entrepreneurs pursue similar success stories.
Posted by Scot McRoberts at 8:42 pm