What's On Our Minds? Customer-Centric Online Marketing
THINK ABOUT IT.
There's only two reasons why people buy: To ease pain or to gain something.
Let's talk pain. And marketing to it.
We learned recently during a Knowledge Network presentation titled "Customer-Centric Online Marketing" that an overwhelming number of customers are first choosing the self-discovery route through the internet when it comes to finding a business, product or service. (Versus direct marketing or sales person interaction.)
How best to set your company apart from the clutter of the internet? Develop content that appeals to the emotional pain of your customers.
Do you know how to personify your customers and their pain points? Or how to develop creative content ideas for your business — ideas that will appeal to Google and ease your customers through the buying funnel? If you attended this luncheon you do.
Come join us! Because if you didn't get a least one solid business nugget at your last meal, you're dining with the wrong group.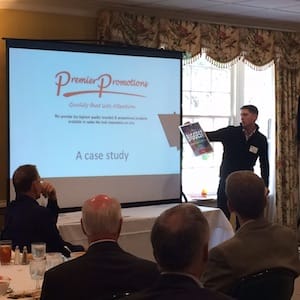 This "What's On Our Minds" moment from VACEOs Knowledge Network Luncheon, "Customer-Centric Online Marketing" presented by Neal Lappe, President, and Chris Leone (pictured), Chief Operating Officer and Chief Strategist at WebStrategies Inc.
Posted by Scot McRoberts at 1:33 pm