B-School Resources for Your Growing Business
The University of Richmond's Robins School of Business Executive Education division was established more than 50 years ago, but how well do you know this institution? You might think of it as a great place to take a business course – which it is – but as we found out, there's much more to this program than you might imagine.
"Executive Education is part of a business school in a liberal arts, research institution. Further, many of our business school faculty have held corporate positions, which, when blended with their academic expertise, makes them uniquely qualified to assist organizations with their challenges and opportunities," explains Robert R. Piazza, Director of Executive Education, Robins School of Business.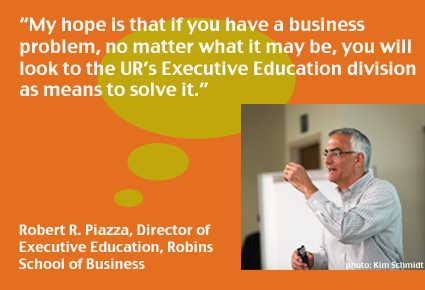 "For example, we work with a variety of organizations to first, understand their businesses, then provide custom solutions to their challenges. Sometimes that means we educate or train their employees, other times our engagements are considerably more complex involving consultation and facilitated processes. We have developed single courses as well as whole programs in leadership and business acumen. We have consulted on a variety of special projects, and have facilitated leadership retreats on strategy, talent management, and account management. We are often engaged for keynote speaking engagements on topics that are especially relevant for company and association meetings.
He adds, "We enjoy the variety of challenges we face with small, medium, and large-sized clients, and our clients enjoy the great value we provide for considerably less cost than commercial consulting companies."
Customized Answers to Business Problems
A faculty deep into research and with extensive corporate work experience is an uncommon combination, Piazza tells us. So then, what's the best way to TRULY take advantage of the university's resources and expertise? Hire them!
If you have a specific business problem that requires input from a business consultant, and not just a class, look no further. The size of your business doesn't matter. "My hope is that if you have a business problem, no matter what it may be, you will look to the UR's Executive Education division as means to solve it," says Piazza.
From specific challenges like "I'd like to break into a new market" to "I just want to make a profit," or "I want my employees to work more effectively together" the Robins School of Business is there to help. And like any good consulting firm, the faculty is enthusiastic, engaging and results driven
Options for Everyone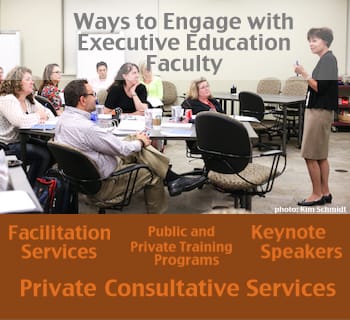 So what are you waiting for? There's an option for everyone – no matter your challenge, training need, business size or personal level of expertise. All business professionals are welcome.
Executive Education public courses offer a variety of options in project management and training skills development. Those who'd like to update or broaden their overall business knowledge and skills should consider the Mini MBA program. Need a customized approach? Get started here today!
Posted by Scot McRoberts at 4:56 pm