How to Build a Winning Company Culture
Do a little background research on Rich Reinecke and you quickly turn up words and phrases like "entrepreneur," "executive search industry professional" and "largest firms in the country." But that's old news. Today he's a business builder and connector, a hirer of phenomenally talented people, and a nurturer of one officially great place to work.
His company, The Fahrenheit Group, which he co-founded with Keith Middleton in 2010, has evolved organically into a successful multi-dimensional, fractional hiring, and business consulting firm — complete with accounting, finance, business advisory HR and talent acquisition divisions. The company's client roster reads like a Who's Who of some of the most recognized large companies in the country. The staff are seriously smart C-suite executives and professionals who have been there, done that.
His staff demands a unique business environment and opportunities. They know what a great place to work for looks and feels like, and they're the reason why The Fahrenheit Group has twice been named one of the Best Places to Work in Virginia.
Reinecke says his company's growth has been fueled by its work culture. Here are a few tips from him that could get your business on the right track toward success.
FIVE WAYS TO CREATE A GREAT COMPANY CULTURE
1) Be bold. Ask. 
It's a simple first step that many companies ignore. Ask your employees what they think about their workplace environment. Ask for their feedback and listen. Make adjustments. Ask again. Then watch employee morale and camaraderie begin to grow.
2) Think "team," not "us vs. them." 
Reinecke says this is more than a shift in nomenclature – it means allowing your staff to give input freely without concern over reprisal. It means polling or asking team members things like, "What could we be doing about…" or "What do you think about this?"
3) Create an attractive environment. 
Is your physical space comfortable? Welcoming? Friendly? Does it complement or detract from your brand's image? Reinecke describes Fahrenheit's space as edgy and innovative – which pairs perfectly with the out-of-the-box thinking the company's co-founders encourage. Says Reinecke, "Do the little things right to encourage your employees to want to be at work, even if that's simply having Diet Coke in the refrigerator."
4) Keep everyone engaged. 
Regular information-sharing sessions are one important way Fahrenheit's staff stays involved in the business. "We try to mix some social aspect into our team meetings that allows employees to really interact and get to know each other at a meaningful level. Relationships create accountability to each other and a desire to help everyone win." Reinecke also encourages and empowers his team to create new business opportunities.
5) Give regular feedback. 
"Everyone wants to know if they're making a positive impact. Share what information you can on that front. Regularly report to the team as a whole and individually in private," says Reinecke.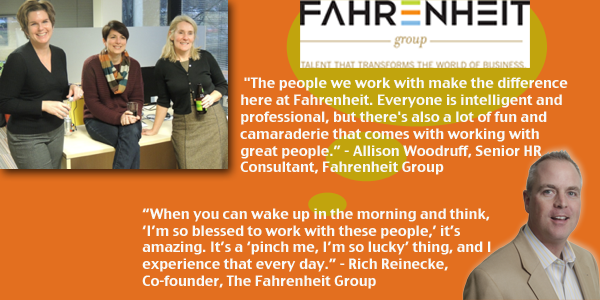 ABOUT THE FAHRENHEIT GROUP
"The Fahrenheit Group is a team of experienced C-suite executives and consultants who collaborate with management and define strategy and build roadmaps to execute and deliver measurable results. We serve clients across all industries, ranging in size from emerging growth companies to Fortune 500 firms, including VCs and private equity-backed portfolio companies. From accounting, finance and HR projects to M&A and advisory engagements, we have talent that transforms the world of business." – Rich Reinecke, co-founder, The Fahrenheit Group.
Posted by Scot McRoberts at 6:01 pm