UR MBA Capstone Project Gives VACEOs Members Fresh Perspective
Ever feel like you can't see the forest for the trees? As CEOs, we're often so busy with the day-to-day details of running our business that we don't see the big picture. To make matters worse, our view of our business is often clouded by our own judgments and biases. So it can be a real challenge to get an accurate snapshot of what's happening around us and what's going on in our industries. Sometimes it helps to get a fresh perspective – and that's exactly what two VACEOs members recently did.
Henry Clifford, owner of Livewire, and Maria Candler, president and CEO of James River Grounds Management, found clarity through a VACEOs partner connection: the University of Richmond (UR)'s Robins School of Business. More specifically, the members participated in a Richmond MBA Capstone Project.
"The Capstone is a faculty supervised, graded, pro-bono, confidential high-level consulting project that our MBA students, on an individual basis, conduct for organizations and companies in and outside of Richmond," says Debbie Fisher, Associate Director, MBA Program, Robins School of Business.
As manager of the Capstone Program, Fisher's role is to connect Capstone students with local, U.S, and international businesses. As a VACEOs partner, she has unique access to a diverse and broad-minded pool of CEOs. Says Fisher, "I felt very welcomed by the Council from my first encounter with the group. I value the diversity and openness of the membership. The members are very receptive to exploring new ideas and giving our students an opportunity to share their expertise."
WHAT CAPSTONE DELIVERS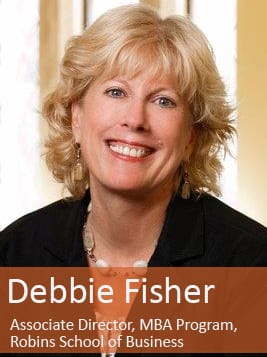 The objective of the Capstone Project is for students to use concepts they've learned in The Richmond MBA to address a strategic challenge facing a host organization.
"The University encourages our students to be involved in the community," explains Fisher. "One way our MBA students connect with and help the community is through the Capstone Program. They take the skills they've honed in their careers, combine that with the newfound expertise they've gained through their studies at the Robins School, and apply that knowledge to the organization's business. It's an incredible opportunity for everyone involved."
A typical Capstone deliverable includes a thorough examination of the organization's strengths, weaknesses, opportunities and threats. It also includes a competitive analysis and anticipation of industry trends. The student's final report focuses on specific recommendations for addressing the core strategic issue. These recommendations are based on solid justifications grounded in relevant research and the knowledge students gain in the MBA program.
At the conclusion of the project, students deliver their recommendations to the host organizations' leaders in a formal presentation. Fisher attends all of the final presentations herself, and she says many of the host organizations are amazed by the thoroughness and professionalism of the final product. Afterwards, she often hears comments like, "The value of these recommendations far exceeded my expectations, and we will definitely incorporate your suggestions in our work going forward!"
The most exciting results come when a business issue is aligned with a student's passion.
LIVEWIRE AND JAMES RIVER GROUND MANAGEMENT DISCOVER A NEW PERSPECTIVE
Fisher's relationships with organizations like VACEOs help her build a strong pool of business candidates for Capstone students to partner. She also develops contacts through her involvement with groups like the Association for Corporate Growth and Venture Forum RVA. She connects with companies through faculty members introducing her to their class guest speakers and through meetings and events organized by the University. When an organization is interested in the program, they apply for a Capstone through the Capstone online application process. Connecting students to companies happens after Fisher speaks candidly with students about their passions and desired experiences.
"Some students want to do a 'give back' type of project," says Fisher. "Some students want to learn something completely different from what they do in their day-to-day work. Others might want the chance to work with an entrepreneurial firm or a medium-sized business, or they may want to do a project focused on healthcare or manufacturing. I try to find out what they're passionate about because I want to feed or further that passion. Those make the best Capstone matches."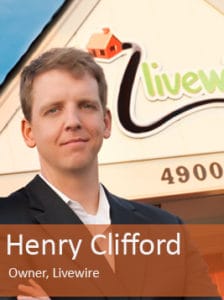 The student who worked with Livewire's Henry Clifford had a passion for technology. Says Clifford, "We were honored and excited to be chosen to work with a Capstone graduate student. Tom Quigley wanted a big challenge, so we asked him to find expansion opportunities for us. We wanted to know what other products or services or trends are out there that we're not aware of and, of those, what could prove advantageous or threatening to the business."
"I was blown away by his presentation," Clifford continues. "He gave us trends and analysis and backed up his recommendations with sound data. I grilled him, and he had answers for every question I asked. It was a great experience. It was really nice to have someone look at my business with fresh eyes – to cut through the fog that I have because I'm too close to the industry."
"… TAKE THIS BUSINESS ISSUE AND DELIVER SPECIFIC STRATEGIES TO IMPROVE OUR FINANCIAL RESULTS … "
Maria Candler of James River Ground Management gave her Capstone student a particularly challenging issue to tackle. "When asked about our biggest business challenge, the answer has been consistent for years: growing a business and keeping your product standards high while dealing with a constant and severe labor shortage."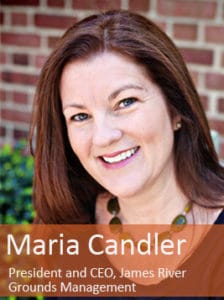 Candler explains, "To set the stage, we have approximately 225 seasonal positions annually in our firm. To fill those positions, we generally process about 2,000 applications and lose roughly 60 percent of our prospects through the pre-employment background and drug screenings. The lack of quality employees at that level creates extraordinary pressure points throughout the organization. It could also be argued that there are shortages of qualified management candidates, as well. Haynes' project was to take this business issue and deliver specific strategies to improve our financial results while operating in this difficult climate."
"Haynes King's presentation really blew me away with the depth of his research to build data around this issue," Candler continues. "He interviewed nearly 50 employees at all levels within the company and at every location. His project was thorough, supported by good research both internally and externally gathered. I would have paid a consultant good money for what he delivered."
"My only concern when initially approached by Debbie Fisher at UR was the availability of time to work with a student on such a large project," adds Candler. "Haynes was so respectful of our time and not intrusive at all. In fact, I feel like our team really benefited from his interviews. He was such a professional. I would recommend this program to any of my CEO counterparts. In fact, I hope to do another in the next couple of years."
VACEOs members are innovators and free thinkers. They're open to new ideas, and they THRIVE because of the connections they make. Does your business need a lifeline? Learn more about VACEOs membership today.
Posted by Scot McRoberts at 8:30 pm