In Focus: Taradel, Seven Time (and counting) Inc 5000 Company
Gone are the days of selling print to a narrow audience from your bedroom office. Your value proposition and market are cast over a much wider space now. Your new digs, nearly 5,000 square feet.
Your current endeavor has taken you from zero employees to 22 in a quick 10 years. Many measure your success by how many times your business has made the Inc. 5000 Fastest-Growing Companies list (seven and counting).
When asked what one piece of advice you'd give a budding entrepreneur, you say, "Be decisive. You can't move forward without data points. That was a valuable lesson I learned from a CEO a long time ago. A lot of folks hesitate over whether to make an investment or whether they should make a move. Wrong or right, you've got to start somewhere so you have a starting data point. You can't manage indecisiveness."
Behold! You've have entered the world of Jim Fitzgerald, CEO of Taradel. Three-time successful entrepreneur. Print-and-deliver mega-star. VACEOs member.
TARADEL: ON THE WINGS OF SMALL BUSINESS
Jim Fitzgerald started what would later become Taradel in 2003. From a small desk in a spare bedroom, he crafted a simple plan to make full use of his extensive print and design knowledge. His goal was to offer an inexpensive, high-quality, fast-print advertising insert solution for the newspaper industry. When his idea came to fruition, his newspaper clients were wild about the ROI, and small business advertisers were wild about the newspapers' reach and the customized direct mail piece that was produced. It was a win-win for all.
It didn't take long before Fitzgerald's business model evolved. He explains, "I got to the point where I couldn't scale the business, so I found a web developer and built a website where the customers could place their orders themselves. It wasn't long after that I realized we had two really good assets: great pricing on a product with wide demand and a great online web-to-print engine. We dressed it up and started offering those print products to everyone. That was in 2004."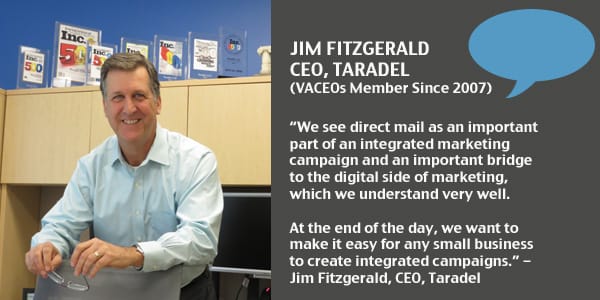 Today, Fitzgerald describes Taradel as a place where small business owners can create a targeted direct mail campaign in under 10 minutes. Dig deeper and we quickly learn his value proposition is much more extensive. Turns out Taradel has an eye for data and digital, too. The company is heavy into things like data mining and heat mapping databases, building custom integrated websites and campaigns that span marketing disciplines.
Fitzgerald's target market is still small businesses owners, but Taradel now works with national franchisors, as well. The company has also recently expanded into Canada.
SEVEN-TIME REPEATER. WHAT'S THE SECRET?
To date, Taradel has made the Inc. 5000 Fasting-Growing Companies list seven times, coming in at #2480 for 2014. Fitzgerald absolutely expects to hear from the Inc. team again this August. Very few businesses can claim this remarkable status. What's his secret?
"Hire great people," says Fitzgerald. "It sounds silly, but I talk to a lot of colleagues who have problems with their staff. By 'great,' I mean – and I'm stealing from Cameron Herold, who I heard speak at the last VACEOs Retreat – I don't ever motivate people. I hire motivated people. When we bring someone in, they will meet at least six or seven team members. When the team gets together to talk about that candidate, if it's not a collective 'hell, yeah,' then it's a no. It's that simple. Whenever we violate that rule, we regret it."
Another key? "Build a world-class inbound marketing platform," he says. "We get a hundred leads a day. We never make a cold call. We use a variety of methods for inbound, including SEO, search engine marketing, display advertising, content generation and automated marketing campaigns. Once people look for the products we sell, there's a very good chance they will land on our website."
A sense of urgency also fuels Taradel's success. Sure, the company is pretty much guaranteed to make the next Inc. 5000 list, but there isn't an unlimited amount a capital available, says Fitzgerald. He says, jokingly, "We eat what we kill. Every week, we have to hit a number, and that creates a sense of urgency in the environment. I also think that's an important reason for our growth."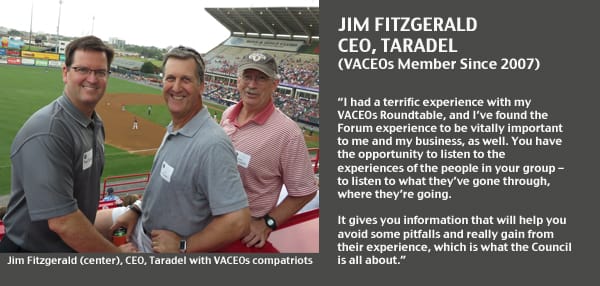 ONWARD AND UPWARD
Taradel recently secured a large Canadian account, and Fitzgerald reports that he's hopeful new opportunities in Australia and England will be finalized soon. In the meantime, he's firmly focused on his current customer base.
"We've recently customized a website for a client that integrates our email and direct mail databases and marketing initiatives for them," says Fitzgerald. "That's really exciting! Our website will soon have an integrated marketing road map for business owners. From our site, you'll be able to generate integrated direct mail, email, Facebook and display advertising campaigns to a specific target audience in about 10 minutes."
Is Fitzgerald worried that direct mail and print – his original bread and butter – might be going away? It doesn't appear so.
"Here's why I love print. If I go to a meeting with CEOs and ask for those who understand how direct mail works, most will raise their hands. If I ask how re-marketing or pay-per-click advertising works, much fewer hands go up. My point is everyone understands direct mail. The reality from our perspective is that print is out-producing digital media in measurable terms. We see direct mail as an important part of an integrated marketing campaign and an important bridge to the digital side of marketing, which we understand very well. At the end of the day, we want to make it easy for any small business to create integrated campaigns."
Imagine you had a network of resources to help you navigate through the complex challenges you face each day as a leader. A group of like-minded people to help guide you through your questions about finances, employee concerns or marketing issues. You do in the Virginia Council of CEOs.
Posted by Scot McRoberts at 3:00 pm