Getting to Yes: How to Position Your Business for Funding Success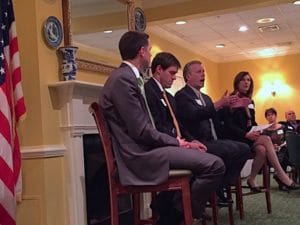 We all need bankers, and finding the right financial partner could be one of the most important decisions you will make as a business owner. Sure, asking for financing is never easy, but as our "How to Position Your Business for Funding Success" Knowledge Network panel recently discussed, a little preparation can go a long way.
Moderator Stephanie Ford, former commercial banker turned management consultant, and three local banking representatives on the panel gave the CEOs in attendance a glimpse of the challenges today's lenders often face – like incomplete financial spreadsheets and uncharted industry risk analyses.
We discovered why a community bank might be a better fit for some of us – and why we CEOs may have more to do with our own financial happiness than we think. Here are four key takeaways from the panel discussion. Want more? Download "Financing Alternatives" by Stephanie Ford today.
"How to Position Your Business for Funding Success" Knowledge Network Panel Key Takeaways:
#1 COMMUNICATION IS KEY
"Be transparent. Be honest and up front. The more we know, the more we will be in a position to help." – Matthew Schaaf, Xenith Bank
#2 RELATIONSHIPS REALLY DO MATTER
Find the institution that has the qualities that are most important to you, and then build a relationship with your contact. Think beyond financing when it comes to your bank, and don't be afraid to ask for business advice.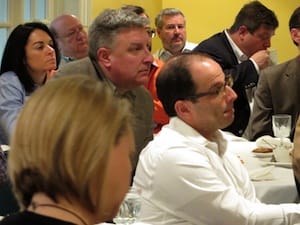 #3 BE PREPARED
Get your story and financials together. Be prepared to tell your story: where your business fits within important industry indicators, how you managed to survive during the recent downturn. Prove that you know what you're doing.
Be ready to talk about how you're going to manage your plan. Bottom line: The panel members all agreed that being presented with an articulate, passionate appeal coupled with a transparent financial statement puts lenders at ease.
#4 BE PROACTIVE
•Realize that capital is key, and so is equity that is easily accessible.
•Know that good economic times could be an opportunity to stretch your financials and lower the risk for your bank.
•Have a great working relationship with your suppliers: You may need to "cash in" on those great relationships in a downturn.
Last point: Clearly, as your business grows, your financial needs will change, but, says Ford, ask yourself, "Do I really need capital to grow my business? Will more money actually help me grow my business?" The right financial partner can help you answer that tough question.
VACEOs Knowledge Network Event
"How to Position Your Business for Funding Success"
February 11, 2015
Panel Members:
Stephanie Ford, Warren Whitney – Moderator
Gary Armstrong, First Capital Bank
Cary Ayers, Union First Market Bank
Matthew Schaaf, Xenith Bank
Posted by Scot McRoberts at 2:16 pm