Eric Martin, CEO of 80amps, on Practical Innovation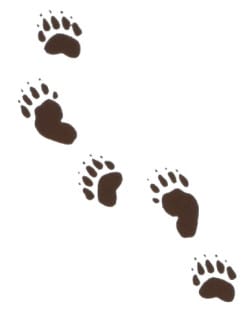 JOKE: Two guys in the woods spot a bear charging toward them. The first guy says to the second guy, "Can we outrun this bear?" The second guy says, "Heck, all I need to do is outrun you!"
But there's no reason to outrun the bear. It's about staying one step ahead, and during our most recent Quarterly Luncheon, 80amps CEO Eric Martin told us how to do just that. He spoke about Disruptive Innovation – and asked us to commit to the rewards promised by Practical Innovation instead. Break away from your biases and other faulty ways of thinking, said Martin, and you will outrun the bear!
Martin's presentation was packed with interesting information – too much to share in this short summary – but following are a few takeaways from this captivating VACEOs event.
DISRUPTIVE INNOVATION: SHOULD YOU BE WORRIED?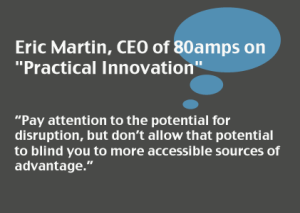 CEOs are never at a loss for things to worry about, and it seems Disruptive Innovation could be the next big bear chasing us in our dreams.
Disruptive Innovation is defined as a product or service that creates an entirely new market or value system – or one that actually displaces existing competitors. A prime example is Uber, a nationwide ride-sharing service that uses technology to connect people who need a ride with others who can offer one.
According to Eric Martin, the current private market value of Uber is $40 billion, which is greater than the value of the entire taxi industry. Clearly, the taxi industry is being disrupted, and Martin says Uber is beginning to become a concern for the auto industry, as well.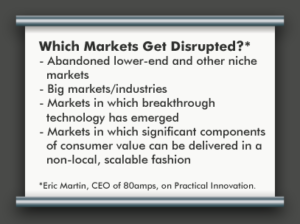 When it comes to industry disruption, not everyone is at risk, but if you're unwilling to change or unaware of the "disruption train," as Martin calls it, you could be run over.
Should we be worried? Most of us probably needn't be. But Martin says now is the time commit to Practical Innovation – to run faster toward the low-hanging fruit that's right in front of your eyes.
THE FRUIT IN FRONT OF YOUR FACE
Martin's message for most of us is to forget about Disruptive Innovation. His advice? "You don't have to be the ruler of your industry. You can see accelerated growth with Practical Innovation." The information you need to drive profits and growth is right in front of you, and it has everything to do with your customers and how well you serve them.
Martin explains, "The low-hanging fruit in almost every case is standing right in front of you. It's customer-driven Practical Innovation along key dimensions of the customer experience. Now is the time to run faster toward those dimensions."
When was the last time you experienced extraordinary customer service? If you're like most people, it's been a while. In fact, says Martin, most companies earn about a "C" grade, according to his national customer satisfaction research. And here lies the low-hanging fruit: Practical Innovation is customer centric.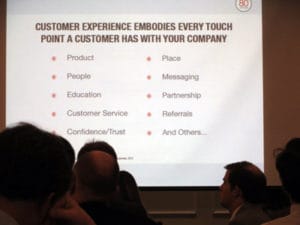 The key for CEOs is to determine what is the MOST important customer service trait or factor for your customers. Is getting their product quickly most important? Or do they appreciate the fact that ordering is automated? Remember, customer experience encompasses every touch point a customer has with your company. It's also important to find out which service points your customer feels are nice to have – and which ones are irrelevant.
According to Martin, companies that apply an innovative approach to one key customer service characteristic often see a payoff. In fact, his data suggests that even a small amount of difference created around that characteristic is enough to produce a significant return.
GETTING OUT OF YOUR OWN WAY
Is your company innovative? Not sure? How much revenue did you earn this past year from a product you didn't have a year ago?
Now is the time to take measured steps and put together a team. Recruit those employees who work most closely with your customers and get out of your own way – meaning, don't let your job biases and power keep you from thinking about things in new ways.
Yes, that's right: CEOs, like it or not, are often the inhibitors of innovation. And Martin says that if you move away from old habits, your business will move toward innovation.
You Know You Inhibit Innovative Thinking When…*
1) You start off thinking you have all the answers. (Observational Bias)
2) You frame questions too narrowly. (Ex: Which gives you infinite possibilities? 5+5=X? or X+Y=10?)
3) You believe you have the answer before you start – and the only failure you anticipate is one of execution. (Linear Execution)
About Eric Martin, CEO of 80amps
Eric Martin advises clients throughout the United States on issues of transformation, corporate growth and innovation through his firm 80amps for Enterprise. In addition, through 80amps for Start-Ups,  the incubator he founded, Mr. Martin provides new venture guidance to The Martin Agency (one of the country's top advertising agencies) and a number of startups in the 80amps portfolio.
Mr. Martin is also Director of the Innovation & Entrepreneurship Program at the University of Richmond's Robins School of Business and co-founder of the Galant Center for Entrepreneurship at the University of Virginia's McIntire School of Commerce, and has lectured at Virginia Commonwealth University's Brandcenter on driving wealth creation through creativity.
Mr. Martin was previously president of TM VISTA and a member of Ticketmaster's Global Leadership Group. He was formerly the CEO of 2b Technology, which was acquired by Ticketmaster in early 2000.
Eric Martin is a Phi Beta Kappa graduate in Economics from the University of North Carolina at Chapel Hill and holds an MBA from the Harvard Business School.
* Source: Eric Martin, CEO of 80amps; "Practical Innovation" presentation, VACEOs Quarterly Luncheon, 01/22/15.
Posted by Scot McRoberts at 7:24 pm