Becoming Unboxed Technology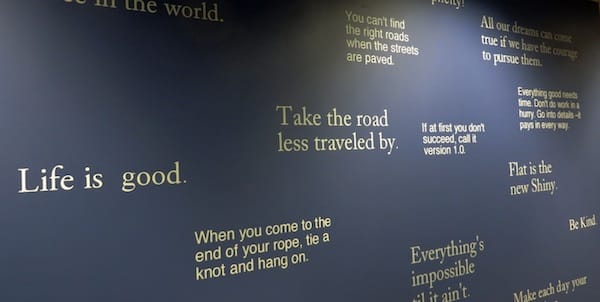 Walk into the workspace, and the walls are covered with varying sizes and lengths of quotes. Collectively, it reads like an inspirational sounding board: "The good life is a process," "Imagination will take you everywhere," and even "Just keep swimming."
The proverbial Inspirational Wall is fitting. In essence, these credos, carefully selected by each Unboxed Technology employee, tell the story of the vision, struggle and character of this young company.
Turning just six years old in 2015, Unboxed Technology has already found itself on the Richmond BizSense RVA 25 list of fastest-growing companies in the region. (Unboxed's 95 percent growth over the years 2011 to 2013 earned it the number 15 spot on the high-profile list.) Today the company's client list reads like Who's Who of local and big brands, including Comcast, Allianz, McKesson, Samsung, 24 Hour Fitness, nTelos and Owens & Minor.
Defining the Unboxed Technology product isn't so easy, until you get to the heart of it. The company creates the ultimate learning and teaching environment – one where creative content rules and a new common interactive platform rocks. And it wouldn't be Unboxed unless it was mobile.
More specifically, Unboxed Technology creates everything from interactive training sessions to mobile marketing apps, analytics engines to animated videos, user interfaces to face-to-face instruction. And production value is extremely high: This isn't PowerPoint on steroids.
Think Universal Studio video production quality while teaching your employees the correct way to greet customers. Or a colorful animated Q&A session for your salesperson's tablet – one that narrows down a complex decision for his customer. Or an application that becomes the ultimate sales assistant, intuitively ordering samples for a prospect.
The goal is educate and empower and reduce confusion – to motivate your people and your customers to make the best choices.
This is the story of Unboxed Technology. And almost immediately at the beginning of our conversation, co-founder Brian Leach says, "The story of this company isn't a 'me' story – it's a team story."
BECOMING UNBOXED
Says Leach, "If you ask me what drives Unboxed, first of all, it's the relationships we have with our clients, and secondly, the team here at Unboxed. We have a wonderful team. Then, it's our products. I believe our products are very different. But we wouldn't have them if we didn't have great clients who allow us to innovative and produce different and captivating content."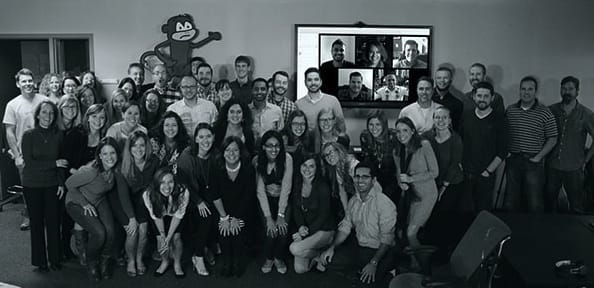 Inspiration for Unboxed Technology was found in the corporate halls of the now-defunct retail giant Circuit City. It was there that Leach and co-founder Dave Romero first met. It was also where the two became friends with Unboxed Technology's first employees, Kevin Leetham and Michael Laskaris. All were heavily engaged in unveiling a multibillion-dollar project for the national retailer: an interactive concept that would change the retail industry – and ultimately birth Unboxed.
Leach explains, "I was with Circuit City for over 20 years, and Dave (Romero) was there for over 15. We were both leading the development of a new concept called 'The City.' The concept had a lot to do with how employees interacted with the customer. We were doing a lot of innovation with tablet technology at the time – even before the iPad came out. We ended up building a multimillion-dollar enterprise platform for Circuit City that leveraged mobile technology, creating tools for employees to better serve the customer."
Sixty new concept stores were formed. Write-ups on the innovative sales approach appeared in The Wall Street Journal, the Richmond Times-Dispatch and even in a Microsoft case study. But despite The City's successes, Circuit City as a company went bankrupt. Of that time, Leach says, "We had been running really hard at something, and then it just stopped."
"IT WAS SO CRAZY"
With the encouragement of colleagues and business mentors, Leach and Romero founded Unboxed together in 2009. They sketched out a strong business plan and almost immediately convinced Leetham and Laskaris to take a leap of faith. Six months later, the Unboxed Assistant prototype was built using Microsoft technology.
Good times, right? Not quite. Seems a little company called Apple was finally ready to launch something called the iPad, and the Unboxed prototype needed to be compatible. "We had to start over," says Leach. "If you're going to be in the technology space, you have to be able to adapt and change and be nimble. You have to innovate. We think back to that time now and laugh. It was so crazy."
Within six months the company started work with nTelos Wireless and 24 Hour Fitness. Fast-forward to today, and the company has reached fastest-growing business list status, has over 50 employees and plans to add more this year.
So how DID Leach and Romero do it?
GET OVER YOURSELF AND PLAN FOR SUCCESS
When you transform an idea into a multimillion-dollar business in a matter of a few years, you learn a thing or two along the way.
First lesson: Get over yourself.
Then: Plan for success.
Next: Don't be afraid to ask.
"Getting past the fear of personal risk is hardest part when you're thinking of starting a new business," says Leach. "It never goes as fast as you'd like it to. You have to plan for success. You have to have confidence that you can get through the hard times. When you do that, it's amazing what you can do. We laugh about it now – the personal sacrifices Dave and I and our families made at the beginning, wondering how we would we get through it."
If you don't plan for success, then it won't happen. Smart businesspeople have to be willing to take on logical bets. Says Leach, "We tend to hold on too much as small business owners. Whether it's investing in people or technology, be willing to knock down those barriers and not let them be obstacles."
Leach also admits that finding business resources and asking questions is OK. "I learned a lot of life lessons during the early stages," he explains. "I learned that you have to overcome fears and not be afraid to ask. There are so many great business resources available to you if you open your eyes. Resources I found within the membership of Virginia Council of CEOs are priceless. You just have to not be afraid to ask for help and guidance."
With growth comes growing pains, but Leach has his eye on the ball. The happiness of clients and employee comes first: "We have to resist the urge to grow too fast. What makes Unboxed so great is our relationship with our clients and the team at Unboxed who do the work. We don't want to goof any one of those up. We don't want our rapid growth to cause poor execution, and we don't want to let our team down or push them to a breaking point."
It's clear that company culture is a big part of what makes up Unboxed (queue the mental images of the Inspirational Wall), but Unboxed is more than the creative workspaces or the comradeship found in its "interactive huddles." Its owners are also committed to investing in their employees' happiness and development.
PAIN POINT = FINDING TALENT. CAN YOU RELATE?
Leach says his biggest growing pain was finding the right talent to take the company from four employees to over 50 in only a few years (a common woe heard 'round many a roundtable). As a result, his team has become extremely adept at selecting and interviewing candidates. Good thing, because Unboxed receives hundreds of applications a month over the web: 815 total last year.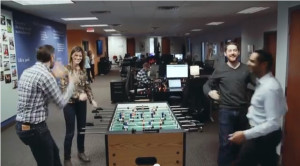 Finding the right experience and skill sets for the unique company means thinking in new ways and figuring out which roles need to be physically present and which don't. For example, leadership and product managers work best on site, while developers and content strategists can work remotely. All of them get together several times a year, and when we visited, they were preparing for the company's first Factory Day – a day when the business closes its doors to strategize on how to improve its processes.
THE FUTURE OF UNBOXED TECHNOLOGY
Leach promises a big evolution for Unboxed in 2015 – effectively evolving from custom software company into a product company that provides services. Expect to see a new website and strategic marketing campaigns designed to increase brand awareness. And, of course, more hires. (His budget includes a healthy investment in employee development – a subject of vital importance to Leach.)
Over the next five years, he hopes to penetrate new verticals and industries. Says Leach, "We've learned that we can apply what we can do in healthcare, in telecommunications and in retail. We even have a client that is a local law firm. We can apply what we do to almost any industry. We think there is so much potential."
He adds, "If you value your people and you value those business relationships, you have principles that you use to make decisions around both of those things. And we do. We put a lot of those things before ourselves. That's how you get a great customer and employee experience. I think if we don't lose focus, then the sky is the limit. I really do."
Or simply stated through his personal selection on the Unboxed Inspiration Wall: "All dreams came come true if we have the courage to pursue them." (Walt Disney)
Learn more about Unboxed Technology here.
Other posts you may like:
• VACEOs Members Make RVA and INC 5000 Lists
• Unboxed by the Numbers in 2014 (funny holiday video)
Brian Leach has been a VACEOs member since 2011. Membership of the Virginia Council of CEOs includes professionals from award-winning companies across many industries, including IT Services, Marketing & Advertising, Logistics & Transportation, Business Products & Services, Consumer Products, Human Resources, Finance, Health Services and more.
Imagine what you can achieve, surrounded by CEOs like these! Learn about VACEOs membership.
Posted by Scot McRoberts at 6:41 pm